Fiction Sneak Peek: December 3, 2022 Issue
---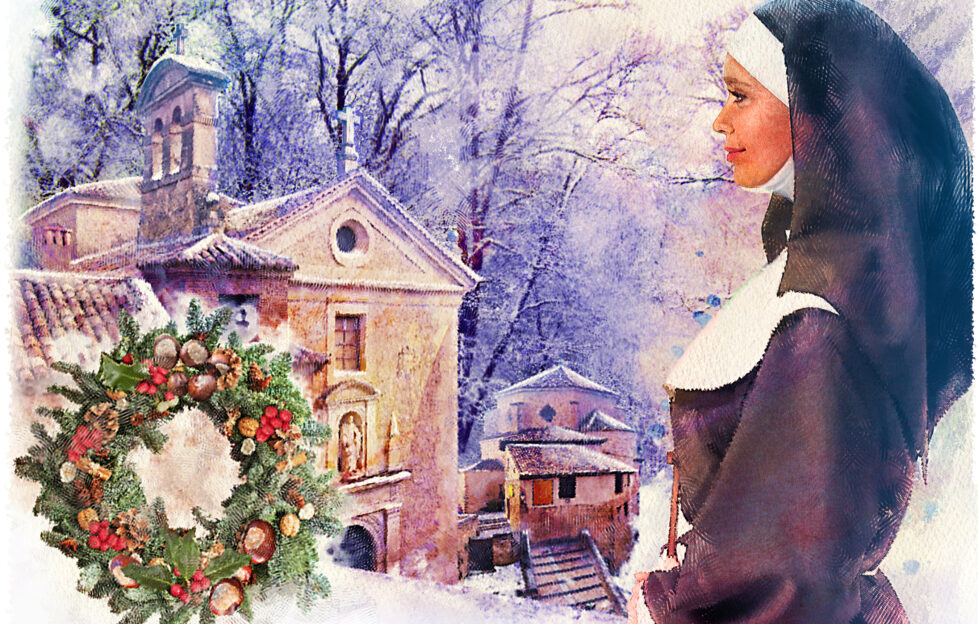 Artwork: Jim Dewar
A warm welcome to the fiction in the first of our two December 'bumper' issues.
Eighteen Brand-New Stories
Our opening story is Laura Tapper's "Labour Of Love". It's getting close to Christmas, and Lou is getting ready to retire. But there's something she needs to do, first. Artwork by Ged Fay.
Sue Cook's "Sing A Different Song"  is next. When it comes to deciding which carols to include in the celebrations, the members of one village community committee don't seem to be singing from the same hymn sheet!
Katie wants to make peace with her sister but doesn't know how, in "Goodwill To All" by Christina Hollis. Artwork by Tracy Fennell.
When the cook falls ill on Christmas Day, can one Maid Of Honour" save the day? Val Melhop's Victorian tale is illustrated by Mandy Dixon.
Pantomime Magic
When a grandma takes three grandchildren to the panto, they get caught up in "Pantomime Magic"! By Jan Snook, artwork from Kirk Houston.
Winter is closing around the convent, but not before Sister Ursula makes a mysterious discovery in the woods. "Wreathed In Friendship", by H. Johnson-Mack, is illustrated by Jim Dewar (above).
Working as a Christmas elf is fine as long as you don't bump into anyone you know, in Alison Carter's "Elf And Safety". Illustrated by Kirk Houston.
Headmistress, Mrs Darling is working her way through her list in "Tying Up Loose Ends", written by Jenny Worstall and illustrated by Manon Gandiolle.
Regifting is to the fore, in "A Gift That Keeps On Giving", by Stefania Hartley.
Restoring a garden heals a heart, in "Digging Deep", by Kate Hogan. Illustration, Sarah Holliday.
A Christmas Debut Author
Debut author, Susan Batten, is "Making A List", next – and one woman is unsure whether to include her ex-sister-in-law in the celebrations.
There's a mix-up around who exactly is the 'King', in one school nativity play! "All Shook Up", by Lesley-Anne Johnstone, features artwork by Jim Dewar.
Two grandparents connect when they both try to get hold of a longed-for Christmas toy. "Call To Action", by Christine Bryant, is illustrated by Kirk Houston.
Rival carollers seem deaf to the message of Christmas, in Eirin Thompson's "Out Of Tune". Artwork by Pat Gregory.
There's family drama, as Christmas approaches, but where there's hope, there's always "Something To Celebrate". By Jenny Worstall.
All Paws On Deck
A festive window dressing competition means all paws on deck, in "Competition At The Cat Café", by Suzanne Ross Jones.
An old blanket box holds generations of memories, in "The Zanzibar Chest", by Teresa Ashby. Artwork by Martin Baines.
One mum takes Christmas prep a step too far. Time to take a stand, in "Festive Fever", by Eirin Thompson.
Four Serial Instalments
A new serial begins today – "Within The Palace Precincts", by Alison Carter. It's 1263, and Susanna and her family hope that a new life may await them in London. Illustrations by Mandy Dixon.
The pub's first festive event is unplanned but still needs to be perfect, in Part Four of "Coming Home For Christmas", by Teresa Ashby. Artwork from Ruth Blair.
In Part Two of "Within The Palace Precincts", we're in 1265, and life at the convent is becoming increasingly challenging for Abbess Berta.
And in the final part of "Coming Home For Christmas", the big day arrives – but big decisions still lie ahead for the family.
A new serial begins in our next double-issue, on sale Wednesday, December 14.
Series
When one wedding is cancelled, another is never far away, in Jan Snook's "Wedding Designs"…
…while over on "Riverside", why is Mary treating George to all his favourite things? By Glenda Young.