Christmas Crochet And Craft Preview: December 17, 2022
---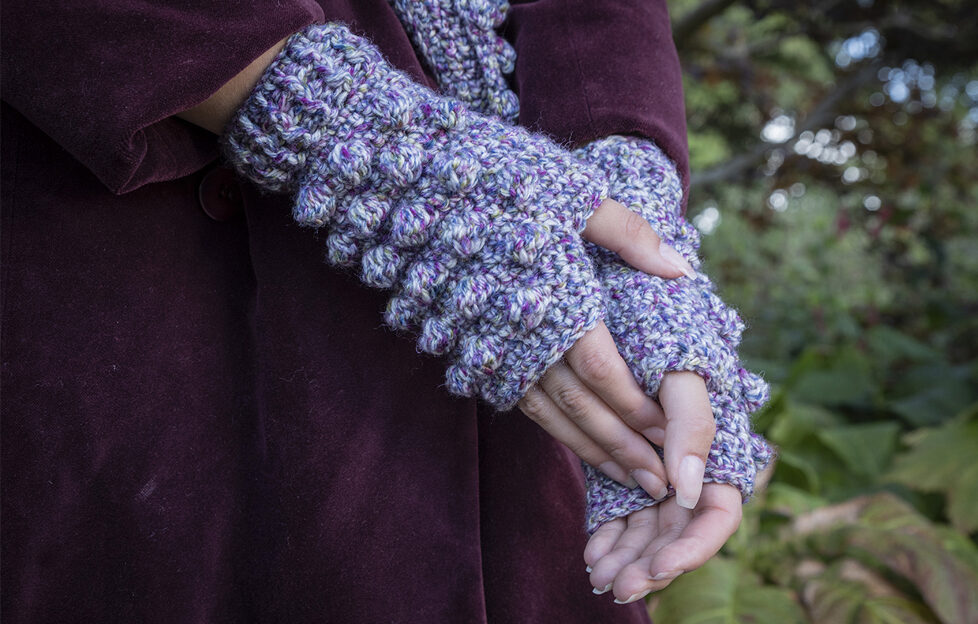 Photography by Eddie Phillips.
We have another double preview this week of our Christmas crochet and craft content in the bumper issue this week.
How To Crochet Winter Accessories
Cosy accessories and a sparkling festive decoration feature in this bumper issue.
Crochet fans will love our trio of hat, bag and fingerless mitts, which are quick and easy to make. There's still time to make them for Christmas.
The yarn used is West Yorkshire Spinners The Croft Aran shade Effirth (1013). Inspired by the landscape, culture and rich heritage of the Shetland Islands, this yarn is 100% Shetland fleece.
The tweed effect is perfect for textured designs making it ideal for the bobble pattern throughout.
If you would like to view the range of solid and tweed shades available, or find a local stockist, visit www.wyspinners.com.
How To Craft A Bauble Wreath
If you would like a quick and easy decoration for your home, why not try making our simple wreath. You will be able to assemble it in minutes!
You will need craft wire, ribbon and a multi box of baubles (approx. 100). Wire cutters (or good household scissors) and glue complete the list.
The step-by-step instructions take you through the simple stages and of course, you can use baubles to match your décor.
Our design came from the book "Wreaths" by Tansy Wilson & Sian Hamilton, published by GMC Publications, price £9.99. It is available from bookshops and online.
So why not add a touch of sparkle to your festivities with this glittering wreath?
Send in yours!
The People's Friend team want to see your creations. Send them to peoplesfriend@dctmedia.co.uk for a chance to be shared on social media or in the magazine!
Find the full instructions for the double Christmas crochet and craft preview in our December 17, 2022 issue of "The People's Friend". On sale now! Available online or from most major supermarkets and newsagents. Or subscribe to the magazine to get every issue delivered straight to your door, making sure you never miss an issue. 
Get more craft ideas from the "Friend".