Fiction Sneak Peek: December 17, 2022 Issue
---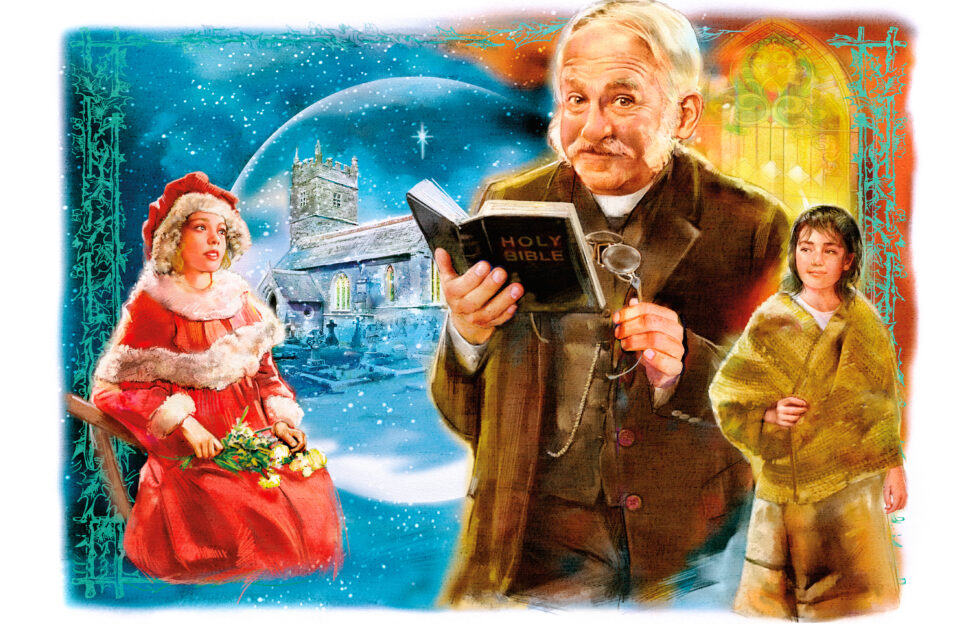 Artwork: Sailesh Thakrar
With 18 brand-new stories and four serial instalments, there's lots of Christmas reading in our second bumper issue!
Eighteen Brand-New Stories
Our opening story is "Bless Us All", by Lynda Franklin. It's 1850, and Reverend Crabtree's earnest wish is for his seasonal message to touch parishioners' hearts. With an illustration by Sailesh Thakrar (above).
"A Breath Of Fresh Air" is next, and a quick break is needed – before Daphne's Christmas spirit disappears altogether! By Karen Houseman, illustrated by Sarah Holliday.
"One Little Kitten" pops up just at the right time, in Liz Filleul's short story, illustrated by Mandy Murray.
Feel-Good Festive Fiction
A family tradition of weaving a prayer into the Christmas wreath has been passed down the generations. But will things be the same this year? Katie Ashmore's "A Touch Of Tradition" features artwork by Helen Welsh.
We're in 1941 for our next story, "Secret Santa" by Merrilee Robson. It's two weeks before Christmas, and two children have gone missing in a department store…artwork by Pat Gregory.
Dressing The Christmas Tree
Anne Stenhouse's "It Takes A Village" is next, and Jen has a decision to make, regarding the dressing of the village Christmas tree. Illustrated by Martin Baines.
Bill's faith has been tested since his beloved wife passed away. Can Midnight Mass bring peace of mind and ease his heartache? Find out in Sally Waterbury's "Festive Spirit".
In Eirin Thompson's "That Silent Night", Christmas has brought a temporary peace to the trenches of World War One.
An old 'Beano' annual proves something of a discovery, in Liz Filleul's "An Annual Surprise". Sarah Holliday illustrates.
Sister Bernadette's Nativity
Sister Bernadette doesn't hold with new-fangled ideas for the Nativity! But "The Show Must Go On". By Tony Redcliffe, with artwork from Pat Gregory.
We're in 1922 for our next story – Gabrielle Mullarkey's "Sugar And Spice". Avis has landed a new job at Pencarney's confectioners, which would be sweeter if it were not for the fearsome Miss Acaster…artwork by Andre Leonard.
Julie's granddaughter has made her a thoughtful present. But what is it?! Find out, in "The Guessing Gift", by Becca Robin, artwork by Mandy Murray.
Choirmaster, Henry, has the perfect chorister lined up to open the Lessons And Carols…until his voice breaks and a Plan B is needed! By Eirin Thompson.
A Merry Christmas!
There's double trouble in our next story – Alison Carter's "Ready, Player Two". Identical twins are always on the same wavelength, much to everyone else's confusion! Illustrated by Kirk Houston.
We "Paws For Thought" in our next story, when a chef is bowled over by one man and his dog. By Jacqui Cooper, and illustrated by Ruth Blair.
There's one person Riccardo looks out for at Mass every year. Will she be there? "Midnight Meeting" by Stefania Hartley features artwork by Andre Leonard.
Penny has promised her friend she'll enter the church's festive tree competition. But she's hopeless at craft! "On Pins And Needles" is written by Marian Myers, and illustrated by Manon Gandiolle.
Our final festive story is Moira Gee's "Tied In Knots", and one young lad can't see what all the fuss is about! Artwork by Manon Gandiolle.
Serials
A new serial in four parts starts today! In a little fishing village like Petershaven, people never remain strangers for long. "Return To Petershaven" is written by Mark Neilson, and illustrated by Kirk Houston.
In Part Three of "Within The Palace Precincts", Susanna is growing closer to Savaric, but life in the convent is drawing her in…by Alison Carter, with artwork by Mandy Dixon.
In Part Two of "Return To Petershaven", Jonathan is full of surprises…
…while in Part Four of "Within The Palace Precincts", Abbess Berta has got away with selling the convent's treasure. But is there a price to be paid?
Series
A Christmas Eve wedding leads to unruly children, in Jan Snook's "Wedding Designs"…
…while on "Riverside", five thirty is far too early to get up on Christmas Day! By Glenda Young.