Pea and Goat's Cheese Risotto
---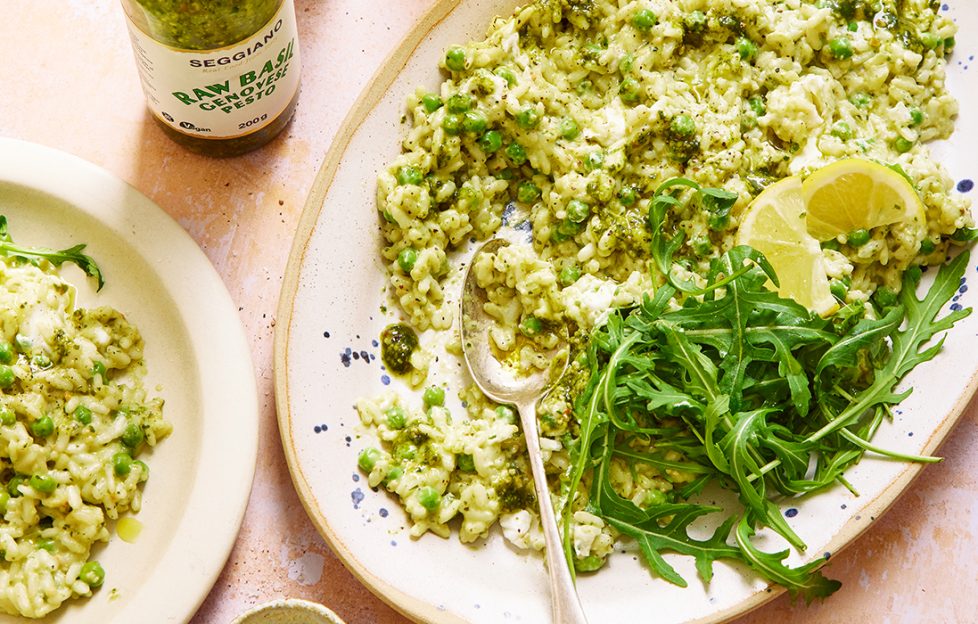 Ingredients:
1tbsp Lunaio Extra Virgin Olive Oil
200g Seggiano Arborio Risotto Rice
700ml vegetable stock
100g frozen peas
5 tbsp Seggiano Raw Basil Pesto
60g soft goats' cheese
Lunaio Lemon Oil, to serve
Seggiano
This easy-to-make dish can be on the table in half an hour!
Serves: 2
Cooking time: 30min
Heat the olive oil in a large flat-bottomed pan over a medium/low heat then add the rice. Stir to coat the grains in oil and toast for 2-3min, stirring continuously until the rice is slightly translucent.
Add the stock a ladleful at a time, and simmer gently until the liquid has been absorbed before adding more, stirring frequently. Cook until the rice is al dente.
Meanwhile, tip the peas into a bowl or jug and cover with boiling water. Once defrosted, drain the water then stir the peas into the risotto. Cook for a further 5min or until the rice is tender.
Remove from the heat and stir through 4tbsp basil pesto and two thirds of the goat's cheese.
Divide between two serving bowls, swirl through the remaining pesto and goats' cheese and finish with a drizzle of lemon oil.
---
For brilliant recipes every week, pick up a copy of "The People's Friend"