11 Ladysmile Lane – Episode 32
---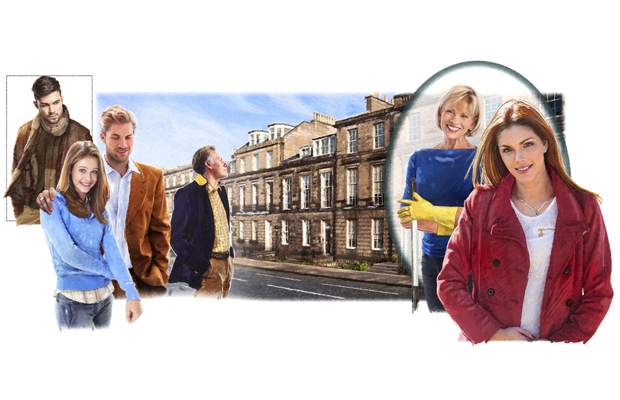 Illustrated by Mandy Dixon.
"I knew something was wrong when Carol phoned me yesterday morning. She rarely does. We see each other nearly every day!"
Sitting opposite Alex in his office, Mel nodded emphatically as she finished recounting what she'd learned from her sister and brother-in-law the previous evening.
Then, thinking for a moment, she corrected herself.
"I said that something was wrong, but actually it's very right. They've always wanted to live by the sea, so this move means that they are following their dream. Des has been thinking of retiring for a while, but they didn't want to make people redundant. So, if they do it now, there will be no need."
Des didn't have a large staff. As he'd explained to Mel, Ron, his senior mechanic, was also ready to retire. Ron's son, Keith, worked at the garage, too, but he was relocating to Australia where his wife's family were. And Jack, the young apprentice, inspired by television cookery programmes, had decided he wanted to become a chef!
"I wish Carol and Des nothing but happiness," Mel told Alex, "and it isn't as though they're going far. The little town they've got their eye on is only fifty miles away. But it does mean I'm going to have to find new business premises."
"So they're keeping the property as an investment and renting it out?"
"Yes. There's apparently someone virtually ready to move in, but they want it all, including the little outhouse at the back that I use." She shrugged.
"It's OK, really. I'm not sure I'd want to share with strangers. It was different when it was all family."
"How much space do you need exactly? There are offices available here, and Georgia's improving the place. The outside area, for example – our fabulous new garden!"
He smiled and it occurred to Mel how grim he'd been looking. Not like Alex at all.
She pondered.
"Georgia is very interested in the building at present, but I'm not sure what her long-term plans are, what with her personal situation." Seeing the questioning look on Alex's face, she added, "Her broken romance, I mean, which may not be completely broken. So Carly says.
"She's the niece of my neighbour, and she's also Georgia's friend." Mel frowned. "I sensed something, too, when Georgia and I first met. There was the way she pounced on her phone whenever it rang."
"Like she was hoping to hear from someone in particular?" Alex supplied.
"Exactly. But this place wouldn't be right for me, anyway, Alex. I need plenty of storage for my equipment, and there's the vehicles, too." She took a deep breath. "What I've been wondering is if I could perhaps buy somewhere instead of renting, and that way I wouldn't be uprooted again."
She waited for Alex's reply, but none came.
"Is that crazy – me, at my age, buying somewhere? I suppose it is."
"No. Sorry, I was just thinking. No, it's not crazy. From those last accounts of yours that I prepared, you'll have no difficulty raising any finance you need. I'll get some figures together for you, but you won't have a problem.
"You entered the business world late in life, but you've built up a very successful enterprise, Mel. You should be proud of yourself."
*  *  *  *
Leaving Number 11, Mel decided to get going with her plans straightaway. Pastures new, she reflected happily, or more precisely, offices new! Alex's compliment had greatly boosted her confidence.
She had real regard for his ability and judgement. He'd once had a seriously high-flying job, but had given it up on the death of his wife to raise Amy.
"Don't go getting too pleased with yourself," a little voice said as she hurried along Church Road, where most of the commercial property agents were. "You know what they say about pride coming before a fall."