A Time To Reap – Episode 09
---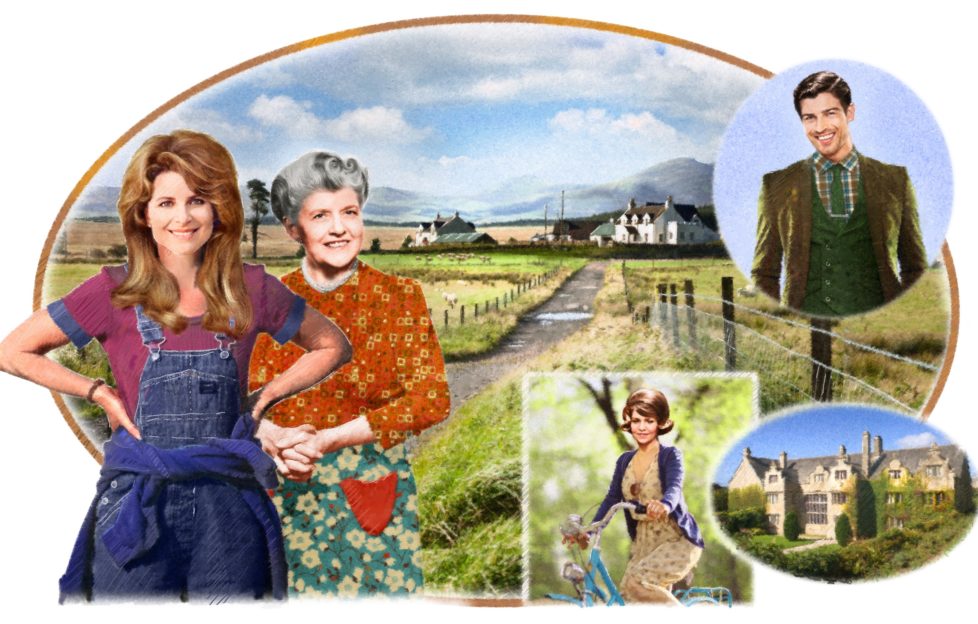 Illustrated by Mandy Dixon.
The twin calves had been christened Poppy and Pansy. As her long-legged offspring had their first feed of the day, their mother stood gazing benignly into the distance.
The names, bestowed on the calves by Libby and Flora, suited them, Elizabeth thought, leaning over the gate to admire the new arrivals. Poppy was reddish brown, and Pansy had big white splashes.
Elizabeth and Chris had loved to name all the animals they grew up with. Pet lambs, dogs, cats and – Elizabeth smiled to herself at the memory – a budgie called Vera Lynn.
Oh, what was she going to do about Chris? She hated the thought of keeping that picture a secret from Mum and Dad.
Not that there was anything to be ashamed of – her sister looked lovely and the magazine was a well-established one, highly respectable. But as far as Mamie and Neil knew, Chris worked in a bank.
Oh, well, it was up to Chris to let their parents know about changes in her life. Elizabeth didn't want to be the tale-telling big sister.
"Elizabeth!"
She turned to see Andy Kerr, the local vet. He'd been two years above her at school, a quiet lad who'd maintained even as a small boy that he wanted to follow in his father's footsteps.
"Andy! Nice to see you."
"I was just passing." Andy inclined his head in the direction of the calves. "These two are thriving. Tam and yourself did a good job there."
"Your services were not required!" Elizabeth laughed. "I'm going for my elevenses, Andy. You're welcome to share my flask and one of Tibbie's scones, if you've got time."
"Thanks." Andy accepted eagerly.
"You haven't sampled Tibbie's baking before, then?" Elizabeth teased. Her mother-in-law wasn't renowned for her baking skills. "Luckily she's put lots of Mum's jam on it."
She glanced at Andy as they walked over to the office. When she was little, up on the hill farm, she'd played a lot by herself because there were seven years between herself and Chris.
So she'd been pleased whenever her shepherd father had had to get the vet, Andy's dad, during holidays, because Andy usually came with him.
He wanted to watch what his father did to administer to a sick beast, but afterwards he could easily be persuaded to play hide and seek, or give Chris a piggyback ride.
At school he'd ignored her, of course –a big boy couldn't admit to being pals with little girls!
When they moved up to the academy they'd both caught the school bus. They never spoke but he used to smile shyly at her.
Their paths hadn't crossed again until long afterwards, when Elizabeth was married to Matthew and he'd got the farm manager's job at Rosland.
By then Andy had taken over the vet's practice from his father.
Why hadn't he married, Elizabeth wondered. He still had the shy smile which lit up his face. His stocky frame was strong enough to cope with farm animals, his hands gentle and delicate when they had to be.
She knew that Andy had made improvements to the house he'd been brought up in and where he now lived.
All in all, he was probably the neighbourhood's most eligible bachelor.
"Have I got mud on my face?" Andy had caught her looking at him.
Elizabeth felt embarrassed.
"No, but I have, on my hands. I'll wash them. You go ahead. You know where my cubby hole is."
Rodney Shaw, the estate factor, called to her as she passed his open door.
"I hope you're not forgetting we have a meeting at twelve, Mrs Duncan?"
"Of course I –"
He didn't let her finish.
"Why is the vet here? Is it the calves?"
"There's nothing wrong with the calves," Elizabeth replied through gritted teeth. "I wanted Mr Kerr's advice about something."
She went to her office and shut the door behind her.
"That man!"
"You cope with him very well," Andy said.
He accepted half of a scone spread thickly with butter and rhubarb jam.
"He's always finding fault, trying to catch me out. I wish Lady Annabel would come up more often. He's so busy toadying up to her then that I hardly see him."
"Did I hear you say you wanted my advice?"
Andy seemed to be enjoying Tibbie's dry, hard scone. Elizabeth looked at him affectionately.
"Actually, I would like some advice," she said, "but not about the animals."
She told him about the magazine picture of Chris modelling. It was a relief to tell someone, although Andy turned out not to be much help.
"Modelling? Don't know what your mum and dad will have to say about that. But you're right. Christine should tell them about it herself."