A Time To Reap – Episode 15
---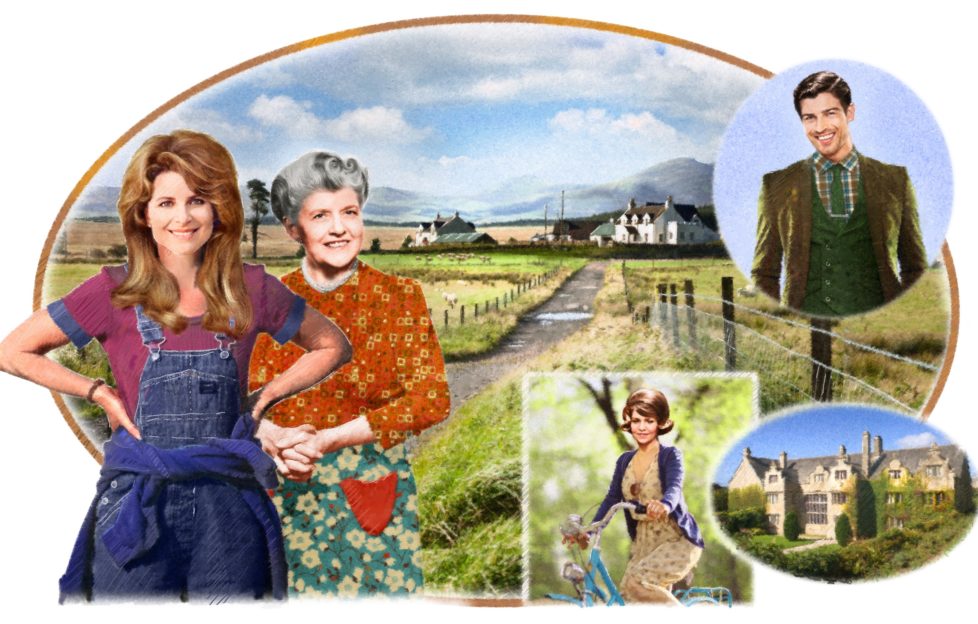 Illustrated by Mandy Dixon.
"They've gone for a walk up the glen. Two days ago it was all the way to Inverness to the cinema – she wasn't back until one. And . . . "
"Mum," Elizabeth interrupted gently, "you don't need to lie awake listening for her coming home. She's a big girl now."
"I know, I know." Mamie laughed a little at herself. "But it's all happened so quickly. She and Doctor Scott – Struan – only met last week!
"She's told Robbie she's staying up for another few days and she'll get the train back. She's treated him disgracefully. Your father is more upset about that than about this modelling thing.
"He's sure that's just a phase, like wanting to change her name."
After all her worrying about how Mamie and Neil were going to take the news about their younger daughter's new career, Elizabeth was surprised how calm they'd been.
Crystal, as Elizabeth was trying to remember to call her sister, had told them a girl she shared a flat with had introduced her to a photographer for the glossy magazine.
Since that first job, Crystal had been taken on by a modelling agency, had had several other assignments and given up her job in the bank.
Neil told her she was foolish to forgo a steady wage coming in, but he was left with his mouth hanging open in astonishment when she told him how much she'd been paid to look glamorous and wear a beautiful dress.
As for her name, Mamie had suggested to Neil that they pronounce it in the same way but write it differently. Crys.
But treating Robbie as if he were her chauffeur was just rude in Neil's eyes, although Robbie himself didn't seem to mind.
Not that they'd seen much of him – he had his own family and friends to catch up with – but a few days after their dramatic arrival he'd appeared with a coat belonging to Crys that had been left in his car.
He didn't seem surprised to hear of her change of plan. No doubt he was aware that she and the new doctor had been seen out together.
"That's them back now," Elizabeth said, catching sight through the window of Crystal and Struan standing in the road.
They shared a lingering kiss before Struan got into his car and drove away.
Crystal walked dreamily to the front door, stopping to replenish her lipstick before coming in.
"Elizabeth!" Obviously she'd been too engrossed to notice Elizabeth's car parked at the side of the house. "Are the girls with you?"
"It's Wednesday, Crys! Libby's at school."
"Is it Wednesday already?" Crystal asked in amazement. "I've lost track of time. That's what being in the country does to you."
"That's what being out till all hours does to you," her father put in, from his prone position on the sofa.
Crystal rolled her eyes.
"Can I come back with you for the night?" she asked her sister. "I've hardly seen anything of my nieces.
"So what's happening down on the farm?" Crystal asked as they made their way to Rosland.
"Oh, the usual. I just dashed in to see how Dad was when I was up this way anyway. I came to see Alec.
"We've agreed that he gets the use of one of our balers when the hay's ready – his own is beyond repair.
"In exchange, he'll send Colin or Davy to give us a hand with our harvest."
"Sounds a good idea."
"Rodney Shaw wouldn't agree with you." Elizabeth sighed. "He doesn't like these arrangements."
"Is Lady Annabel in residence yet?"
"Last time I asked Mr Shaw he said she was due next week. She'll be here off and on until September and the gillies' ball."
"You get invited to that, don't you? Could you wangle it that I do? Struan thinks he'll be here for another four months."
"I'm not sure how I could do that, Crys. Anyway, I haven't been to it since – since Matthew."
Crys put her hand on Elizabeth's arm.
"Of course. But if you go this year, and I'm here, let me make you up and lend you a dress. You could be the belle of the ball with some expert help."
Elizabeth laughed. No doubt Crystal was eyeing the unflattering dungarees she was wearing.
"I'll take you up on your offer in the unlikely event I go."