A Time To Reap – Episode 47
---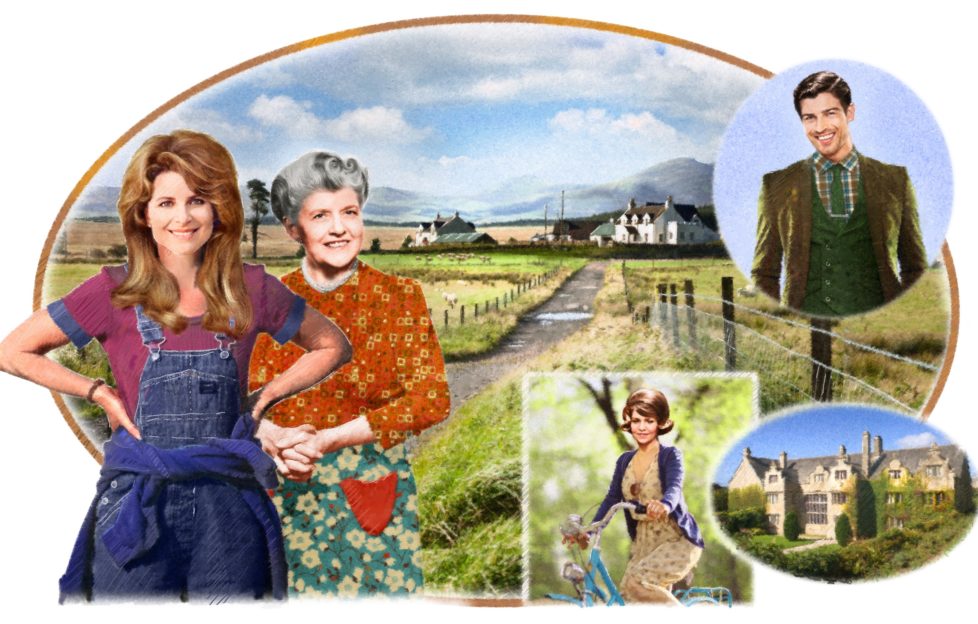 Illustrated by Mandy Dixon.
"Mr Brock." She cleared her throat.
"I told you, it's Bill," he said, his eyes twinkling. "How are those little girls of yours?"
"Still talking about the swing boats, thank you. That was kind of you and Hugh."
"It was a pleasure." He looked around the byre and then back at her. "I must say I was surprised when Hugh told me you ran the farm here."
"Were you? Well, here I am."
"I didn't mean to be impolite. It's just, the farmers of my acquaintance tend to be rather old and gnarled. And male. And you're definitely not," he said, in that fascinating drawly voice.
"Give it a few years." Elizabeth looked away from his blue-grey gaze. "Well, apart from the male bit. Now, we have arable and we have animals. What would you like to see first?"
He made no move to leave.
"You call this a byre, don't you? I like it. I like everything I've seen on the Rosland Estate so far. I'll be carrying lots of good memories back to the States."
The byre suddenly felt too small for both of them. Elizabeth walked past him to the door.
"We bring the cows back here for milking," she said over her shoulder. "They're in the field the rest of the day. I'll show you."
Lady Annabel had asked her to give her guest a guided tour of the farm and that's what she would do. That's all there was to it.
* * * *
"How was school?" Elizabeth dropped a kiss on top of Libby's head. First day back after the summer holidays.
"I'm in primary two," Libby said proudly. "I've got a new reading book. I'll show you." She ran to get her schoolbag.
"Any news about the school maybe closing?" Elizabeth asked Tibbie quietly.
After a rocky start, her timid elder daughter had settled in well. How would she fare in the bigger school in town if, because of falling numbers, the council decided to close the one in the village?
"I haven't heard."
Tibbie finished a row and put her knitting aside. She always had a garment of some sort on the go. But this was on four needles and was too big to be anything for the girls.
"What's that you're making?" Elizabeth asked.
"A good pair of socks. I noticed he had holes in his when he took his wellies off. I didn't like to ask if I could darn them so I thought I'd make him a pair."
"Who? Who had holes?"
If it had been anyone but Tibbie Elizabeth would have sworn she gave a tiny wink.
"Andy Kerr, of course. Who else do you know who needs a woman to look after him?"
"Well, you're just the woman for the socks!"
Elizabeth laughed.
"Great minds. I was thinking the same thing, about Andy needing someone to take care of him. I know he's a few years older than Crys but I really believe – "
"Crys?" Tibbie grasped Elizabeth's arm. "Oh, my lassie! Have you not seen it in his eyes? It's you he wants."