A Year In France – Episode 63
---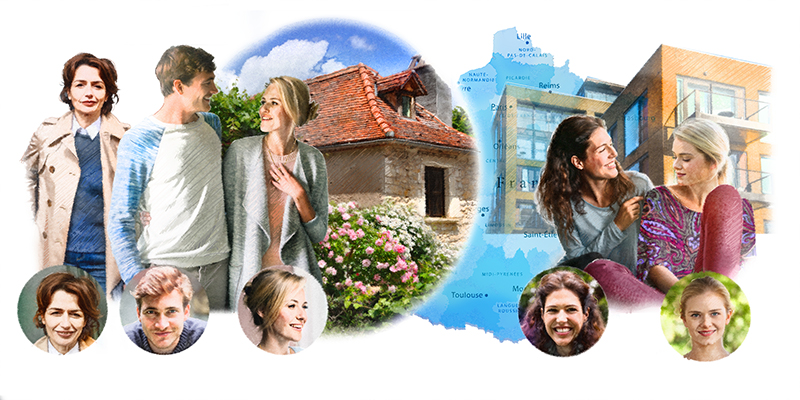 Illustration by Mandy Dixon.
Travis was watching her as she looked up from reading the letter and Philippe silently handed her a tissue.
"Wow. That's a letter I never thought I'd read," she said, wiping her eyes. Another letter received too late. "I don't know what to say other than I wish it wasn't too late to change things."
"We can't change the past, but we can stop the estrangement if you want to," Travis said quietly.
"We could get to know each other. Try to build that brother-sister relationship Dad wanted us to have.
"But you have to promise not to start bossing me about just because I'm your kid brother," he added, grinning at her uncertainly.
"Spoilsport. What's the point of having a younger brother if I can't tell him what to do?" Julia teased, taking a deep breath. "Right, let's talk more over lunch."
During lunch Travis told them about his childhood and showed Julia several photos of him in the outback with their father.
In return Julia showed him a few photos of her and Geraldine on holiday in Tenby, which seemed very tame in comparison.
It was nearly five o'clock when Travis stood up to leave. They promised they would get together again before he left to go back home for Christmas.
Standing by the door waving goodbye, Philippe put his arm around her shoulders.
"I like your brother. I hope you do, too."
Julia nodded.
"Yes, I do. But I'm going to be sick again." She ran for the bathroom.
When she came out, a concerned Philippe was pacing up and down.
"I thought you'd got over the bug. You have to go to the doctor," he said.
"I know," Julia said. "I've got an appointment for next week."
"Change it and get an earlier one. You need some antibiotics to knock it on the head. Why not?" Philippe demanded as Julia shook her head.
"Because I know what he's going to tell me," Julia said, smiling.
"How can you possibly know . . .?" Philippe began, his voice trailing away. "It's not a bug, is it? You're pregnant!" he exclaimed, engulfing her in a tight hug as she smiled and nodded at him happily.