A Year In France – Episode 64
---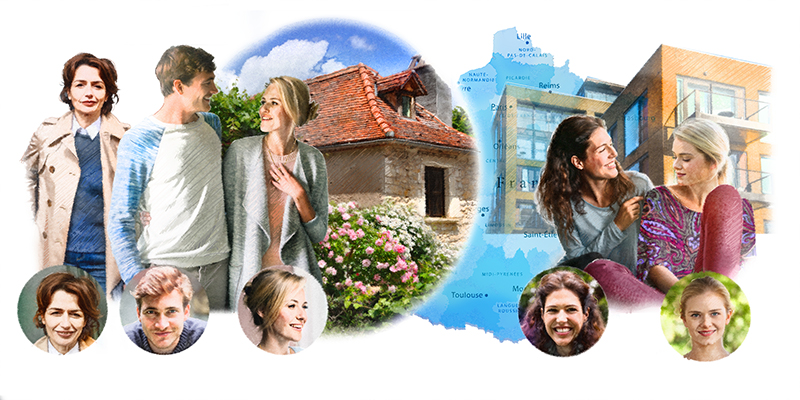 Illustration by Mandy Dixon.
"You don't think it's over the top, do you? " Christiane said, standing in front of the full-length mirror and looking at Julia for reassurance.
"No, it's definitely not over the top. You look beautiful," Julia assured her. "You're positively glowing. A picture-perfect bride."
It was the morning of Christiane's wedding and Julia was in full matron of honour mode.
Philippe had suggested Christiane spend the previous evening and night with them and now the two women were in the guest bedroom getting ready for Christiane's special day.
Her outfit, a 1920s vintage-style coffee and cream silk dress with a handkerchief hem, and an overlay of delicate lace, had been an inspired choice.
A jacket in the same material would provide some warmth on the sunny but cold day.
The purple grape colour of Christiane's accessories and the gold chain of the handbag complemented the outfit, bringing it bang up to date.
"Oh, Christiane, he'll love how beautiful you look in it. You need to put lipstick on now you're dressed," Julia added. "And then we're good to go."
"You look wonderful, Maman," Philippe said as they went downstairs. "A glass of champagne before we leave for the town hall? Travis has it ready in the conservatory."
The moment she'd heard that Travis and Julia were starting to work through things together, Christiane had insisted on him being invited to the wedding.
"He's your brother, and uncle to my grandchild when it arrives, so he's a part of my family now, too," she'd said. "Of course he comes to the wedding."
Now she smiled at him as she accepted the glass of champagne he handed her.
"Thank you."
Accepting her own non-alcoholic fizzy drink from Travis, Julia held it out towards Christiane.
"I know there will be lots of toasts today, but I wanted to be the first to wish you every happiness in your new life with Thierry, Christiane."
"Oh, thank you," Christiane said, looking as if she was on the verge of tears.
"No. Don't you dare cry." Julia laughed. "There isn't time to do your make-up again. In fact, I think we ought to be going.
"Philippe, Christiane's bouquet is in the kitchen – don't forget it. Travis and I will see you at the town hall."
When Travis had accepted Christiane's wedding invitation, he'd volunteered to act as Julia's chauffeur on the day, leaving Philippe free to drive his mother down to the village – an offer that Philippe had gratefully accepted.