Alfred's Emporium – Episode 32
---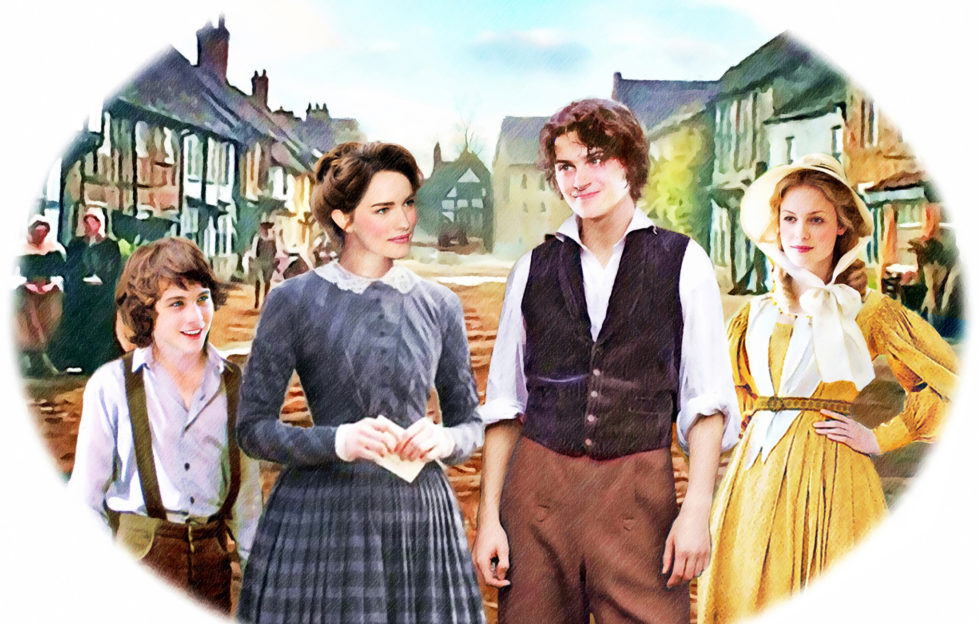 Illustration by Ruth Blair
For once, Rose was thankful to arrive back at Cross Roads House. She climbed down from the cart.
"I hope you're going to help me carry this inside," the groundsman, Biggins, said ungraciously.
"Of course."
She sighed, pulling off a heavy box. Its contents rattled ominously.
"Something's broken in there," Biggins said with a malicious grin.
"We were going too fast, Mr Biggins."
"Why didn't the mistress send for young Hapstall to deliver it as usual, eh?"
"I couldn't say, Mr Biggins."
Mrs Dee, the cook, was waiting in the kitchen.
Soon she was delving into the boxes with a grim look on her face.
"What have you been doing?" she snapped. "There is vinegar spilt over the flour and nearly every egg is broken!"
Rose turned to Biggins for support, but he'd hastily withdrawn.
"I'm sorry, Mrs Dee," Rose said. "But the cart isn't fit to transport fragile items."
"I'll be speaking to Mrs Jameson about this," Mrs Dee promised. "It never happened when Alfred Hapstall delivered."
Heavy at heart, Rose left to go to her room. Every day at Cross Roads House brought another trial. But there was more to her low mood.
Alfred had said he was going to speak to Mr Bassett about something important regarding his future. That could only mean one thing. Alfred was about to ask for Delia Bassett's hand in marriage.
It is not my concern, she told herself.
She reached the stairs when young Molly caught up with her.
"Miss," she whispered. "The post came when you were out and it was taken directly to the mistress. There was a letter for you."
"Really?" Rose answered. "I can't think who would be writing to me."
At that moment, Mrs Jameson's bell rang out and Rose went to answer the summons.
Mrs Jameson was in her sitting-room, apparently reading. An envelope lay on the table in front of her.
"A letter has arrived addressed to you, Bryson," she said.
It sounded like an accusation. She then looked up at Rose expectantly.
She can't expect I will open it in front of her, Rose thought.
"Thank you, ma'am," she said firmly. "I will take it to my room."
As she reached down for the letter, Rose saw the handwriting and caught her breath. It was from Mr Fell.
"Are you unwell, Bryson?"
"No, ma'am," she said stiffly. "Will there be anything else?"
"The letter?" Mrs Jameson said, watching her through narrowed eyes.
The shock made Rose abandon all caution.
"It is, as you said, addressed to me," she said, snatching it from the table as she swept out of the room.