City Of Discoveries — Episode 03
---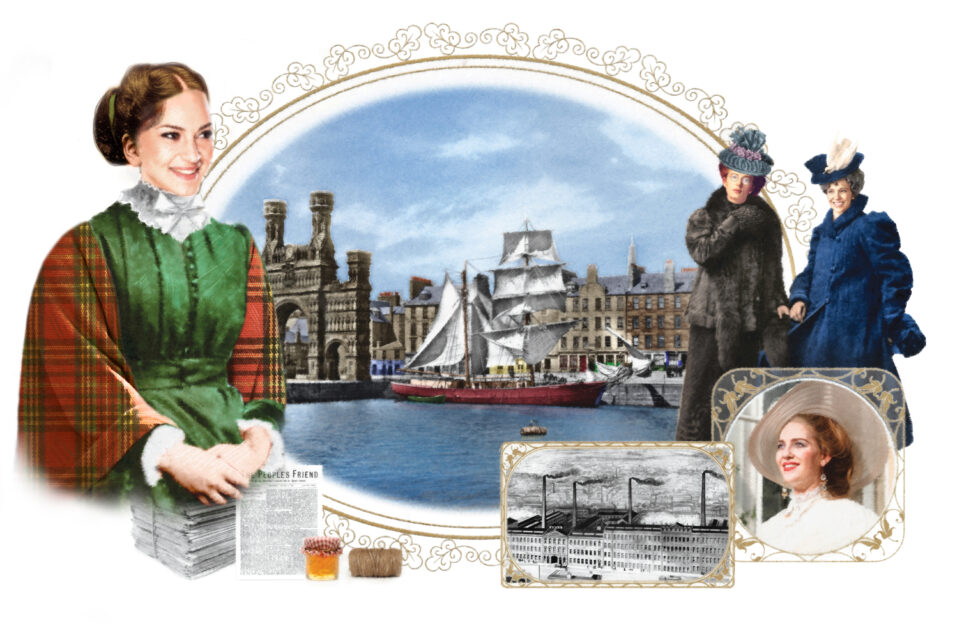 Illustration by Mandy Dixon.
Hetty Wilson smiled as she saw her young cousin, Carrie Smith, blink in the sunshine when she came into the breakfast room. January days took such a long time to ripen that Hetty often had lamps burning until after ten o'clock.
Yet again Hetty thought how lucky she was that Carrie had decided to sell up after her parents' deaths and take the big downstairs room here as a paying guest.
She enjoyed the younger woman's sparky intelligence, and it meant at least one room of her boarding-house held someone congenial.
She looked around for the morning mail and spied a large pile of letters where Cook had left them on the end of the sideboard.
It was an unspoken rule of the house that the mail should not be disturbed until breakfast was eaten, so no-one lingered too long over that meal.
Hetty had only one guest at present, but with Carrie's increasing involvement in suffrage business, the pile of letters did not diminish.
Hetty crumbled her toast and gave a small cough. Why did she find it so difficult to talk about the house's financial arrangements?
Carrie might be from one of the richest jute families in Dundee, but she did not flaunt her wealth.
Even so, Hetty was still, after 10 years of doing it, a little embarrassed to be letting out rooms.
"I wanted to tell you, Carrie, that I have been able to fill the two empty rooms on the top floor," Hetty said, blushing.
"Goodness, Hetty, will these new tenants be returning high-seas adventurers?"
"No, but they are both male. I was approached by my late cousin Roberta's husband, Mr Thomas Webster. He is bringing a friend to visit Dundee."
Hetty choked a little on the sip of tea she'd taken.
"Careful, Hetty," Carrie said in concern.
"Mr Webster is of a Dundee family, although they are now living in Edinburgh. He found it too painful to continue here after Roberta died. The family business is whaling.
"His friend is called Crombie, John Crombie. I don't know what he does." Hetty poured more tea.
She watched Carrie push her plate away and rise.
The pile of mail was proving irresistible. She would be expecting letters from Edinburgh, and of course there was always the hope that one of their mutual cousin Elspeth's entertaining accounts of life in Australia would arrive.
"I would not take male guests, but times are hard and the extra income must be seen as a bonus."
Hetty lifted her chin.
"I hope you understand. Mr Webster is virtually a relative and Mr Crombie will only be here for two or three weeks at most. I believe he has a passage booked for his return to Newfoundland."
"Why, Hetty," Carrie said calmly, "I understand the nature of business. You rent out rooms, and when there are no guests of the female sex then you must make do with men.
"I remember the Webster family from childhood parties. Papa would have been glad to know a Webster was around and active in the city, because he always said that whale oil was an important part of the production process in making jute profitable."
Hetty smiled.
"You are so very knowledgeable about technical matters. Well, it is 1869 and perhaps women need to recognise that their brains are as capable of understanding science as any man's."
Hetty occasionally felt a little disgruntled that the Good Lord had made her a woman and not a man.
Had she been born her brother, as it were, she might have been running a jam or jute factory herself by now, and not having to worry about whether the sheets were fine enough for Mr Thomas Webster and Mr John Crombie.
"Yes, they are," Carrie replied mildly.
Hetty knew her cousin, too, chafed at being female from time to time, and certainly there was little sign of mildness when she went after the overseer, Souter, about his treatment of the women and children in Sooth's Mill. Carrie might not be running her family's business, but she kept a close eye on it.
"That is one of the reasons I feel the suffrage movement is so important."
Carrie handed over three letters from the bundle, but the rest were for her.
"Thank you. I'll go down to the kitchen and speak with Cook. She may have ideas about what the gentlemen should be offered for breakfast."
Hetty left her cousin in the breakfast parlour where, after her elderly maid, Ina, had cleared, she knew Carrie would spread out her papers, pamphlets and correspondence and set to work.