City Of Discoveries — Episode 21
---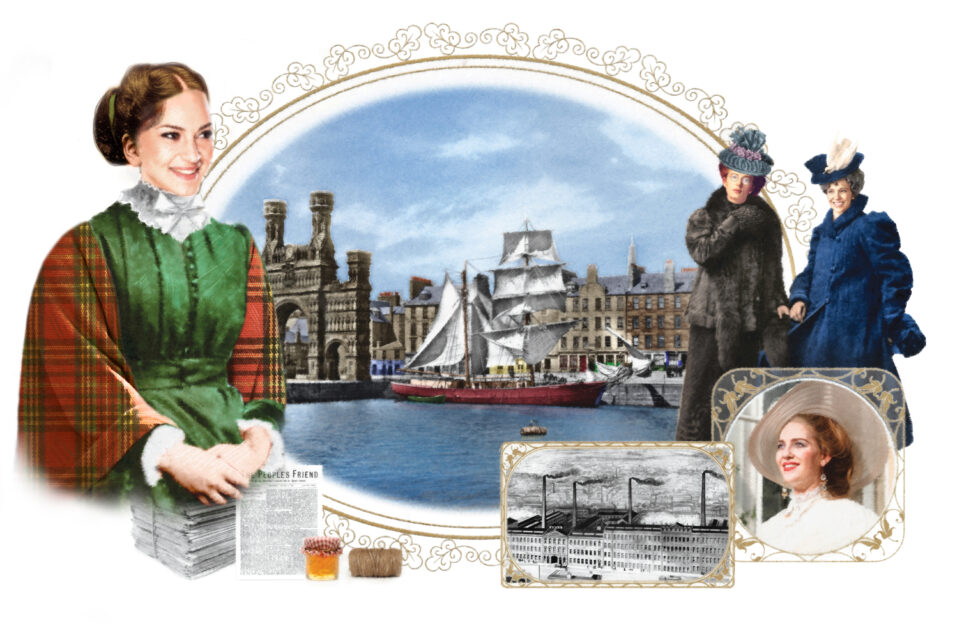 Illustration by Mandy Dixon.
"How could I criticise Ina when she gave your family such sterling service?" Thomas asked. "Crombie has secured a passage –"
He stopped speaking as the door opened and Carrie Smith came into the room.
"Good afternoon, Miss Smith. I see from the roses in your cheeks that you have been out in the air, too."
"Yes, at the suffrage office," Carrie replied.
She'd left her outdoor things in the hall, and was wearing a well-cut house dress in navy-blue. She sat down at the table.
"It is going to be very quiet in the house when you and Mr Crombie go off. I think you won't have had any replies to your advertisements yet, Hetty?"
"No, nothing certain," Hetty replied. "Did you have your protégée, Mistress Marshall, with you today?"
Hetty knew the young woman had been helping out from time to time since her man got work in Keiller's jam factory, and was making herself most useful.
"No, because she's coming here this afternoon. Jennet's writing is making excellent progress and I've asked Mr Lochead, the class teacher, to come, too.
"She's so far ahead of the bairns and others that I think she needs some individual tuition."
Carrie looked thoughtful.
"She's also quite a fluent writer of her own thoughts, and the other lady helpers find her views most interesting."
They all turned towards the door as John Crombie entered. He stopped when he found all their eyes on him, but pulled himself together and came into the room.
"Good afternoon, Miss Wilson. Carrie," he said, and strode across to the fireplace.
Hetty noticed the way his glance kept straying towards her cousin, and the tendency he had to fiddle with his watch chain.
"Were there berths to be had?" Carrie asked, and Hetty caught a slight tremor in her tone.
The younger people had spent a great deal of time walking and talking together, and she had seen Carrie become increasingly attuned to whether Mr Crombie was in or out.
She'd also noticed how one or two more fashionably cut dresses had appeared among Carrie's regular wardrobe.
"Berths? Yes, there were berths. I leave on March the twenty-third," Crombie said.
He fell silent. They all did, and Hetty was not surprised when Crombie spoke next.
"Miss Smith, I wonder if I might ask you for a few moments of private conversation?"
Hetty struggled to keep her curiosity under control.
"Why, yes, there's a fire in the front room today as I expect some friends to take tea with me," she said. "They are not due for an hour, though."
She saw anxiety on Carrie's expressive features and felt a wave of tenderness for the girl.
The young people left the room, and Thomas and Hetty sat down. They exchanged glances, but didn't dare voice their hopes.
"Hetty, I have been impressed by the skill you have shown training Agnes, and the kindness, too," Thomas said.
Hetty felt embarrassment flush her face.
"Goodness, sir, it is simple housekeeping."
"I do not think housekeeping is simple," he said sincerely.
"Even allowing for my male ineptitude over when a joint has gone off, or a sheet needs turning, I believe the running of an establishment like yours is a skilled business.
"In fact, I am so impressed that I wonder whether you would ever think of taking up another enterprise entirely."
"Do you mean find employment as a housekeeper?" Hetty asked in surprise.
She was a lady of independent means, even if they had needed bolstering in order to maintain the house.
"Hetty, I do not mean to give offence, but there are ways in which your skills could widen your horizons and take you out into the world," Thomas said with some force. "You could always retire home to Dundee in your later years."
Hetty gazed at him. Move from Dundee? With Mr Crombie and Thomas gone, the house would be quiet until new lodgers could be attracted.
If, as she very much hoped, Mr Crombie and Carrie decided to marry, then she would be gone, too.
If Hetty were ever to consider living somewhere else, Carrie's departure might be the moment to do that.
The door burst open and Carrie and Crombie tumbled into the room.
"Oh, Hetty, John has asked me to accompany him to Newfoundland as his wife!" Carrie said.
Her eyes were dancing with a fire Hetty hadn't seen for many months.
"And I have said I will."