City Of Discoveries — Episode 44
---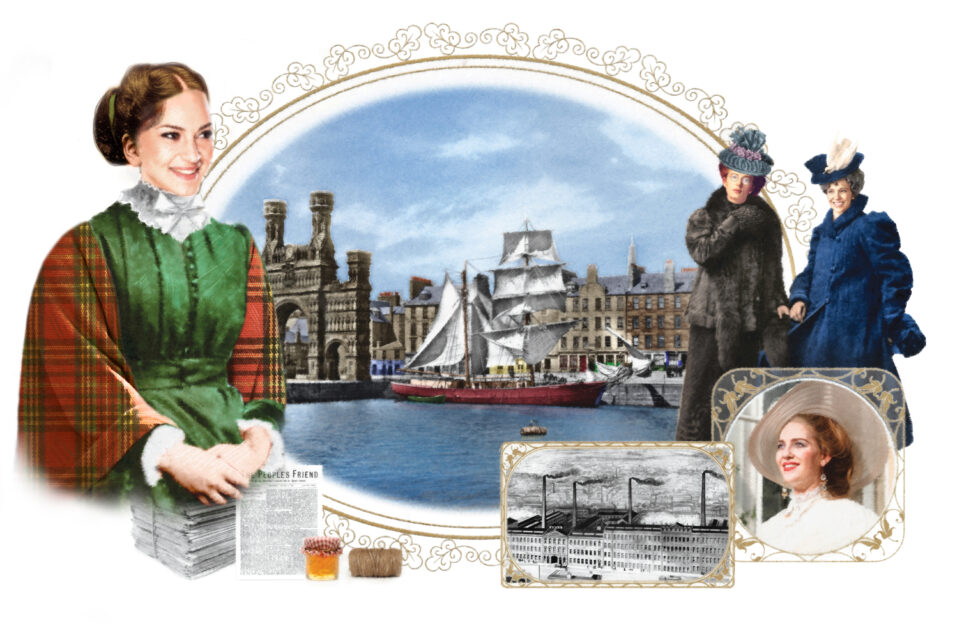 Illustration by Mandy Dixon.
Jennet heard doors opening and folk tumbling out on to their landings and dashing down the stairs.
"That hoyden has soaked me. Call the polis!" Fleming screeched.
"Aye, right, man. Whit made the lass think she needed tae dae that?" one of the upstairs men called over Jennet's head.
She felt William's strong arms lift her up on her feet and set her up the few stairs on to the landing.
"Mistress Wightman!" someone called and Mistress Cox pushed past to get down to help Phemie.
The old woman was moaning and, Jennet was relieved to see, moving slightly.
"Did you dae that?" the first man asked, and there was no mistaking the ugly turn the neighbour's mood was taking.
"'Cause if you've come here tae upset our womenfolk, you've goat the wrang end of the stick. Maybe they work in the mills, but we're well up tae looking out for oor ain."
Fleming hauled himself into a sitting position.
Jennet trembled in fright, but William's bulk stood reassuringly beside her.
As they watched in the deepening gloom, the foreman grabbed the railings of the stair banisters and pulled.
A younger woman stepped behind Fleming, and pushed him until he was standing.
He turned away and put his arm around her neck so she could help him stagger out of the passage.
At the entry, Fleming turned back and shook a fist up at her.
Jennet caught hold of William's jacket to prevent him chasing after the foreman.
"Aye, you'll be sorry for this night's work!" Fleming screamed. "See if she'll be taken back on at Sooth's when you're out on your ear again, Marshall!
"Naebody is goin' tae employ her. A'body kens about her adultery with that student loon."
Jennet couldn't hold her husband back any longer. She heard the material of his jacket shred as he raced downstairs.
But Fleming was gone into the darkness of the spring night. Outside a driver yelled a warning and horses snorted in alarm.
Jennet reached for the banister rail with a shaky hand. She had been right to notice the tobacco on the air earlier.
Fleming had been here then, too, and seen Mr Lochead at her door.
She felt nausea rise in her throat.
****
Jennet reeled in shock as the full force of Fleming's accusation hit her. Adultery!
William was already in the downstairs passage and she didn't see his reaction, but she could guess.
Fleming had been skulking around here for weeks, and today he'd seen Walter Lochead, the Sooth's Mill teacher, bring a poetry book to her door.
"To the door," she whispered, "but not through the door. Mistress Cox will back me up there."
She went downstairs to the crowd gathered around fallen Phemie Wightman. Mistress Cox, her upstairs neighbour, was there.
William came back in from the entry. Fleming must have escaped between the carts and carriages that crammed the streets in the early evening.
Given that Fleming and his friends had already assaulted William with sticks, Jennet was grateful he hadn't caught them.
"I heard her groan, Mistress Cox," Jennet heard him say as he reached the group.
Jennet pushed through the crowd, kneeled down and stroked Phemie's face.
She was rewarded with a mumbled response and she and Mistress Cox turned the woman over and into William's arms.
They needed to get the old woman out of the cold entry and indoors.