Danger In Havana – Episode 12
---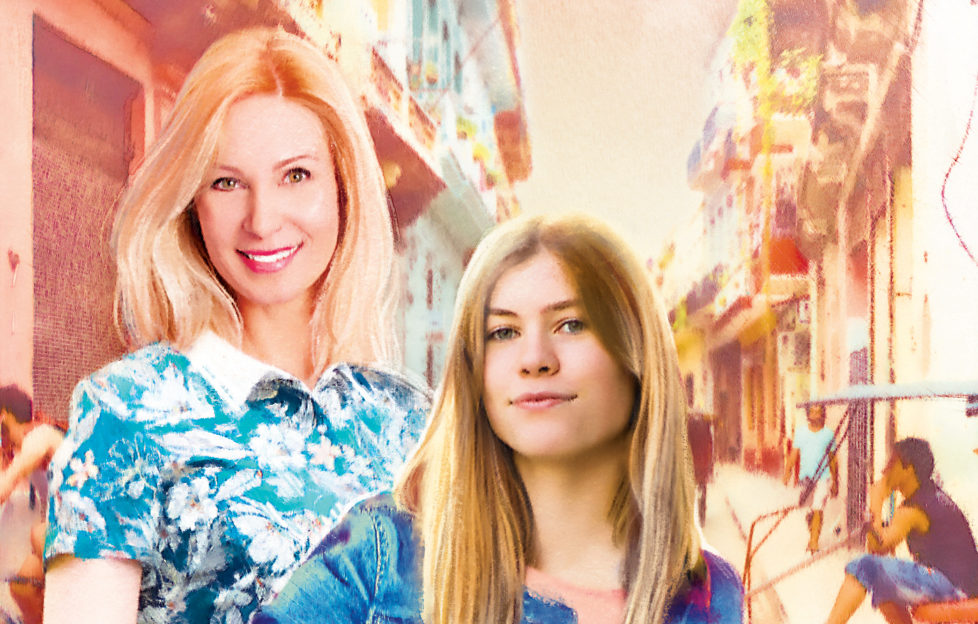 Illustration by Sarah Holliday.
MARK and Bryony walked in silence for the next few minutes, and she seemed to take his advice, looking carefully up at the wrought iron balconies and into the renovated blocks of flats as if the answer could be there somewhere. Some looked straight through to open courtyards streaming with sunshine.
Maybe the dark entrances to those old apartment blocks, cool with their mini-jungles of houseplants could hold all the secrets. Maybe Anna was in one of those somewhere – either as a willing guest, or an unwilling captive.
Mark wondered if he'd been too rough on Bryony.
There was an air of fragility surrounding her. The way she clung to her handbag like a lifebelt, her knuckles white as they gripped too tight.
Now, he wasn't working, and this woman and her disappeared daughter were more than simply people he was paid to help.
What's more, this was a strange country with different rules he didn't understand. He wondered for a fraction of a second whether he should be liaising with the Cuban police, then thought better of it. The last thing he needed was someone telling him what he could or couldn't do – or blocking his modus operandi.
This was still a communist country with tough laws, and people still buttoned their lips if you tried to question authority, or the regime.
"Let's put up some of these posters."
He and Bryony attached posters to trees and lamp posts and curious people came up, looked and peered sympathetically at Bryony.
An old woman came up to Bryony, her forehead wrinkled with compassion and touched Bryony's arm to comfort her.
The old people had hearts which were etched with memories of a time when it wasn't unusual to lose a daughter or a son permanently and for no trace of them to be found. Ever.
This country had a painful past and an uneasy future. Their Russian allies had abandoned them when the USSR broke up. Their new ally was China, whilst they felt aggrieved that America still chose to turn its back on them. They had an uncomfortable past and an uncertain future.
"Come on," Mark said. "Let's go and have a word with the owner of the restaurant where you two had lunch. Los Pollos, that was its name, wasn't it?"
When they got there, the owner shook his head. He had seen nothing, having been busy sorting out a problem in the kitchen that day.
"The waitress who served you is in at noon. You have only half an hour to wait, talk to her by all means."
"We'll come back," Mark said. Then he turned to Bryony. "Let's walk round the square and show people Anna's photo. Someone must remember her."
A couple of people did; she was distinctive, young, blonde and pretty. She'd chatted to them about paintings.
One stall owner was particularly helpful. He had been selling a selection of expensive art works quite different from the others, not modern, but from the 19th and early 20th centuries.
He had a distinctive look, very clean cut, a perfectly tailored suit, trendy pointy-toed shoes and a sleek hairdo. The trade in early paintings was obviously lucrative.
"I do remember this young lady. She had a great interest in art and books. I saw her talking to a young man. I think he might have been a Canadian. I believe I saw her wander off that way, into one of those bars, I think.
"Those are the bars where all the tourists go, they think it is the real Havana but it is not. Nevertheless, they have fun. The young need to have fun while they can, before life bears down on them." The scent of expensive aftershave exuded from him.
As they turned to go, the stall owner stopped them.
"Please, let us exchange telephone numbers. My name is Gustavo Jimenez. I have been trading here for many years; I know a lot of people. I will ask around and if anything turns up I will let you know. Do feel free to call me whenever you wish."
He gave them a smile displaying perfect white teeth.
"Thank you, Mr Jimenez, you've been very helpful," Mark said.
"Call me Gustavo, please." He gave a small bow, watching them all the while.
"I guess Anna just got chatting to this Canadian Gustavo mentioned," Bryony said as they walked away. "Anna's always so friendly and sometimes she loses track of time when she's talking about art. What a helpful man."
Bryony seemed comforted that they might be getting somewhere, but Mark had learned to keep up his guard.
"In fact, everyone's so helpful, I think that's one of the things that defines Cubans, don't you?" Bryony continued. "They seem to have very little in the way of possessions. There are so few shops and one that Anna and I did go into had virtually nothing on the shelves. But their lack of things doesn't seem to bother them, they're so nice and so pleased to meet foreigners."
Mark nodded but Bryony was unsure of his expression. She guessed he had seen many difficult things in his policing and met many bad people but she tried not to think of that in connection with Anna.
She noticed as they made their way down the road, that Mark looked behind him more than once.
The two of them immediately made their way down to the bars Gustavo Jimenez had seen Anna walk into. They handed out their posters but not one person at that end of the square remembered Anna.
"That's curious," Mark remarked as they headed back to the restaurant. "It would have been busy round here, and lots of the locals hang around the same bars. It's odd to have just one sighting of someone in a place like this."
"It feels a bit hopeless." Bryony was starting to flag.
"Let's go back to Los Pollos and see if the waitress has started her shift."