Echoes From The Past – Episode 06
---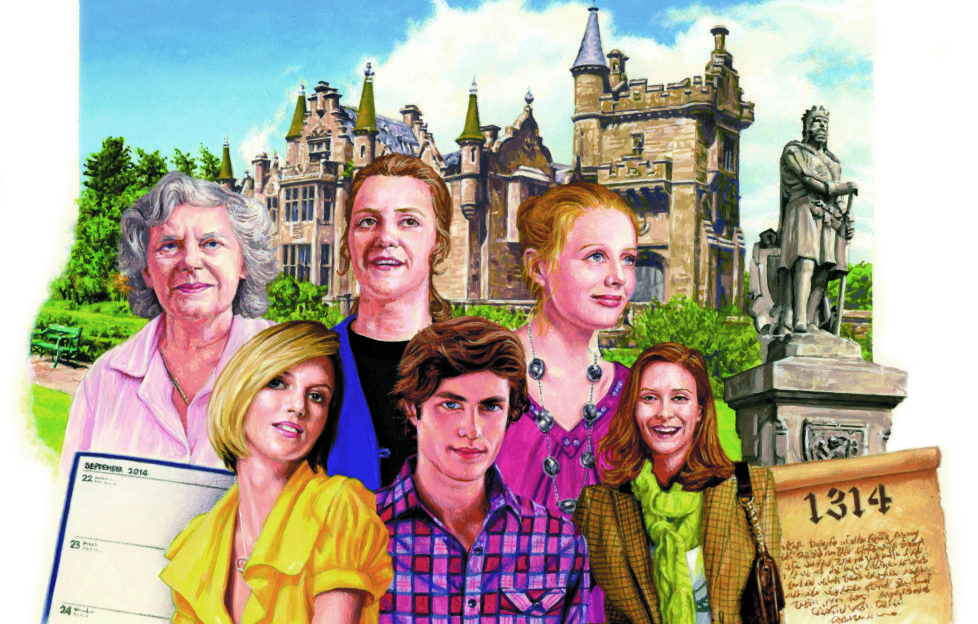 Illustration by Andy Walker
Packing for a visit of an uncertain length took Holly less time than she had anticipated. She filled the van with a variety of clothes, and all her equipment, including the sewing machine. Then she locked up the cottage, left the key with a neighbour, and set off on the road north. She arrived in Stirling in the middle of the afternoon, driving along the road of handsome stone houses, built before off-road parking had become such a desirable asset. In this, Bea had been ahead of her time, knocking down part of her garden wall to create a space, long before the planning department would have given her an argument. As Holly approached, she could see the parking space and slipped into it.
Bea must have been hovering near the door, for it opened as soon as Holly switched off the engine, revealing Bea standing a little less than upright, leaning on two sticks. Gone was the tubby little lady Holly remembered. Bea had taken seriously her instructions to lose weight, and stood now a shadow of her former self. The smile was still there, but Holly could see she was being gallant. It was definitely time for this operation. Holly was suddenly very glad that she had come.
On the journey from the front door to the kitchen, Holly could see that the hall-stand shone with polish and the carpet had been freshly vacuumed. The sitting-room door stood open, revealing the same standard of domestic care. Once in the warm bright kitchen, Holly saw that afternoon tea had been set out on the table, a glorious spread of scones and cake and shortbread on the best china.
"Angela wanted you to have a proper welcome," Bea said. "She had to go at three, but she left everything ready."
"Didn't she just," Holly said admiringly. "That looks like home baking, too. Angela sounds a real star."
"She is," Bea replied simply. "You'll like Angela. She suits her name."
From then on, it was a question of catching up on family news, unpacking the van, setting herself up in the spare room, and taking stock of Bea's condition. She had to be in hospital the day after next, so there was a little time for Holly to learn where everything was and how to work things. In any case, Angela would be around, a fount of information and assistance, always at the end of her mobile.
Although it technically wasn't her day, Angela did call in on the morrow, and Holly could see that Bea's faith in her was well founded. She was a woman in her forties, with fading fair hair and a slightly worried expression. According to Bea, her family did give her a bit of trouble, but she didn't specify any details. All Angela wanted to be certain of was that Holly had arrived, and would be on hand as required for the foreseeable future.
"Nice to meet you," she said, after Bea had introduced them and left them to discuss things. "I think you'll find the house in order, but just ring if I can help. Sorry I couldn't take Miss Seagrave to the hospital myself. I have an appointment with the social work department, and you dinna want to put these people off."
"I should think not," Holly agreed. "Thanks for everything you've done, Angela. The house is beautiful, and I know my aunt will recover all the more quickly for knowing it's in good nick and she doesn't have to worry about it. Not that she ever did, mind you."
The two of them exchanged a quick smile, recognising that Bea's ideas of domestic order were not quite the same as Angela's. She liked things to be hygienic, but wasn't bothered about anything else. On the other hand, she did appreciate it when someone else took the trouble. And Angela certainly had.