Mallorcan Magic – Episode 11
---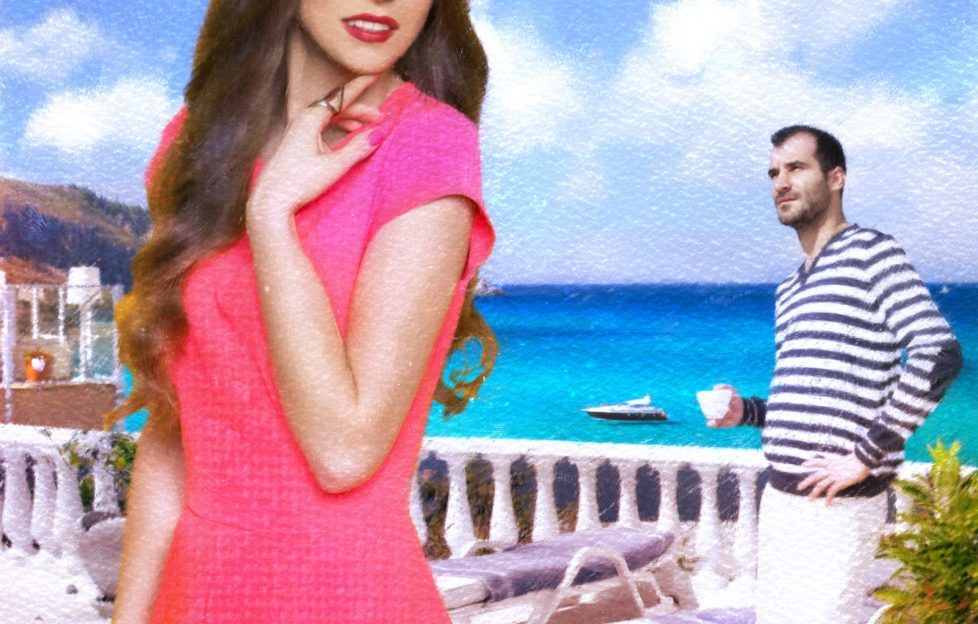 Illustration by Jim Dewar.
Eira flinched, hearing him say such a poignant thing. Her heart ached for the children. Yes, they benefited from a dream lifestyle on an idyllic island but they missed out on things she'd taken for granted as a child, things like family togetherness and unconditional love.
She remembered the events at the pool that afternoon. So much had happened since!
"Forgive me for asking, Danny, but I was startled when your little daughter said what she said. I couldn't help wondering whether Sue might have been your girlfriend." Eira gulped. "Until you said she was going home to be married."
"Thank you for having the courage to ask. It convinces me you're the right person for the job. I never became involved with Sue throughout her time with us, nor would I envisage such a situation with any other employee. Does that help you reach a decision, Eira?"
She felt tongue-tied. Yes, it did, and of course she should be relieved. So, why did she have this empty feeling? She was sorely tempted by the opportunity he offered but wasn't sure whether working for a man she found so appealing was such a bright idea.
To her relief, after Danny settled the bill, he drove her back, his radio set to a Spanish music station, eliminating any need for conversation.
He pulled into his parking space behind the apartment block.
"I'll walk you to the elevator then take a stroll. I've already interviewed two young women as Sue's possible successor so I'd appreciate your decision as soon as possible."
So much for taking her time to consider − did that mean she was his first choice?
"I promise to give you my answer tomorrow."
"I'll be in the café at eleven o'clock with the children. May I suggest you come and tell me then?"
Eira agreed and thanked him for a lovely evening and, as promised, he saw her into the elevator.
****
On Helen's floor, Eira took out her key just as the door to her friend's apartment opened and Antonio was leaving.
As Eira and Helen curled up on the sitting-room sofa, Eira turned to her friend.
"You sound in high spirits, Helen. Do you have something to tell me?"
Eira watched her friend's cheeks turn pink in the lamplight.
"Things have become a little more serious, yes," Helen said.
"Five minutes later and you could have kept your secret from me," Eira teased. "Antonio would have left the building and you'd have been tucked up in bed."
"I've nothing to be ashamed of, believe me. Antonio's a true gentleman."
"Yes, he's lovely and you're obviously mad about each other."
Helen's eyes sparkled.
"He's invited me to lunch at his home on Sunday, at last! I thought the day might never come."
"That means his father must have come round! Oh, I'm so pleased for you."
"It's a huge step forward, isn't it?"
"I might hum 'The Wedding March'!"
"You know, I can't think of anything I'd like better. Or were you joking?"
"No way! You can't tell me you haven't dreamed of becoming Antonio's wife."
"You're right, but this is only the beginning, isn't it?"
"I think Antonio's invitation is very significant and shows how much he respects you."
"I hope so." Helen sighed. "Yes, I'm aware of how lucky I am that he hasn't rushed me into something I might have regretted. I'm happy, of course, but wouldn't it be dreadful if his father took an instant dislike to me?"
"Hey, you're not thinking straight. How could any man not fall in love with you?" Helen half sobbed, half laughed.
"Thanks for the vote of confidence. I'm feeling quite emotional, as you can tell."
"We should get some sleep." Eira hesitated.
"I should have asked before! How was dinner? Did Danny behave himself?"
"Of course he did!"
"And?"
"He's offered me a live-in job."
"Now you definitely are joking."
"I'm perfectly serious − as was he. It would mean staying on the island, at least for the rest of the summer and it'd definitely get me out of a hole.
"You know I don't relish the thought of asking my parents if I can go back home to live. It wouldn't be fair on them and before Danny offered me this job, I was considering looking for work outside of London."