No. 4, Whitehall Gardens – Episode 36
---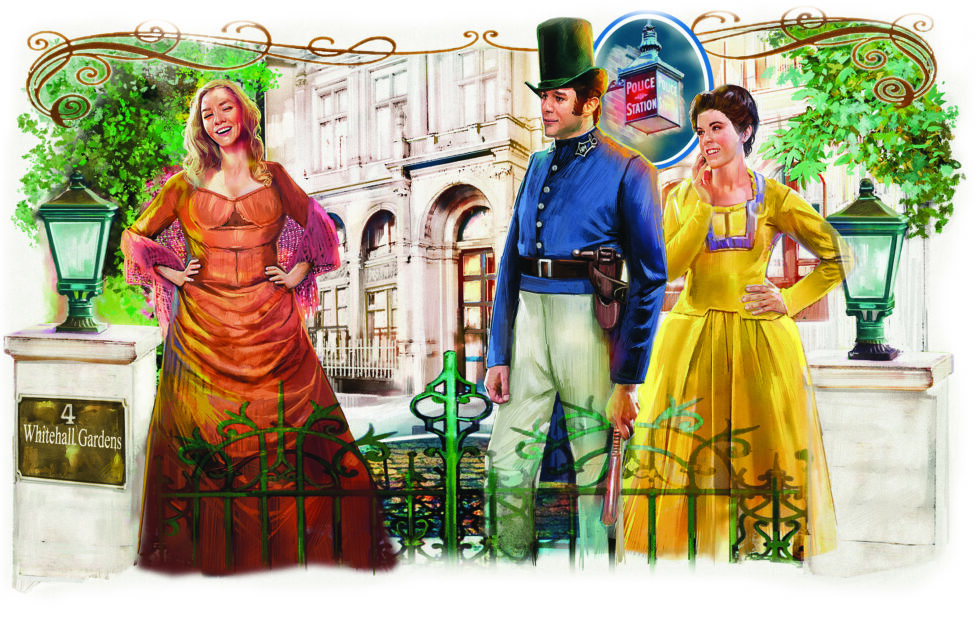 Illustration by Sailesh Thakrar.
Two hours later Bridget and Clementine emerged to find Griff slumped against a wall at the top of the stairs outside their rooms.
He jumped up and hit his head on the hanging stair post when he saw them emerge, but he didn't seem to notice the pain as they informed him that Dorcas and her baby girl were well.
He took the midwife home, but 30 minutes later, when Bridget had taken sweet tea in to Dorcas, Griff was back.
"I wanted to know if there's further errands," he said.
His Welsh accent was coming out strongly, and Clementine guessed that happened at emotional moments. He glanced at the bedroom door often.
"Anything the baby needs, I'm the man, see. My ma says babies can be poor sleepers at the start."
Griff was the oldest of nine children, Clementine remembered, and might be expected to know a thing or two. She also recalled him saying that he never wanted to see a baby again!
At that moment the door opened and Bridget appeared, holding a white bundle. She drew back the blanket to reveal a tiny pink face, and a mouth in constant motion.
"By all the saints!" Griff said. "She's a beauty!"
"Is that Mr Jones?" A faint voice reached them from the bedroom, and Griff, not daring to approach, strained to see the pale face of Dorcas.
He reached up to pull his hat off, found it was already in his hand, and thumped it against his leg in embarrassment.
"Fine work," he said. "I mean to say . . . um." He was a deeper scarlet.
"Thank you," the faint voice of Dorcas came back.
He beamed. Bridget carried the baby back into the bedroom and shut the door.
"I feel quite overcome," Griff said.
"You were concerned for the mother, like all of us," Clementine said gently.
"I was," he said. "A very good young woman."
The hat began thumping against his thigh again.
"If I find the fella that abandoned her . . . If I get my hands on –"
"Let's concentrate on the present," Clementine interrupted. She did not fancy the chances of Dorcas's faithless soldier in the grip of Griff Jones.
"Of course," he replied, and brightened up. "I regret telling you I don't like babies, Miss Denny. I think it was only my mother's babies that got to be an irritation. What a pretty thing this baby will be!"
"I'm sure you're right," Clementine agreed.
She had trouble getting rid of Griff. As day changed to evening he came and went with hot pies, a jug of beer and finally a pair of tiny shoes, which Clementine forebore to mention would be too large for Dorcas's daughter for at least a year.
Finally, at half past six, she turned to him.
"Both of us ought to be back at number four."
They had both taken far too much time away from their duties. The horses would need attention and so would Miss Everett.
"You can ride with me," Griff offered. "It's a long walk back, but no time at all in the saddle."
Clementine hesitated. Riding behind Griff would require her to hold on to him tightly.
She glanced at him. He was looking intently at the bedroom door.
"I've the old saddle on the mare," he said matter of factly, "so there'll be no discomfort. I took old Ned Capstick from next door all the way to a fair at St Albans on that saddle, and no word of complaint. It's comfortable. Are you coming?"
It seemed that Griff's agony of love for Clementine was easing.