Northern Lights – Episode 49
---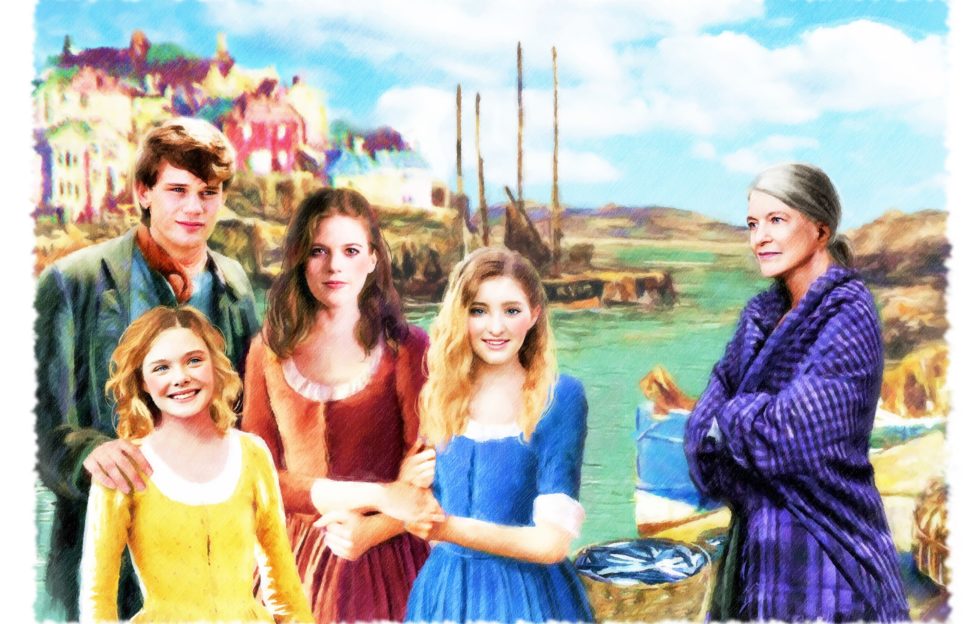 Image: Ruth Blair
Shock hit her like a fist.
"My brother!"
She turned and ran blindly, cannoning into someone. She beat his chest with her fists and still he would not budge. At last she collapsed into his arms in an agony of grief.
A gentle voice spoke.
"It was not Alec, Maggie," Samuel said. "An apprentice called Charles Henderson was drowned, God rest his soul."
She rested against him, suddenly drained.
"Oh, Samuel, some poor mother has lost a son."
"Hush, now, my dearest."
He drew her closer.
"You were kind when I wore sackcloth and scrubbed the streets," she murmured. "I thought I was the lowest o' the low. But you praised me for cleaning the shop window and your appreciation heartened me."
"More than appreciation, Maggie, dear. I've always loved you."
"I know. I see the love light in your een."
"Does it warm ye? Enough to marry me?"
Maggie paused.
"Dear man, when the lighthouse is built and Alec safe ashore, ask me again."
Samuel summoned a smile. The wait should not be long, and the love light shining in Maggie's bonnie brown eyes told him it would be well worth it.
*  *  *  *
Amy's merit had been recognised and she was promoted to train young lasses to sew small canvas items. Her pupils admired her looks, wondering amongst themselves why such a bonnie young woman steadfastly rejected approaches from likely lads.
They did not know Amy waited for a young man she had met years ago and hardly knew. She prayed for William's safety each night.
One day, as Amy sat stitching, she looked up and there he was.
Relief overwhelmed her.
"You're home safe. Oh, thank God!"
"Amy!" he said, stunned by the transformation from pretty child to beautiful woman.
Their eyes met and held.
He smiled ruefully.
"You were right. I was made a powder monkey, racing between decks from the ammunition store wi' gunpowder for the cannons.
"Our ship was fortunate for years to escape damage in its encounters with the French, till one last battle.
"I was on my way to the ammunition store when word came of a fire in the crew's quarters. I turned back and ran through the smoke and flames to rescue the ditty bag sewn by a girl I met once and never forgot." He shook his head.
"Minutes later a cannonball struck the passageway leading to the ammunition store. Had I not turned aside, I would have been killed. Afterwards, I found this in the bag's charred canvas."
Amy's eyes widened as she recognised the scrap of linen and the prayer she'd stitched years ago and hidden within the bag.
God bless you and keep you safe.
He smiled.
"You are my miracle, dear Amy!"
She looked at him.
"What if God allows us only one miracle? You'll go back to sea."
He shook his head.
"No. Have you heard tell of iron clads, wooden battleships clad in iron to repel enemy fire?"
She frowned.
"Aye."
William smiled.
"Naval designers plan to alter the hull design of armoured battleships to outmanoeuvre a cumbersome enemy. The Navy offers training in ship design at a unit based near Edinburgh. I applied and was accepted."
"You'll be safe ashore!" she rejoiced. "Though Edinburgh is so very far away."
"Not by sea, dear Amy, and soon there will be a powerful light to guide me back to you."
He took her hand.
"There's time to spend while I learn my trade, but if you are still of a mind when that is done, will you be mine, Amy?"
"Oh, yes!"