The Dividing Tide – Episode 49
---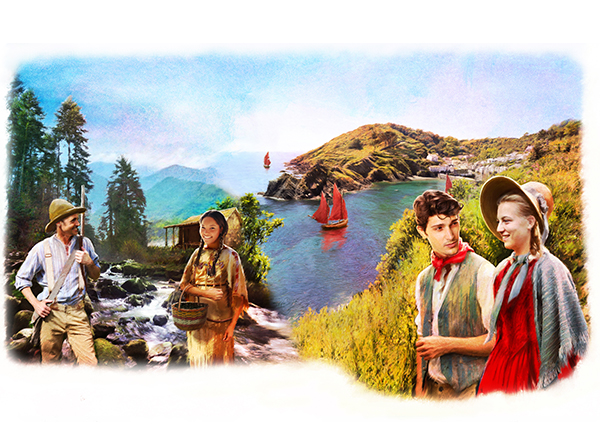 Illustration by David Young.
Jenna adapted her quick light steps to Morwenna's ponderous ones as they strolled through the copse at the back of the house.
The doctor was pleased with her aunt's progress and had encouraged her to continue her perambulations, and it had fallen to Jenna to accompany her on a gentle walk each day before luncheon.
Usually her aunt would talk to her as they walked, instructing her in her duties and responsibilities. But for the last ten minutes she had fallen silent and Jenna's thoughts had turned, as they so often did, to Garren.
She didn't understand why he hadn't come to see her when he had been working so close by.
Why hadn't he delivered his message himself? And what had made him decide to leave? It was cruel, and that wasn't like him.
Her thoughts went round and round as they searched for answers, but to no avail. The truth was, she didn't know what to think.
Suddenly, she felt her stomach churn. What if he'd met somebody else? The girls at home were always making eyes at him, it was true. Yes, that must be it. He was so handsome, after all.
As they emerged from the trees into the warm May sunshine, Morwenna's voice cut in on her reverie.
"Put my parasol up for me and give me your arm."
Jenna looked at her aunt in consternation. There was something about the tone of her voice that wasn't quite right. She watched Morwenna's cheeks as they paled.
"Are you feeling quite well?" she asked, opening her parasol for her and holding it aloft. "It is rather warm today. Perhaps we should return to the house?"
She felt the heavy weight of her aunt's arm as she slipped it into hers.
"We should not have come so far," she murmured as she looked down the length of the gravel path. It seemed to stretch interminably line to the rear of the house. "Oh, dear, it's my fault. Why did I suggest the woods?"
"There's no point going into that now," Morwenna snapped. "Take my arm and match your step to mine. There, that's better."
Slowly, very slowly, they made their way towards the house. But halfway down the path Morwenna stopped again.
"What is it, Aunt?"
If only she understood a little more about the intricacies of the maternal state. The only things she knew about childbearing was what she had heard from the women in the fish palace. And not all of that was reassuring.
But Morwenna had simply paused to speak.
"I have been meaning to ask you something."
"Yes, Aunt? What is it?"
"Your uncle and I are hoping you will consider staying on at Nankerris with us when your allotted year is up."