The Glens Of Stone – Episode 86
---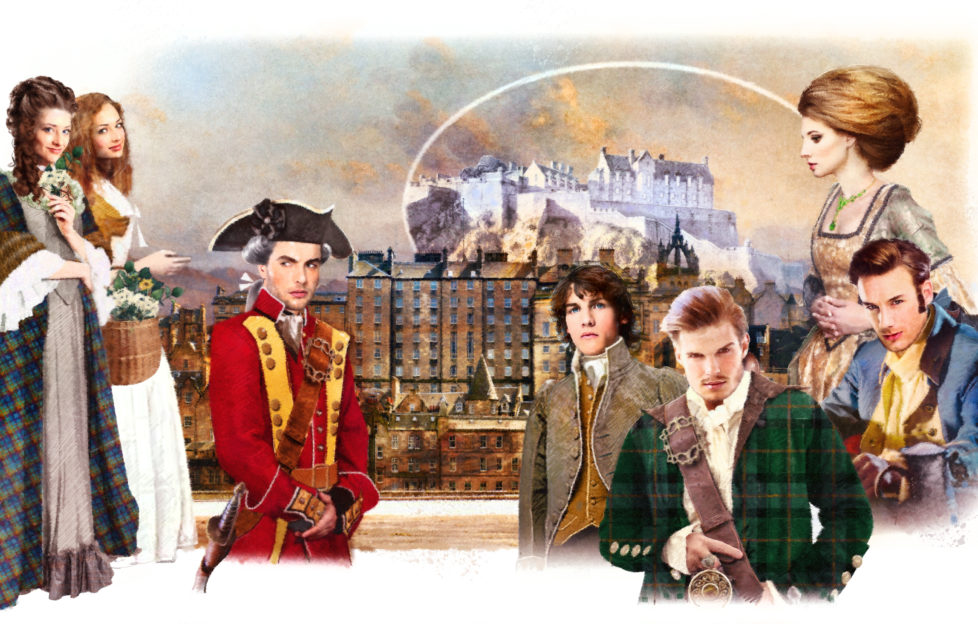 Illustration by Mandy Dixon
Kirsty held Duncan McAllan's arm tightly, eager to assure him that she would always love him as a father. They had talked well into the small hours, he begging forgiveness, she giving him every assurance that he'd given her a happy life.
She felt her free hand being squeezed and turned to smile at Malcolm, whose eyes shone with his love for her. It would not be long before he took her as his wife. And who knew, she thought, stealing a glance at Alison, there might even be a double wedding!
Alison was dry-eyed. She wanted to feel sadness for the man who was her father, but tears would not come. Perhaps later. She sensed John and Agnes Porteous looking at her and smiled at them. They had raised her, guided her and loved her as their own. For that she would ever be grateful.
Her eyes caught Sandy's as he stood by Ewan Ogilvie's side. This was the man she would marry one day soon, she knew, and the thought gave her comfort.
Lady Catherine stood red-eyed, one arm around McLaurin's shoulders. The old woman's face was strained with grief and her fingers trembled in their grip on her cane.
Ellie prayed silently that God would keep Ewan safe in the battles to come. She felt sorry for him, knowing it would be a long while before he forgave himself for the colonel's death.
She shook her head; she kept referring to Alastair Crawford as "the colonel". How long would it be before she could accept that he had been her father?
Yet in him she recognised from where her spirit and impishness had come. She felt sorry for him; for the hate and jealousy that had devastated his marriage to her mother. She was glad she'd met him, and gladder still that she had two sisters and a brother. Even if it was a brother who had shut her in the vaults for her insolence!
The funeral service over, the coffin was gently laid in the earth, the soldiers firing a round in salute. Then Robert stepped to the graveside and bowed his head, allowing a trickle of earth to slide from his hand on to the coffin lid.
In turn Kirsty, Alison and Ellie stepped forward, dropping posies of flowers into the grave. They stood for a moment's prayer, then, escorted by the menfolk, made for the waiting carriages.
The procession rode through the village and followed the road to Edinburgh. There was little to say, and little they wished to say. Each had personal thoughts, memories and hopes.
Ahead lay the imposing outline of the castle from which the mile-long street tailed down to Holyrood – a street bordered by high tenements which Kirsty had once thought gave the impression of walking through great glens.
Glens of stone.
On the hillside above, an eagle took to the air and wheeled slowly over them as if in salute before flying off towards the watery, sinking sun.