The Glens Of Stone – Episode 87
---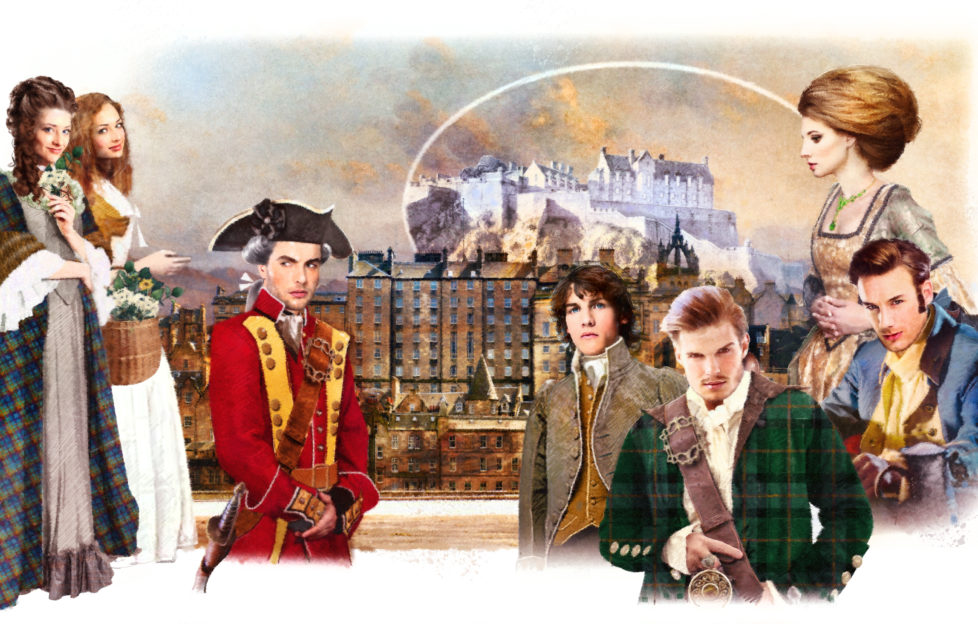 Illustration by Mandy Dixon
The women laughed as their husbands played with the children, though each would admit to being fearful that the boisterous rough and tumble would lead to tears.
"Men! They're so rough," Ellie said, shaking her head as Ewan pulled little Roddy down into the long grass, whooping with laughter.
It was good to see Ewan happy, she thought. He'd lost all spirit after the calamity of Culloden those five years ago. Still, at least he had come back to her unscathed. Poor Sandy had taken a sabre cut in the leg, leaving him with a permanent limp.
Not that you'd know it to see him at that moment, valiantly avoiding the fists of his dear little Emma, the pride and joy of him and Alison.
Shielding her eyes, she saw Robert cantering towards them, by his side the beautiful Anne Cameron, daughter of their neighbour, Sir Kenneth Cameron.
After Alastair Crawford's funeral Robert had returned to Edinburgh Castle. When the rebellion ended after Culloden he had resigned his commission and taken up residence in Glencorrie where, because of his military background, his sisters and their loved ones could also live without harassment from the triumphant Redcoats.
It had taken Robert a long time to settle but the Glencorrie estate had given him an interest. He'd proved to be a good manager and now Glencorrie thrived, fast becoming one of the richest estates in the shire.
However, it was Anne who had given Robert what he most needed – love – and come August they would be wed.
Hopefully they would see Kirsty and Malcolm – and the twins – before that. Unlike Ellie and Alison, who'd elected to move to Glencorrie after their marriages, Kirsty had stayed in Edinburgh, where she and Malcolm still helped Duncan McAllan with the Mission House.
While content to live modestly, Kirsty's last letter had mentioned new homes to be built in the fields to the north of the city and told of her hopes that she and Malcolm might get a new house there.
John and Agnes Porteous had been content to remain in Edinburgh, too. John still loved his bookshop and intended opening others.
Ellie did not miss Edinburgh, though she'd been back twice – the first time to Miss McLaurin's funeral, which they'd all attended, and then to Lady Catherine's wedding to a prosperous Edinburgh merchant.
No, like Robert and Alison, Ellie loved Glencorrie with its turreted baronial house and many rooms. One day, though, Ellie knew Ewan would ask her to leave so that they could make a home of their own, and she would go with him willingly.
She rose to greet Robert and Anne, aware only of the warmth of the sun and the joy and laughter of those around her – her family.
The End.