The Mystery Of Anna Grace – Episode 12
---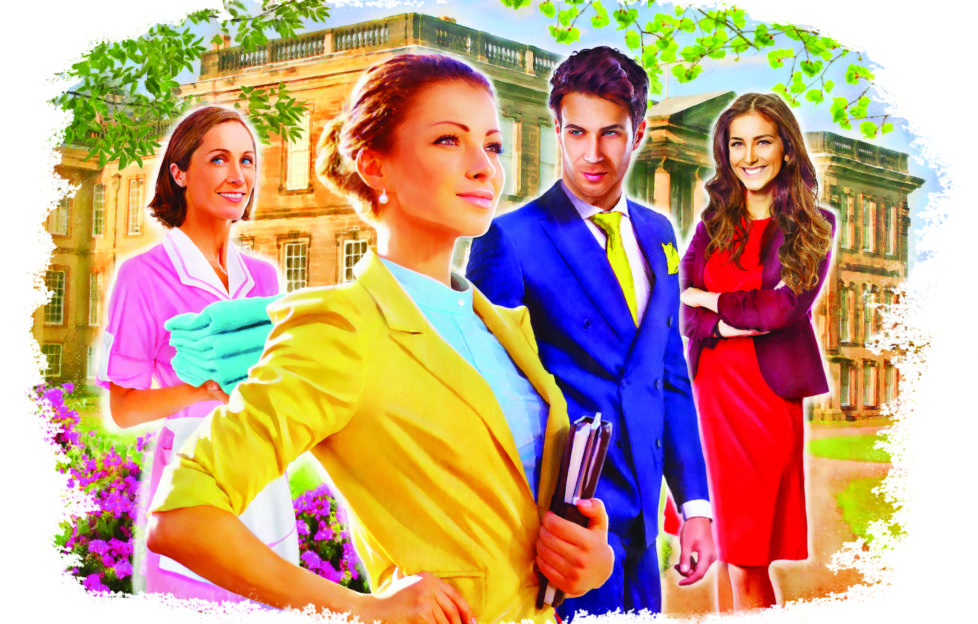 Illustration by Kirk Houston.
Charlie felt flustered. Putting the earring into her top drawer so it wouldn't get lost, she tried to gather her scattered thoughts.
Charlie was meant to run everything past Harriet before it went to Robin.
However, Harriet had made it clear that nothing short of the hotel burning to the ground would be a good reason for interrupting her this afternoon, as it was her niece's school play.
Charlie went into the kitchen to ask Katarina to make some coffee. The kitchen was empty, with just the smell of baking indicating that Katarina was around. She was probably hanging out washing as it was a dry day.
Charlie switched on the kettle. She could still hear the phone if it rang and all the phones in the office area were connected so she could pick up any of them.
She hunted for cups and the coffee pot. The action calmed her and she thought back to the menu she had printed.
She'd discussed it with Katarina, who'd advised her to keep it simple.
Charlie had suggested a goats' cheese tart or a tomato and basil soup to start, and the mains included stuffed chicken, salmon with a lemon and dill sauce and vegetarian moussaka.
Sweets were a particular speciality and Katarina had suggested her lemon drizzle cake or cheesecake.
The phone rang and Charlie picked up the kitchen extension.
It was a complicated call from a woman who didn't seem to know when she wanted to book or how many people she wanted to book for.
"Would you mind holding the line a moment, please?" Charlie asked. "I need to turn this oven off as I think the cake will come to grief."
It wasn't the most professional thing to say, but it was either that or face the wrath of Katarina.
Charlie switched the oven off, not wanting to open the door before she had finished the call.
She picked up the phone again.
"What sort of cake are you baking?" the woman said.
Charlie explained about Katarina's famous lemon drizzle cake.
"It's so nice to find a proper family hotel. I stayed in one of those modern ones and you had to get your breakfast out of a vending machine!" the woman exclaimed.
By the end of the call, Charlie had secured a booking for the woman, who was an artist, to stay with her husband on a midweek break after Easter.
* * * *
"These ideas are great, Charlie," Robin said, sipping his coffee. "Your ideas are money-saving but not penny-pinching. I had an e-mail this morning from an old school friend in America who has seen your posts on social media and thinks they're good."
"Thanks," Charlie said. "They're just in the early stages as I still need to get a feel for the place."
"It's winter," Robin said. "Never our busiest time. If the rest of the town has a few flakes of snow, you can be sure that this place will have snow drifts.
"Keep doing what you're doing, Charlie. Harriet's been working on some wedding stuff and I'm going to have a meeting with you both next week."
Robin stood up.
"I'd better see if Albert and Dean need a hand. They've been putting a new lock on the boathouse," he explained. "Albert's been chatting to Dean.
"He's just a young lad, feeling lost after an argument with his mum's boyfriend. He came here because he reckoned there would be barns to sleep in."
"He's a nice lad," Charlie said, but Robin was already heading out.
Once he'd gone, Charlie took a bite of Katarina's cake. Never had it tasted sweeter. However, the prospect of a meeting with Harriet next week was not one she relished.
Hastily, in case the printer went on the blink again, she printed out a copy of the ideas for herself.
She would go through them over the weekend, wanting them to be as good as possible, as she knew Harriet might find any chink in her armour.