The Mystery Of Anna Grace – Episode 27
---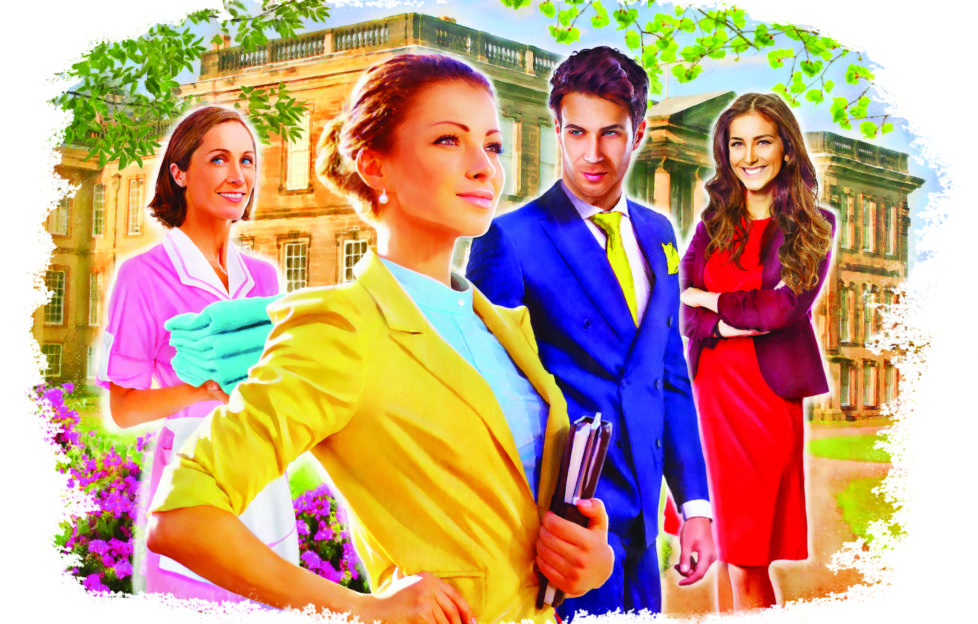 Illustration by Kirk Houston.
It was a few days before Charlie could get anywhere near Anna's journals again.
She had spent a busy morning setting up a blog for the website, but this had taken longer than expected, owing to Harriet vetoing every idea, and only relenting when Robin approved them.
Eventually, Charlie had posted a brief entry on how Ghillie the cat had got his name.
He was found as a kitten shivering by the lake. His fascination with the fish in the lake has never diminished, despite this rather traumatic start, and he can often be found at the water's edge, staring longingly at the darting shapes. As a ghillie is an assistant to an angler, it's an appropriate name.
She uploaded a picture she had just snapped of a sleeping Ghillie and linked the blog entry to social media sites. It was hardly a comprehensive history, but often it was the little details which piqued people's interest.
She had copied the link to Robin's e-mail, as he was seeing his tricky client and was staying overnight in a hotel there.
Charlie was tired and hurried back to her cottage at half past five, before the phone could ring again.
Katarina had given her a big helping of shepherd's pie, and when she had finished that she made a cup of tea and turned back to Uncle Tom's manuscript of Anna's journal.
This section contained all sorts of meticulous details and Charlie was reading it in conjunction with the household ledger from the library, which contained the accounts and details of the servants' wages.
Anna made economies wherever she could, but was generous to her servants, while still retaining her father's business brain.
There was a reference to a poor girl from the village – not yet ten years old – who was given good boots and a dress so she could go to school. On Saturdays, the little girl seemed to come up to collect eggs and do a few other little jobs.
Charlie suspected that Anna did this to ensure that the wee girl got a few good meals and perhaps a bath.
Yet the Anna from the journal was sharp as well. A labourer was dismissed for being a "good for nothing" as Anna was wise enough to see that they could not afford to be taken advantage of.
There were also lines of demarcation, and Anna would make reference to wishing to change the tradesman who delivered the fish as Mrs Fanshawe did not trust him.
There were references to the child Anna was expecting, too.
The maid asked if she might let out the waistband on my dove-grey skirt. My, but she is sharp. I simply asked if she would be able to do it next week. I still have two dresses I kept from when I was expecting Eva.
I must confess that part of me was hoping that I would not have to make use of the old dresses again. Eva is now five, after all, Lottie is seven and John is ten. Her remark put me in something of a temper. I was hoping to keep the news to ourselves for a little while longer. No doubt it will be all over the village by teatime.
Here the diary stopped. At least, Uncle Tom's erratic typing did.
Had the project been abandoned because World War II had intervened, Charlie wondered. She felt a growing sense of frustration.
Just then, she heard Robin come through the back door.
"Robin, do you know what happened to Uncle Tom? Anna's diaries have stopped rather abruptly and I'm trying to work out if there are more hidden away somewhere."
"He grew vegetables during the war," Robin said, flicking through the typewritten pages.
"Oh, yes, you did tell me," Charlie replied.
"The area near the summerhouse was a croquet lawn. That was ploughed up and Uncle Tom supervised the growing of vegetables. The croquet lawn was given over to potatoes, then they put cabbages in the meadow, and the entrance to Little Wood was full of beds of onions and carrots.
"There was a bunch of evacuees staying," he went on. "My grandfather used to receive Christmas cards from them. The old iron gates were taken away and there possibly wouldn't have been time to research a family history project. After the war, Uncle Tom went to live in France.
"He lived out his days in a flat in Lille and never returned to Anna Grace," Robin finished.
"So the project was simply unfinished?" Charlie asked, looking through the sloping, looped writing in the original journals.
"Yes. Anna may have written more journals, but they weren't transcribed by Uncle Tom. And where they are is anyone's guess. Uncle Tom learned to be a little more organised during the war, but with everything else, haphazard was possibly his middle name."