The Primrose Line – Episode 02
---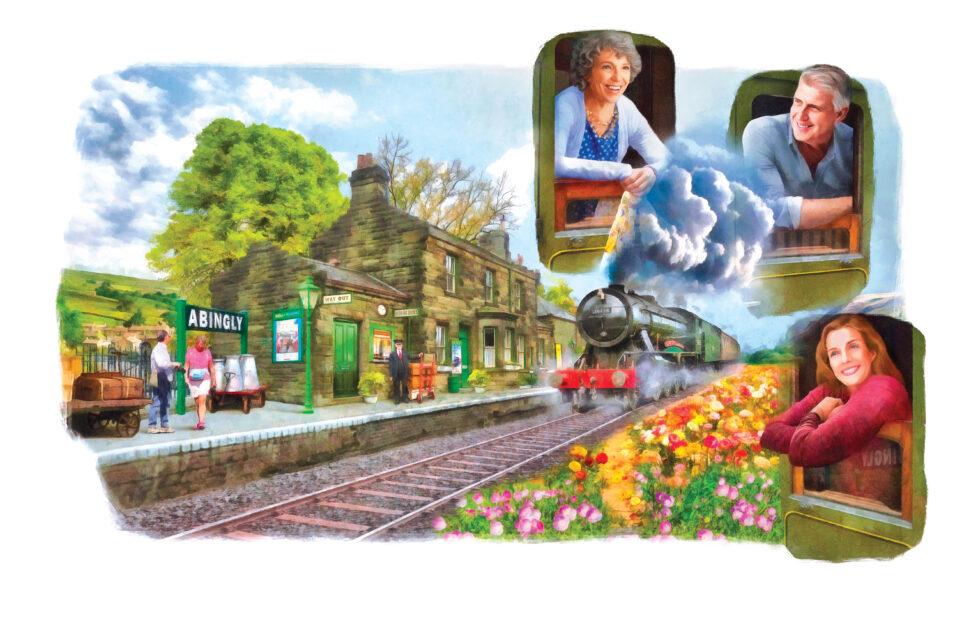 Illustration by Ged Fay
In the small town of Abingly, on the Surrey and Hampshire border, in the railway carriage that was her home, Nicola Renson woke with a start.
She had had a dream she was back at the village school in nearby Corton, being chased around the playground by the entire school, even the teachers!
Jim Connaught was running with her. Their close relationship since he had arrived as a new pupil had been interpreted by fellow pupils as a great love affair. Even the headmistress, the formidable Miss Gurdon, had now become part of the mob and was leading the charge towards them.
The only way out was over a wooden fence and into a neighbouring garden. Jim had leaped over and was waiting for her.
"Come on, Nicky, before they catch us!"
She looked at him, then at the advancing crowd.
"I can't, Jim, it's too high! Go on, I'll join you later!"
His face was an agony of indecision, then he disappeared into the mist.
Nicola dressed swiftly, trying to rid herself of the strange emotions the dream had provoked. The memories flooded back of those days when life had hardly begun and the sun had shone on them.
She wondered where Jim had gone. His family had suddenly uprooted and migrated to the Midlands.
They had promised to write to each other, but writing had been simply too grown-up for them both at that age, and the intense romance of tender years stood no chance against the distance between them. It was all so long ago . . .
Nicola's home was parked in a siding just off the part of the station that was not used by the Primrose Line, which ten years ago had been reinstated as a heritage railway.
Once, it had been part of a Southern Railway route from the south coast to London, but it had fallen into disuse in the Fifties, due mainly to its cross-country trajectory that was no competition to the main line a few miles away.
Since its closure, the line had lain dormant till a group of enthusiasts had begun to rebuild a small part of it as the local tourist attraction it now was.
Nicola's childhood love of the steam age had made her one of those few first pioneers, the only woman.
After being made redundant in her full-time job, she now lived on site as a general caretaker, and worked part time in the small post office in town.
She stepped down into the grey morning and walked along the platform to the booking hall. It was only eight o'clock but Billy Boswell, a volunteer helper, was in the waiting-room making sure the old-fashioned chocolate machine was well-stocked.
It was half-term week and the line would be busy.
"Morning, Billy. Expecting some small passengers?"