The Primrose Line – Episode 03
---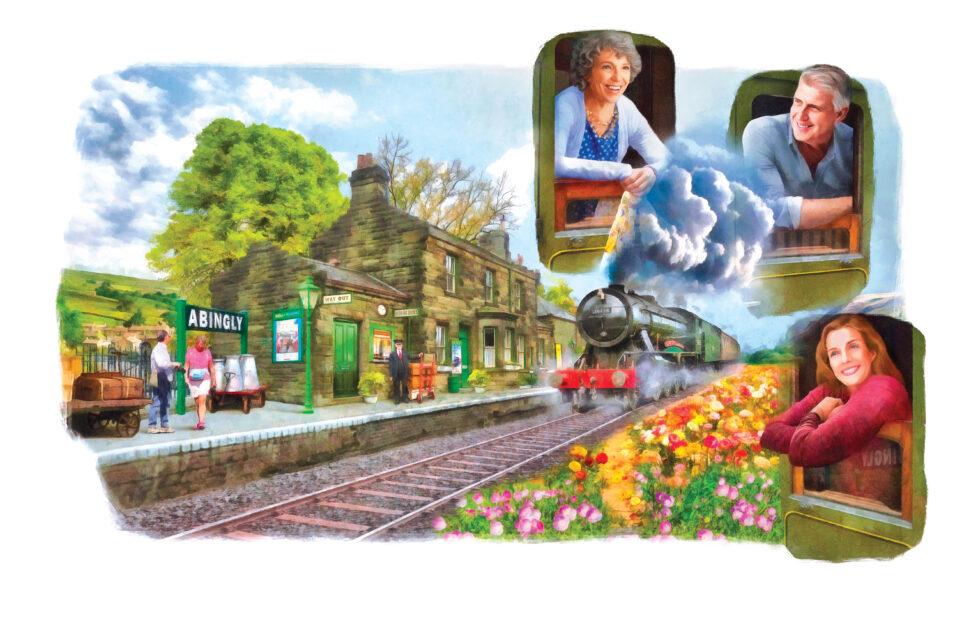 Illustration by Ged Fay
Billy Boswell chuckled.
"Hi, Nicky. We need more sun on the line-side primroses – they make it harder for the mums to resist! Forecast is good after today.
"I expect you'll be looking for a fine week, too, with David coming home. Been a while since you've seen him, hasn't it?"
David was Nicola's son. She'd brought him up as a single parent, and done it well enough for him to land a top job in the world of IT. His latest stint had taken him to Toronto.
Nicola was proud of his success. If, sometimes, she wondered how life might have turned out had he followed a less sophisticated path – married, perhaps, kids –she never dwelled on it.
Nicola preferred to count her blessings.
"Over a year. It's crazy how time slips past. Things move so fast."
"That's for sure. Like the consortium that's trying to take over this railway – they're not hanging about. I suppose you had a letter?"
She had, and it was disquieting. It said that, during the next six months, the Primrose Line would be reviewed by a team of specialists, with "a view to making it commercially self-sufficient".
Her role as unpaid caretaker wasn't specifically mentioned, but it was clear that a revolution was in the offing if the takeover proved successful.
She nodded.
"Yes, there could be changes ahead."
Billy gave a sniff.
"Typical. We've invested quite a bit of money in this railway between us all, and now that it's becoming known and making a profit, big business is interested!"
"That's life, I'm afraid."
"Mark my words, these new people aren't interested in small profits. It's true what they say about business and pleasure not mixing."
Nicola was quiet. Billy Boswell was good at hitting the nail on the head.
It was the way she felt, too, but there were powerful people who saw an investment opportunity here.
Billy shrugged.
"Maybe it's for the best. Sometimes I worry about you, all alone on this old station at night. It's not the same as it was. People aren't the same.
"Look at the things that have gone missing from this place over the last few weeks! You wouldn't think anyone could stoop so low as to steal from an old steam railway run by volunteers and virtually dependent on charity and donations."
"Let's hope it was a one-off."
He shook his head.
"I'm not so sure. They say there's money in scrap metal and goodness knows we've got enough of that. If you surprised one of them one night there's no telling how they might react."
"Billy Boswell, are you trying to scare me?"
"I'm saying that not everyone lives in the same world as you, Nicky."
She gave him an affectionate pat on his cherished British Railways cap. Dear Billy, he'd have made someone a wonderful husband.
"Don't you worry about me, my friend. The police say they're making extra patrols around here at night. Whoever it was has probably been scared off.
"Besides, if the consortium wins and goes ahead with all its plans they'll probably hire a proper security firm."
This was something that had been on her mind ever since the letter. If a change like that did happen, then her status as caretaker would be superfluous.
When she and David's father had split up and sold the house they'd made quite a profit, the only positive by-product of that horrendous period.
She'd been careful, but David's education and, it had to be said, her love of the Primrose Line, had dug deeply into the reserves.
Money was tight these days and living rent-free was a godsend. Buying a house around this pricey district was out of the question and prices for renting were formidable.
Yet if things went the way they looked like going, she could well find herself homeless. It was worrying.