The Secret of Trefusis Cove – Episode 26
---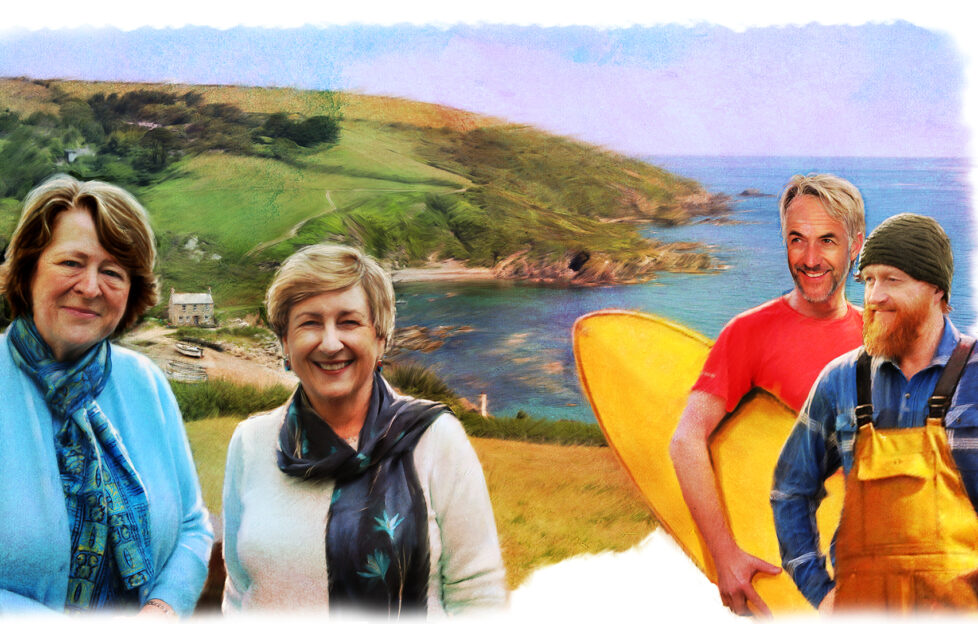 Illustration by David Young.
"I knew we'd come to that sooner or later." He smiled. "If Betty had been here it would have been sooner. Why do you care? You're only here for a short while so it can't be important to either of you."
"Everywhere that's lovely should be important to everyone. Peter John gets inspiration from the cove, and since we've been here we realise why.
"It's a beautiful place and doesn't deserve to be altered. Sometimes things are better left to change of their own accord, in the fullness of time."
Val was surprised at her own eloquence.
"I can't bear the idea of bulldozers wrecking it."
"You're passionate about it, aren't you?"
"We all are," Val replied. "It's a little bit of our Britain and it's beautiful."
"Nobody's said much to me. All I've had is petitions and dirty looks. There is my side to it, you know."
He began to tell her the tale Betty had related earlier, about his family and their move to Australia.
Val put her hand on his.
"I know about that. Everyone does."
"I don't need the money, you know. My family made their fortune on the backs of the merino sheep. I inherited the sheep station and invested in property.
"I have three hotels on the Gold Coast and Barrier Reef. That's where the kids are holding the fort."
He shook his head.
"When I was told I'd inherited land in Cornwall it was a shock. It wasn't until I came here that I was told the whole story. Mum died years ago without mentioning anything.
"When I got here I just wanted to try to make things different so the whole thing would be forgotten. Not for gain. Burying the past, you might call it."
"You can't. Its history is everyone's history. Kit's, Aircut's and the Shantymen, to name a few. They were boys when your uncle died. They were the ones who found him and raised the alarm.
"It's all in the past, their past, and they'd change things if they could, but you can't wind the clock back.
"It must have been years before the authorities found you."
"It was. And what of you two? How did you come to house-sit for Peter John?"
"We went to his art class in our local town. He asked if we would look after Tangara for the summer."
"Are you good at art?"
"Betty has an eye for it, but I'm a bit of a dud. The only thing Peter John admired in my pictures was a little ladybird. So I took to the camera."
"Best to stick at what you're good at." He smiled.
"I don't know if I'm good at that yet. I'm trying to get a shot good enough to enter for the Countryfile Calendar Competition."
"What's that?"
"It's on TV every week."
"Don't watch much telly. Just the news and stuff. I'd like to have seen the ladybird, though. That's one of those little red fellas with spots, isn't it?"
"Yes." Val laughed.
"There's some of those up on my bit of land behind Tangara, just across the road along the top. Take a look whenever you feel like it before I arrange to clear it up for the holiday chalets."
"That's sad," Val said quietly. "It's so beautiful in the late afternoon, with the setting sun on it. It would be a shame to change it."
Alexander shrugged.
"Mum used to say, pretty don't butter no parsnips. It's lying fallow, doing nothing to earn its keep."
Val frowned.
"It's doing everything! There's wildlife that live there: birds, butterflies and all sorts of creatures. It's very much alive."
The waiter took away their plates and a waitress came with a large platter.
"I think you're going to like this." Alexander smiled.
On the platter was a confection of white meringue, light as a ballerina's tutu, topped with cream and summer fruits in profusion.
"Do you know what it is?"
Val laughed with delight.
"Of course, a pavlova!"
"Right first time. Let's tuck in. If we hold back our appetites there'll be enough to take home to Betty."
Val sensed that the conversation about Trefusis Bay was over.