The Secret of Trefusis Cove – Episode 35
---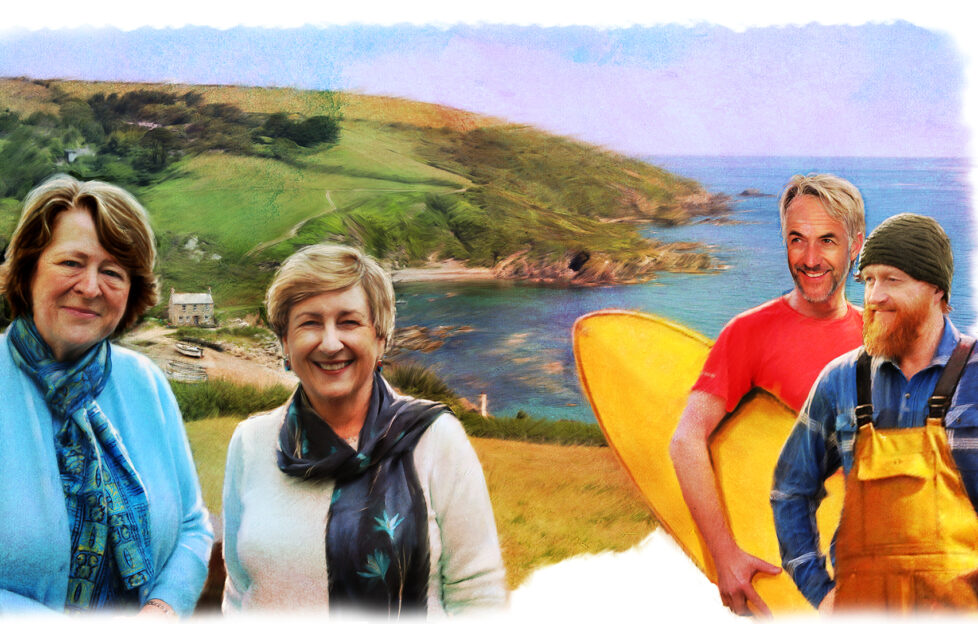 Illustration by David Young.
"It came off in my hand! I can't see daylight through it, there's just a big hole in the wall."
"Can you put it back?"
"No, it's all soggy now," Sally explained. "At least there's no dust."
"It would have had to come out anyway," Aircut reasoned.
"What will Peter say?"
"That him who caused the damage with the pick-up should pay the plasterer," Aircut said. "Despite the fact it was an accident."
"It's a big hole." Val gazed at the damage. "There seems to be a brick inside. Part of the construction, I suppose."
She leaned over the sink, closer to the hole.
"Wouldn't be bricks," Aircut argued. "Solid stone, this place."
"Well, what's that?" Val pointed to the opening in the wall. "It's the shape of a brick."
"I've got my little torch in my pocket. Let's put some light to it." Aircut shone the small beam of light into the space. "It's not a brick. It looks like a metal box."
He reached inside and brought out the object.
"It's one of those old metal cash boxes." Aircut shook it a little. "There's something inside."
He made to open it.
"Don't," Betty said. "It doesn't belong to us, it's Peter's. He owns Tangara and everything in it."
"But Betty, I can't bear the suspense. It must have been walled up here for years and years!" Val wailed. "Please open it."
"Betty's got a point. It's Peter's by rights." Aircut put the box down on the worktop.
"Let's have a look at it where there's more light," Sally said.
They followed Aircut into the living-room where he put the box on the table next to the oil lamp. There was no writing on it.
"Let's open the thing," Val said. "We can still give it to Peter when we see him next. After all, he doesn't know it exists, any more than we did."
She took hold of it and tried to open the lid.
"It's stuck."
"Locked, more like." Aircut spoke quietly.
"So there must be a key somewhere. Maybe it was in the hole with the box. I'll have a rummage around and see if I can find it."
"There may be spiders, Val," Betty warned.
"OK, I won't. After all, if someone felt it necessary to lock the box they're hardly going to leave the key in easy reach."
"True. But if it was hidden long ago I suppose the key would be lost by now."
They gazed at the box as it lay on the little table.
"It rattled a bit when you shook it," Val said.
"It's not heavy, though," Aircut replied.
Silence reigned, then they all jumped at the sound of a knock on the door.