The Wedding Quilt – Episode 03
---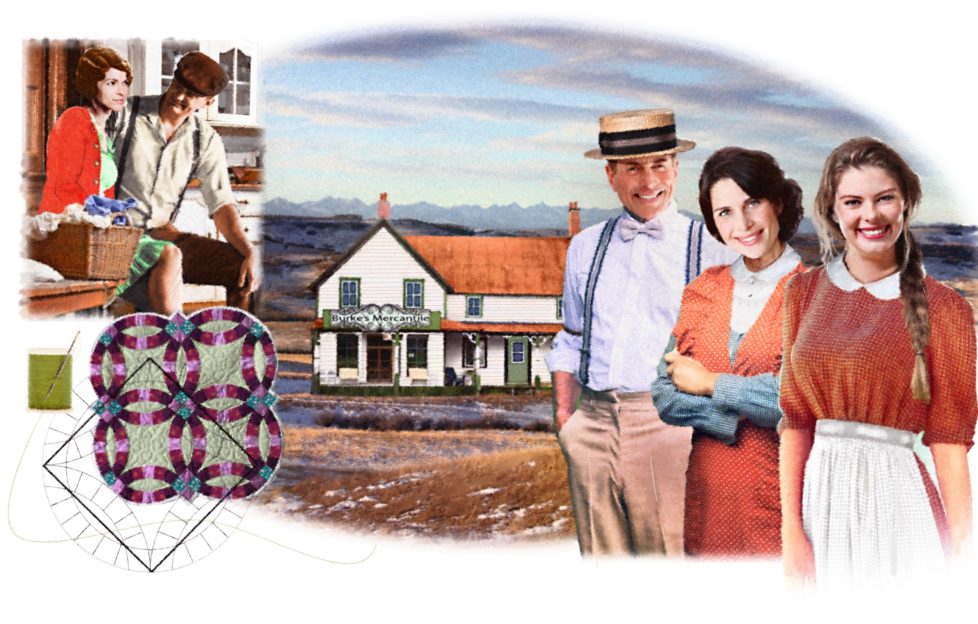 Illustration by Mandy Dixon.
In a cosy kitchen 3,000 miles away in Glasgow, Jessie Clark couldn't help feeling there was little reason for optimism.
She had done her best to keep a cheerful face during the festive season, but the truth had to come out soon.
Jamie and Janet had been allowed to stay up to see in the New Year, and now they had gone yawning to their beds, warm and well fed.
She glanced at her husband in his chair by the fire, his lame leg stretched out on a footstool. Their neighbour John Forsythe had been their first-foot, bringing with him a currant bun and a knob of coal.
Robbie Clark had enjoyed the banter between them and wished his friend all the best for the coming year by way of return.
Now Jessie had to face the fact that both food and fuel would be in short supply in the coming months unless they could find work. As of Monday, her job at MacMillan's jam factory would be gone.
Before her marriage Jessie had attended business college to learn shorthand and typing. She knew how fortunate she was; many of her pals from school had gone into service where they worked long hours for small reward.
When war broke out and Robbie joined the Army, Jessie returned to the work force, landing a job in the typing pool at MacMillan's.
Making munitions was not for her because of the shift work involved; Jamie was at school all day and Janet could be cared for by a neighbour.
Other women had come and gone and now Jessie was the senior typist there. She had applied for the post of personal secretary to Mr Charles MacMillan, the boss's brother recently returned from the war, and she had hopes of getting it, along with the raise in pay that went with it.
When she was summoned to Mr Will's office shortly before the Christmas break she had gone there in high excitement, certain that her chance had come.
"Mrs Clark. Do sit down."
"Thank you, sir." Jessie arranged her skirts neatly as she took the chair opposite him.
William MacMillan cleared his throat.
"Mrs Clark, I'm afraid this news will come as a shock, but it can't be helped. I'm afraid I'm going to have to let you go."
"What?" Jessie tried desperately to modulate her tone. "Why, Mr Will? What have I done?"
"This is no reflection on you, Mrs Clark. In fact, I shall be pleased to provide you with a first-class reference when you leave. But surely you realise that the men returning from war are expecting to get their jobs back, as we promised them when they joined up.
"You ladies have done sterling work filling in for our fighting men while they were away, but you can enjoy a well-deserved rest now that things are back to normal."
Jessie gulped.
"I can see that when it's a question of the shop floor, but the office is different. Where will you find men who are trained to use typewriters? We certainly didn't have any male students when I attended business college!"
"Several excellent clerks have already applied, Mrs Clark. Now, you must let me get on. Good day to you."
Stunned, Jessie returned to the typing pool, where her friend Isla looked up in sympathy.
"You, too, eh? Well, I suppose it had to come."
"But it's so short-sighted!" Jessie fumed. "Nobody writes business letters by hand any more. What's the boss thinking of?"
"Money!" Isla said. She leaned towards Jessie. "I happen to know they've put two youngsters on the payroll – girls straight out of business college. They come cheaper than an experienced secretary with five years' service."
Jessie returned to her desk with a heavy heart. She dreaded having to tell Robbie. He had been a carpenter before the war, but since his return he'd been unable to find a job.
With many unemployed men in Glasgow, all the work went to those who were fit and well. Rob Clark had been wounded in the leg and he still had bits of shrapnel in the affected limb that caused him to walk with a limp.
Every day he queued with other men desperate to be taken on for a few hours' work. He always returned home disappointed.
The clock on the wall struck two. Robbie looked up, surprised.
"My, is that the time? Shall we go up?"
"You go on, dear. I'll stay and bank up the fire."
He nodded and painfully heaved himself out of his chair. Jessie knew better than to try to help him.
Robbie Clark had his pride, and she must not take that away from him. If things went on as they were, that might be all the poor man had left.