The Wedding Quilt – Episode 07
---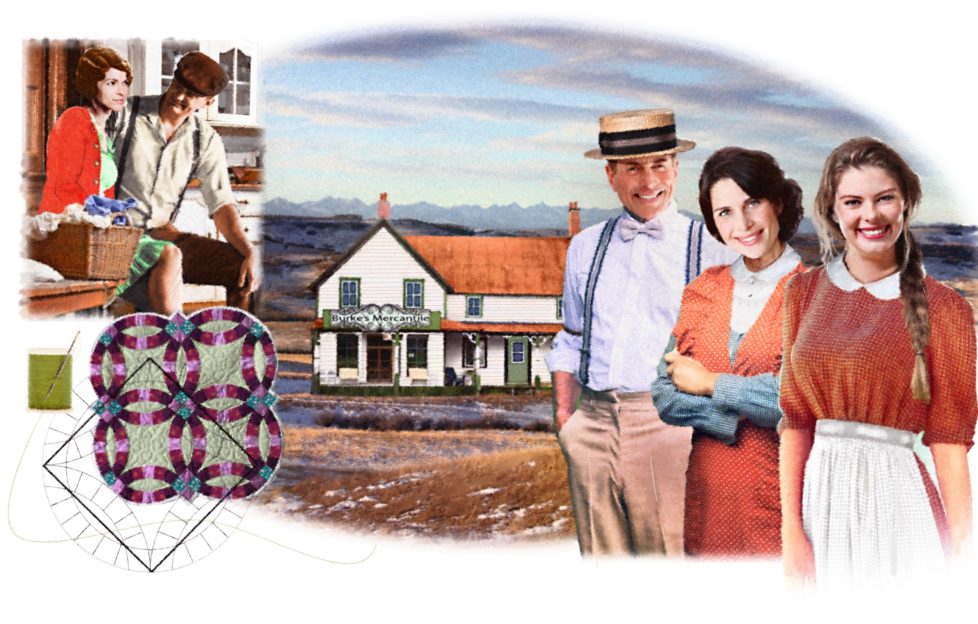 Illustration by Mandy Dixon.
When Fred had gone on his way, whistling merrily, Matt leaned forward with his head in his hands. Progress, indeed, but what did it mean for his business out here at the junction of four country roads?
Not all of his customers lived within walking distance. Many had to drive miles to the store to do their shopping. It would be a great temptation to head for the station instead.
They could leave their horses in the drive sheds there and the train would whisk them into the town.
Bridge Street contained a good many shops, including three general stores, a pharmacy and a milliner's.
There was also the office of the local newspaper, the "Ararat Advertiser", and the Cosy Café, where people could enjoy a meal before the return journey.
There was everything one could wish for, all laid out within a few hundred yards.
A nine days' wonder? It was more likely people would enjoy the outing so much it would become a weekly habit. What would happen to the Burkes then?
Matt knew there was such fierce competition among the proprietors of the three general stores in the town that they had taken to promoting what they called loss leaders.
By paying a few cents to the "Advertiser" they could announce the sale of some essential item at a low price, on which they couldn't hope to make a profit.
Customers would flock to buy this bargain, which would be displayed at the back of the shop, the idea being that they would select additional goods on their way to the till. How could the Burkes compete?
*  *  *  *
Mamie Burke was a happy woman. The sun was shining into her immaculate kitchen and she sang to herself as she worked.
This was the day when she meant to speak to her husband about her plan. Matt was slow to adapt to new ideas and she knew that she had to pick the right moment if she was to convince him it would work.
"No time like the present," she told the cat, who was stretched out among the geraniums on the window-sill. The tabby blinked at her in apparent agreement.
Beasie would probably stay at the Carmody place for supper, and Drusilla would bring her home in Josh's buggy later in the evening.
Customers rarely came into the store at that time of day, being mostly occupied with farm chores. So it would be just the two of them at the table, and she was preparing a meal fit for a king.
She would wait until Matt had eaten his fill, and then she would bring up the subject, beginning with a reminder that their silver wedding was approaching.
She had gathered her ammunition and was prepared to demonstrate what she had in mind.
Using fabrics she had on hand, she had made up a block of the double wedding ring quilt, on the theory that a picture is worth a thousand words.
Of course it wasn't in the right colours, but that didn't matter. The patch, combined with the magazine illustration, was enough to show Matt what she meant to do.
She had assembled a few books that were already in the house. If anything could convince Matt that her plan was sound, it would be the idea of more of John Buchan's adventure stories coming his way.
Sadly, the best-laid schemes of mice and Mamie seemed destined to come to nothing.
"What's the matter, dear? Is the stew not to your liking?" She frowned as Matt pushed the succulent venison around on his plate.
"It's very nice, dear," he told her, with his mouth drooping at the corners in a way that alarmed her. "I'm just not very hungry."
"Do try to eat up, Matt. There's apple dumplings to follow. Your favourite!"
He picked up his fork and put it down again.
"I don't think I can manage any more, love. Perhaps I'll save my dumpling for later." He stood up, scratching the back of his neck. "I think I'll just go for a little walk."
"Would you like me to come with you?"
"I think I'd best be on my own for a bit." He thrust his arms into his old wool jacket and left the room.
Puzzled, Mamie watched him go.