The Wedding Quilt – Episode 23
---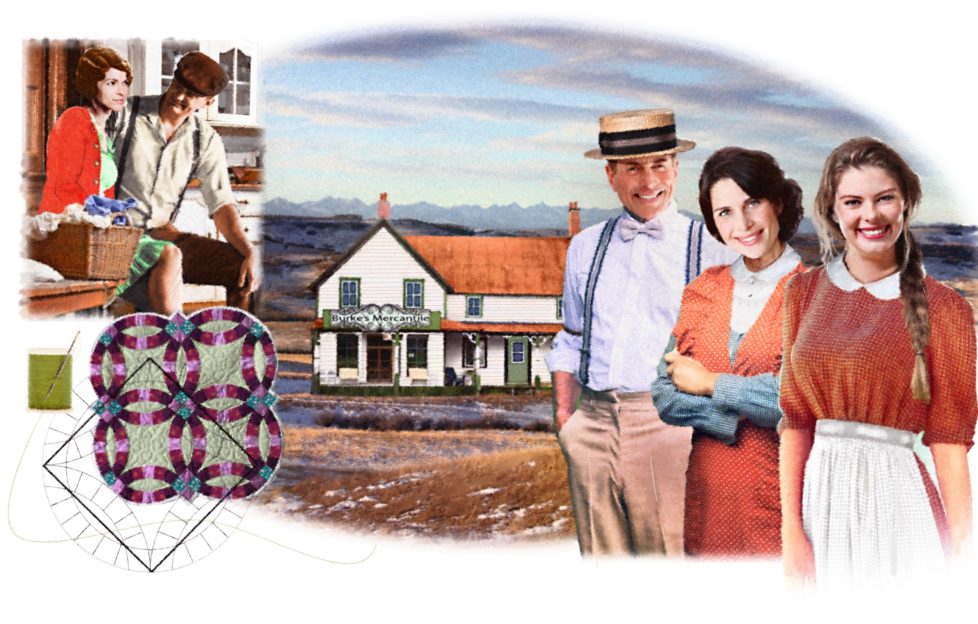 Illustration by Mandy Dixon.
Of course she was thrilled by Paddy's invitation to drive to the lake, but that's all it was, and she had accepted it as such. And if it led to another outing, well and good. She was far too level-headed to fantasise about a possible future with Paddy Ryan!
She smiled, thinking back to their school days, when he had been the bane of her life, pulling the ribbons off her hair and putting a spider in her pocket! Just like Gilbert Blythe in "Anne Of Green Gables", and hadn't those two got married in the end?
Beasie felt in her heart that if you truly loved a man you would follow him to the end of the earth, even if that meant running a farm on your own while your husband was gone for months on end.
As for Paddy Ryan, she would enjoy her outing with him and see where it might lead.
****
In Glasgow, Robbie and Jessie Clark waited expectantly to hear what this new cousin of theirs had to tell them.
"Yes, there's a snag, and it's a big one," Donald began. "Although not, I think, insurmountable. As I've said, the legacies can't be paid out until all of our great-grandfather's descendants have been found, and there is still one line to consider. We still don't know what happened to his firstborn, Dugald."
"His birth is noted here in Euphemia's bible," Jessie murmured, "but there's nothing more about him. We thought he must have died as a child."
"Oh, he survived into adulthood, we know that much. The tale is well known in our branch of the family. Away back in 1846 he and his father had a terrible falling out and Dugald sailed for Canada, or British North America as it was known back then."
"What was the trouble between them?" Robbie asked.
"Who knows, after all this time? But there could be family members over there yet."
"How will you ever find out?" Jessie wondered. "Canada is a big place."
She remembered the big map the teacher had shown them at school, showing a vast tract of land under the heading Dominion Of Canada.
"Cousin Donald found us through the newspaper," Robbie pointed out. "Perhaps he could do the same again there?"
They both looked at Donald Stewart with hope in their eyes.
"I've already tried that, to no avail. Unbeknown to his father, Dugald did keep in touch with his mother. I have a letter she preserved and handed down. It took two months for the sailing ship he travelled on to reach Canada, and during the voyage he met and fell in love with a woman named Grizel Carmichael. They were to be married after they arrived in the new land."
"How romantic!" Jessie exclaimed. "And did they live happily ever after?"
"That is what I don't know. In my advertisement I asked for word of a Dugald Stewart who married a Grizel Carmichael, but I've had no response. I hear there are remote places in Canada where no newspapers are available, and that may be part of the problem."
"Then I don't see what you can do," Robbie said.
"Well, it's clear to me that I'll have to go there to hunt for any missing cousins. I do have one more clue.
"The final letter his mother seems to have received from Dugald gives an address of a boarding house in Toronto. I've written there, of course, but heard nothing back. Still, it's a place to start."
"But to go there on a wild goose chase . . ." Jessie said, biting her lip.
Donald shrugged.
"The fact is I've been a bit chesty, and the doctor recommends a sea voyage as a cure. I may as well go to Canada as anywhere else. I've no dependants and, apart from the business, I've nothing to keep me here.
"Remember this, if I can't find any descendants of Dugald Stewart, or manage to prove that he died without issue, we'll not see a penny of Great-grandfather's money."
There was silence for a while as they considered this.
Clearing his throat before he spoke again, Donald dropped his bombshell.
"So in the meantime I'd like you to come to Perth, Robert, and take charge of affairs there."
"What?"
"The voyage to Canada doesn't take long now we have steamships, but even so I could be away for months. Someone has to keep things ticking over.
"You're a Stewart, by blood if not in name. It's in your interest to keep the business afloat while I'm gone."
"I'm a carpenter, not a cabinetmaker, man!"
"You'll be in the office, not on the shop floor. And you know enough about wood, and measurements and such, that you can give orders and sort out disputes. What do you say? Will you come?"