The Wedding Quilt – Episode 24
---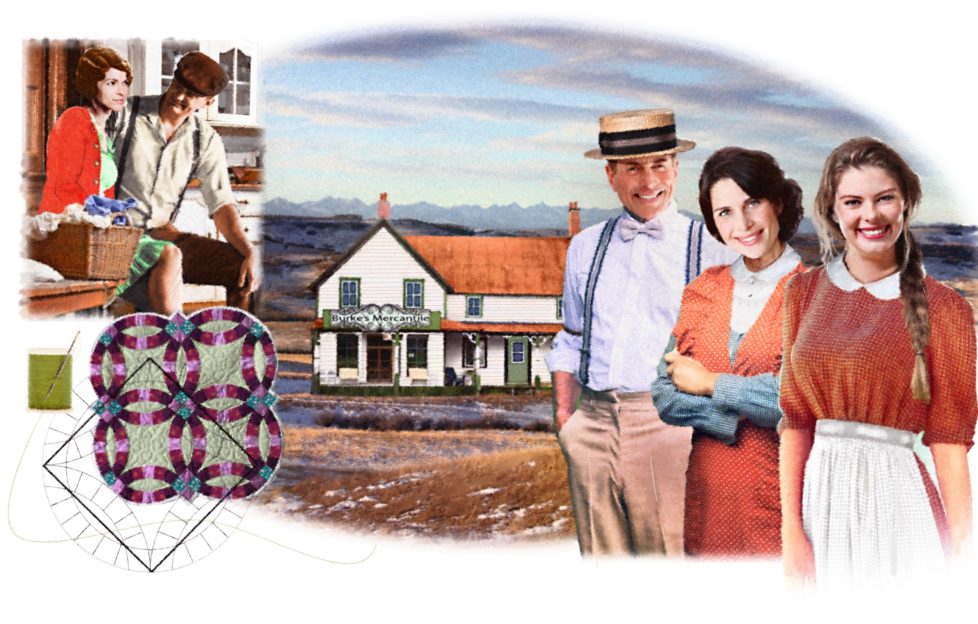 Illustration by Mandy Dixon.
Jessie held her breath, silently willing her husband to accept this remarkable offer. It was the answer to all her prayers. Having Robbie in full-time work would not only provide for their children, but it would also restore his faith in himself.
Life had not been kind to him since his return from the war. Despite the pain of his wounded leg, he had dragged himself out in all weathers, desperately trying to find the means of supporting his family.
She knew how much it had hurt him to think of her down on her hands and knees, scrubbing floors to support them all, when he had promised her the moon when they were wed.
"Aye, I'll do it. When would you want me to start?" Robbie asked.
"As soon as you like. Now we have that settled, I'll book passage and be on my road as soon as I can."
"It may not be right away," Robbie said, exchanging a meaningful glance with his wife.
"Why not? I thought we had that agreed." Donald looked rather annoyed.
It was obvious that he was used to having his commands obeyed. Fearful that he might change his mind if he thought Robbie wasn't keen, Jessie knew she had to speak.
"We'd need a little time to get the fares together," she murmured. "We cannot flit up to Perth the way folks do here, pushing their goods on a barrow. Nor can Jamie and Janet trudge all that way on their young legs."
Donald's face cleared.
"Is that all?" he said, reaching for his wallet. "You can travel by train."
"I'll not take charity!" Robbie told him. "We'll get there under our own steam, man, or not at all."
Donald laughed.
"Then take it as an advance on your first month's salary. I'll want you in Perth before I leave to see you settled in."
Jessie noted with relief that Robbie's pride was satisfied.
"What about accommodation at Perth?" she asked. "We'll need to find a place to stay."
"Why not use my house while I'm gone? Otherwise it will only be standing empty. I'll make other arrangements for my housekeeper, of course. That is, unless you'd like to employ her yourselves?"
Jessie laughed out loud.
"Me? Employ a housekeeper?"
That was a jump too far, even if she did have a diploma from business college! Any self-respecting housekeeper, on learning that Jessie had been keeping the four of them by scrubbing office floors, would look at her with disdain!
Yet Robbie would now have a position to keep up, and if the men resented the newcomer their wives would probably try to put her in her place. She would need to be on her guard.
Chin up, Jessie Clark, she told herself. Just be thankful for small mercies. This will be an adventure for us all, and we'll not starve now.
And by going to Perth we'll leave Donald free to explore Canada, which may bring good fortune to us all in the end.