The Wedding Quilt – Episode 33
---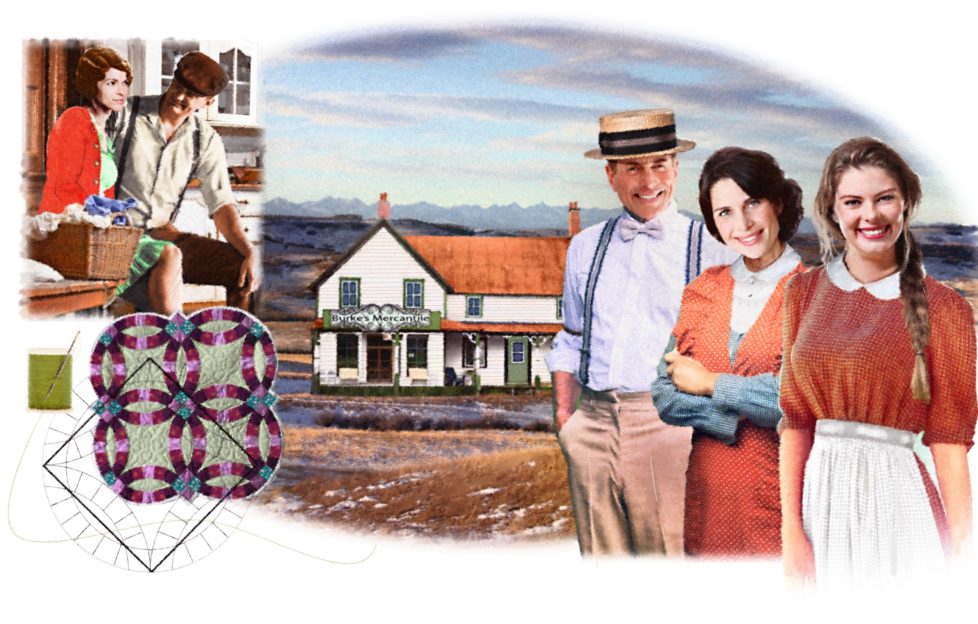 Illustration by Mandy Dixon.
Mamie stood watching with a smile on her face as the old horse ambled down the field, stopping now and then to graze on the new grass.
"I'm glad to see that old Brownie seems none the worse for wear after your first outing!" she told her husband, who stood leaning on the fence.
"We took it easy. The horse seems patient. Where is Beasie? She'd better unload what's left of the perishables while they're still fit to use."
"She'll be out in a minute. She's just punching down the bread dough for me. It's time she learned how to make a good loaf. Did you sell a lot of goods today?"
"Better than I expected. I have several orders for next week – mostly sacks of flour. We'd better get more sent up from the mill before we run out."
The heavy cotton flour bags were highly prized by thrifty housewives, who used the well-washed fabric to make aprons and pillowcases, and even undergarments.
Many a schoolboy had the manufacturer's symbol emblazoned on his seat, mercifully hidden by his heavy serge overalls.
"Art Menzies said he's been meaning to come into the store for a pair of boots," Matt went on. "I told him I'll bring out a few pairs next week for him to try on. Our boots are as good as you'll find anywhere. I won't give him the chance to spend his money in town when I can sell him what he needs."
"Good for you. Any news from around the district?"
"Just the usual. People are wondering what this year's hay crop will be like, that sort of thing. And Susan Brown's wedding is off."
"What?" Mamie brightened at once at the prospect of gossip. "Beasie, get out here! Your dad has something to tell us!"
Beasie rushed out, her hands wrapped in a towel.
"Sorry I've been so long coming to help you unload, Dad. My hands were covered in dough and I can't seem to get it off."
"Flour your hands!" Mamie instructed. "Susan Brown's wedding is off. Don't tell me that poor girl has been jilted! I always did have my doubts about that Jake Herron, but there's no accounting for love."
"Don't look at me!" Matt joked. "It seems the girl threw the boy over. Wrote him a note and said she was sorry, but she can't face marriage, and she is going to stay with her aunt in Ottawa until all the fuss blows over."
"I was afraid of something like this," Mamie said, forgetting her suspicions about the unfortunate young man. "Her cousin died in childbirth, and her only married a year. The poor girl was a new bride. I'm sure that has made Susan think, but perhaps she'll change her mind when she's come to terms with their loss."
"She's only just finished writing thank-you notes for all the wedding presents," Beasie observed. "Now she'll have to pack them all up and send them back."
"She can hardly do that from Ottawa," Mamie said. "I suppose that means her mother will be left with the job. Honestly, I wonder why we have children!"
Laughing, she ruffled Beasie's hair.
Later, carrying goods out to the wagon ready for the next day, Beasie thought about Susan's plight. Sadly, women did die in childbirth, but was that any reason to avoid marriage?
Surely if you really loved a man you would risk anything to be with him? Life was full of dangers, but only the timid would cower in the shadows, hoping to be spared.
The future was also filled with infinite possibilities for joy and laughter. In a way it was like that card party she'd attended with Black Paddy Ryan; skilful play wasn't the only factor in winning a game of euchre. So much depended on the cards you were dealt.
Paddy! Blushing, Beasie recalled the kisses he had given her at that very same party. How she admired Black Paddy Ryan! Now there was a perfect example of someone who met life head on, careless of his own safety.
During the war, he had served valiantly with the British Expeditionary Force at Passchendaele, the third battle of Ypres in 1917.
He hadn't won any medals, but in her eyes every man and woman who had gone to war deserved the highest accolades their country could give them.
As a young man Paddy had chosen to become a river driver which was one of the most dangerous jobs in the lumber industry, and he had taken up that work again right after returning from the battlefields.
There was no doubt about it; the woman who agreed to become Paddy Ryan's bride had to be willing to follow him to the ends of the earth, no matter what perils might lie ahead.
Could Beasie be that woman?