The Wooden Heart – Episode 05
---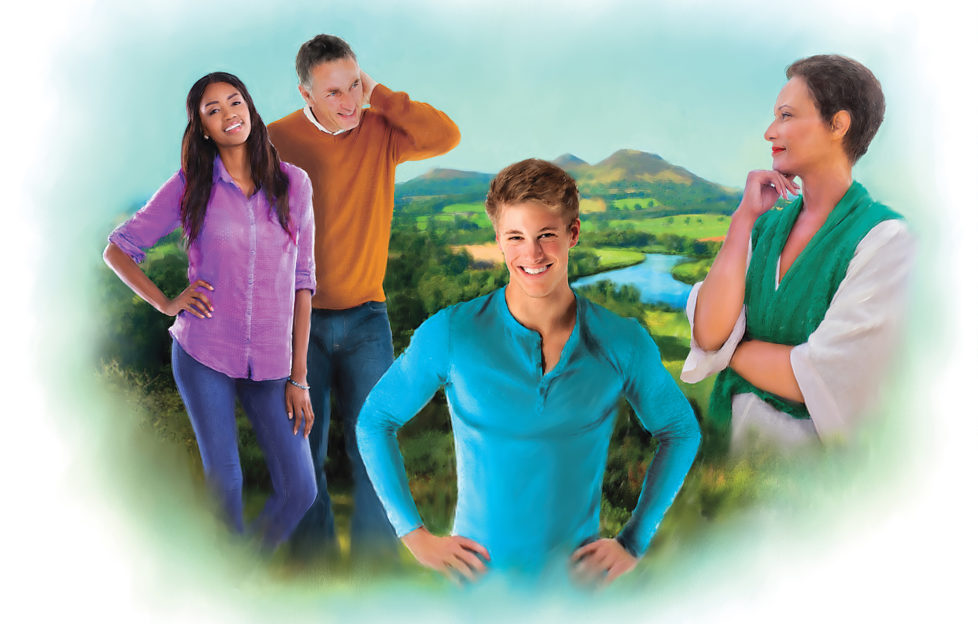 Illustration by Helen Welsh.
Where was the man, Ash thought crossly. He wasn't in the house, nor had he been working on the old car outside.
She had been home for almost two hours and was getting worried.
She heard his key in the lock, then the front door opened.
"Where have you been?" she demanded, hurrying into the hallway.
Stephen looked up, surprised.
"Helping someone," he said. "A stranger who got hurt while out walking her dog. It might have been a broken wrist or fingers, so I took her to the hospital to have it X-rayed."
Ash was taken aback and it showed on her face.
"A total stranger?" Ash asked. "A woman?"
He coloured.
"Not a total stranger," he replied. "She used to be a professional musician. A violinist with the Scottish National Orchestra. Until a car accident damaged her hand and wrist and stopped her playing."
Ash stared at him.
"Want a coffee?" she asked, still processing the information.
"No, thanks." He shrugged out of his coat. "So this was your last day, wasn't it? That's you now finished with college. When do you graduate?"
"It's a few weeks away yet," she replied.
She watched his eyes drift over to the photo of her mother on the wall.
"Don't say it, Dad," she added quietly. "It only upsets us both. I know she would have been proud, and that she would have gone there with all her wonderful Indian colours blazing. I miss her, too."
She saw him struggle to rein back emotion.
"OK, let's be pragmatic," he finally said, dropping into his armchair. "Where will you be starting to look for work as a designer? Glasgow? Edinburgh? Or London with its bright lights?"
His tone was determinedly light, but Ash wasn't fooled.
"I'm not sure," she replied. "I know there are more opportunities in the London fashion business, but I love the Borders.
"I think I'll give myself six months or so to try to find something. I'll maybe even start up on my own."
He looked across at her with that level stare she knew so well. The problem was that they had grown so close they could almost read each other's mind.
"Don't you be staying up here because of me," he said quietly.
"Of course not," she replied lightly.
It was a lie. He was the main reason why she had to try to stay.
"You have your own life to lead," he assured her. "I'll be fine."
"Absolutely," she said. "There's a letter for you on the mantelpiece."
He glanced up.
"It will be another bill," he said. "It can wait."
"No, it can't," Ash said too sharply. "It has to be paid."
With what, she thought bitterly. They were already overdrawn.
Again he gave her that look.
"Don't worry," he said quietly. "I'm thinking of remortgaging the house."
"Is that wise?" Ash asked.
After all, he treated her as an equal and their current financial problems were something which both should share.
"I can get temporary summer work, and there's always your old car."
Slowly he shook his head.
"I've thought of that, but a 1934 Austin Seven which has been part-restored is worth only hundreds of pounds. Maybe a thousand at best.
"There's too much specialist work to do. But if we hang on until I finish it, it will be worth thousands.
"It would be crazy trying to sell it now when, after a few months' work, it will be worth ten or more times what it is today," he finished.
Yes, she thought, but where would he get the money to complete the job?
Sighing, her dad reached out for the white envelope on the shelf.
"Expensive paper," he muttered. "It doesn't look like a bill."
He turned it over slowly.
"I'm away to make myself a cup of tea," Ash said.
She left him frowning at the white envelope and went through to the kitchen to fill the kettle.
Then, as she was about to pour the boiling water into her mug, she heard her father's voice.
"Better make me a cup, too," he called from the front room. "In fact, if there's anything stronger, bring us both a drink."