The Wooden Heart – Episode 07
---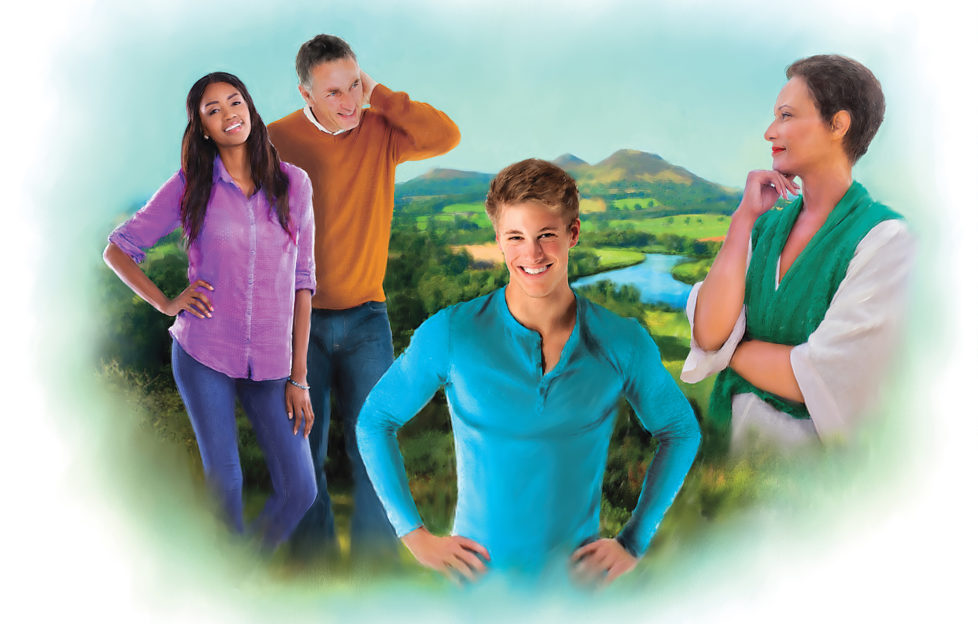 Illustration by Helen Welsh.
"With a lick of paint, some carpets – or even polish on the wooden floors – you would have a lovely home," Ash murmured. "It's beautiful."
"Beauty is in the eye of the beholder." Stephen smiled. "But he's done a lot of this work since I left. The small bedroom was mine, looking out the dormer window across the hills. They lived at the other end of the house.
"I did my homework at the table here and, because my mum always wanted me to go to university, I filled in my application form at the same table where she'd helped me, and set in motion the forces which threw me out."
"Don't," Ash said. "I can feel the sadness in this room."
"Imagination," he replied.
"What about the work shed?" she asked. "Do we have the keys?"
Stephen flipped through the string loop which held everything.
"This one, I think," he said. "Some of these keys are new to me."
"Let's go." She tugged his arm. "I want to see where he made the lovely woodwork for his house."
They walked across the yard.
"The lock is probably rusted," Stephen warned her. "And the hinges will sound like a coffin lid in an old horror film."
But the lock mechanism slipped smoothly, and the door opened as if the hinges had been oiled the day before.
Inside was darkness, rich with the unmistakable smell of resin and wood.
"Are there spiders?" Ash asked nervously.
Stephen glanced into the gloom.
"From the cobwebs, it's a spiders' kingdom," he said, reaching inside the door.
His fingers found the light switch, and suddenly the shed was filled with light.
"Just as I remembered," he muttered.
They eased into the shed, Ash clutching her father's arm.
Along one wall stretched a sturdy old workbench, dust thick on its surface. Above this half of the wall was shelved, with neat wooden boxes holding nails and fittings.
The rest of the wall was lined with a craftsman's tools, each clipped neatly in place, and ordered by size and purpose. Apart from the dust and cobwebs, it was as neat as a scientific laboratory.
Against the far wall sat a lathe and some other equipment, while stacks of fresh wood hid the third wall of the shed.
"Wow!" Ash exclaimed.
Reassured that any spiders were in hiding, she moved towards the bench, touching the handle of a tool here, lifting out some shiny screws and dropping them back into their box.
Despite the dust, she felt a strange sense of comfort.
"No damp," she said.
"He built the shed himself. No damp would dare get in."
Ash wandered to the wall and its heavy equipment.
"What's this?" she asked, pointing to something hanging on the wall. "It's a carved wooden heart. Why would he carve that?"
"Leave it," Stephen said. "It's not a wooden heart he should have carved, but a heart of stone."
He paused.
"That's not fair," he added sadly. "We parted in anger, but I wonder what we might have made of each other if we'd ever got together again. Should I have forced the issue?"
He retreated towards the doorway.
"Come on," he said. "We've seen everything there is to see."
As Ash emerged into daylight, she saw her dad turn back.
"If your spirit is listening," he began quietly, "I am sorry for the hurt I caused. But I'd do the same again."
Switching off the light, he closed the door behind him.
With a strange finality, Ash thought. As if he was locking away this early part of his life. His hands were clearly shaking so she knew he was deeply disturbed.
Ash felt a sense of desolation, as if they were being watched in great sadness from a distance.
She shivered and her father turned to face her.
"Right," he said. "Now, we've got to decide what we are going to do with this grim old place. My vote is to get rid of it."