The Wooden Heart – Episode 25
---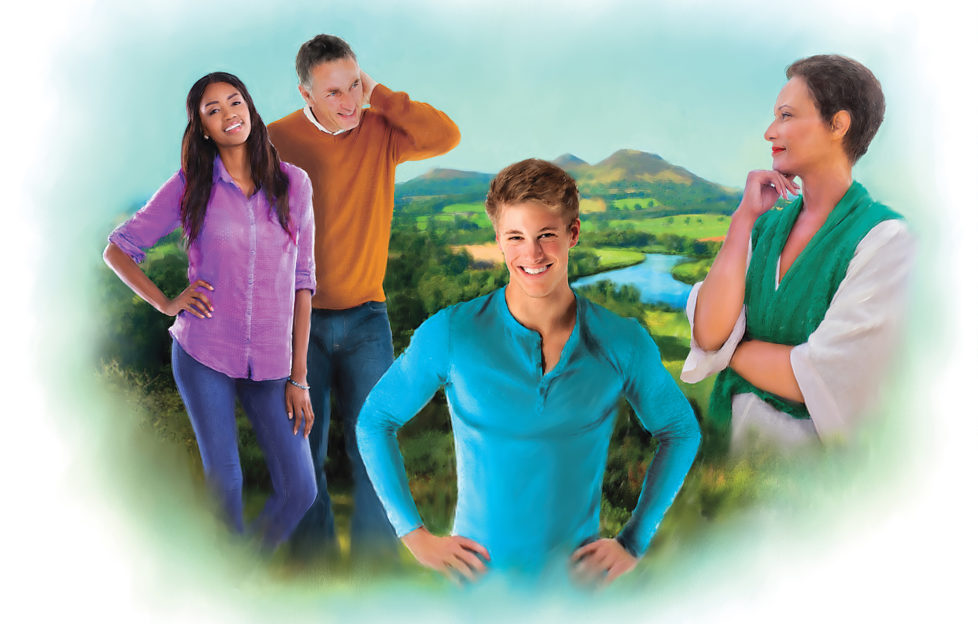 Illustration by Helen Welsh.
"Dad?" Ash asked, trying to keep the uncertainty out of her voice.
"What?"
She saw him turn round gingerly, one foot on the aluminium step-ladder, the other balanced carefully on the window-sill as he reached up into the corner of the window frame with his paint brush.
He looked preoccupied, she thought. She watched him force a smile.
"You've brought a volunteer?" he asked.
Ash felt Calum squirm at her side.
"Not quite," she said. "Come down before you slip."
He looked at her quizzically.
"It can't be the car," he said. "You've borrowed that already."
Balancing his brush across the edge of the tin, he descended carefully.
"These window frames haven't been painted in years," he grumbled. "I've had to sand them down and start from the beginning again.
"Hi. Calum, isn't it?" he said once back at ground level. He turned to Ash. "Right, what is it? We haven't been paid for the house sale yet, so I'm out of money."
"Not money," Ash said. "We're here to ask a favour."
"Fire away," he urged.
Ash was taking a deep breath when Calum stepped forward.
"I'm the one asking, Mr Melville," he said.
"Stephen."
Calum nodded.
"Stephen. It's a big favour, but could I possibly use some of the cabinet-making tools out in your shed?"
"And some of the wood," Ash added. "Calum wants to make a proper cabinet and take it to the craft fair. If it sells it gives him something better to work on than bowls and spoons."
"I've served an apprenticeship in cabinet-making," Calum put in, pink to the roots of his hair. "I know how to use the tools and I won't damage anything."
Stephen hesitated for a second, and in that second Ash knew that she wanted her dad to think well of Calum. That realisation took her by surprise.
"Why not?" he finally said. "My father's stuff is only gathering dust. Come out and show me what you need."
They trooped out to the workshop.
Reaching in, Stephen switched on the light.
"Here we are." He smiled. "Which tools?"
Calum walked slowly inside, his hand brushing along the array of tools.
"This is a real craftsman's workplace," he murmured. "An Aladdin's cave. For what I have in mind, I'll need your saw table and the jigsaw, then a tenon and a padsaw.
"And some of the planes and chisels up here on the wall."
"He's talking in tongues." Ash sighed. She tugged at her father's arm. "Leave him to it for a bit. There's something I want to talk over with you."
"OK," Stephen agreed. He looked at Calum. "Feel free to use anything you like, just don't steal the Austin 7."
Calum turned, and in Ash's mind she knew he was already thinking of the precise shapes he would need to cut for the complex joints he planned.
Ash also noticed the smile on her dad's face. He knew that feeling well himself, she mused, and they both headed back to the cottage.