The Wooden Heart – Episode 23
---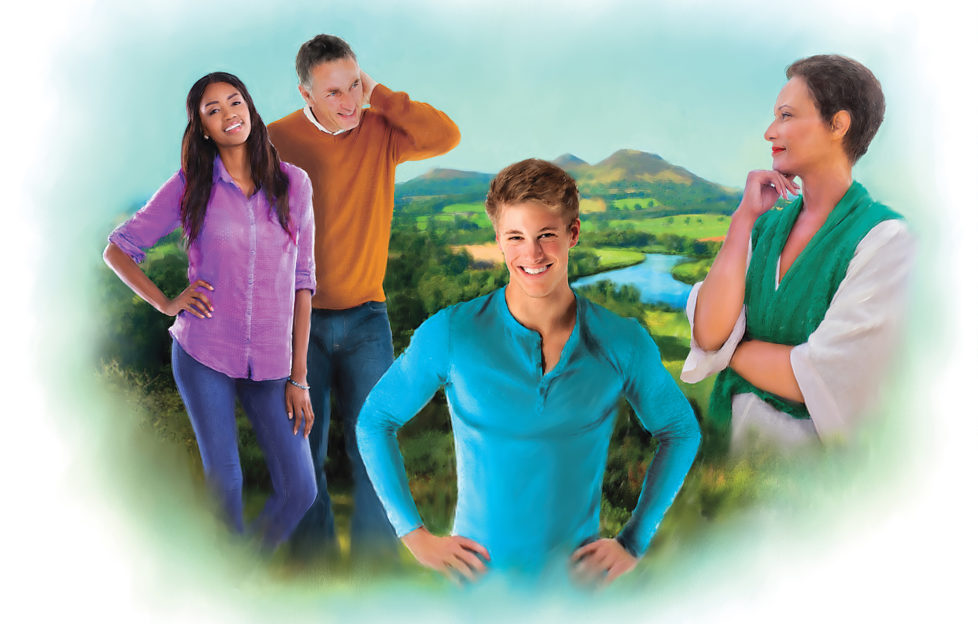 Illustration by Helen Welsh.
There was a long pause, broken by the noise of the cup and saucer sliding across the table to him.
Nodding his thanks, he left them untouched, his eyes still on hers.
"Why not?" he asked. "Or is that too painful a question? If so, forgive me."
Gabrielle sipped her tea, which scalded her throat. It made her cough.
His eyes never left hers as he waited quietly.
She sighed, and it seemed to come from the depths of her soul.
"If you are good at something," she said. "I mean, really good at it. More than good enough to take your place among the first violins in any European orchestra and be accepted with respect by the members of that
section . . ."
Her voice faltered and she swallowed.
"Then something happens, taking it all away from you," she continued, "the world stops. The hurt is more painful than having an arm or leg torn off. Music was my whole life. It left no room for anything or anyone else.
"If I wasn't playing, I was practising. If I wasn't practising – six hours each day, when we weren't performing or rehearsing – then I was listening to my music here.
"This house was full of music from when I opened my eyes each morning until I closed them at night.
"That ended once I realised I could no longer play. There was nothing left in life for me and, at first, I didn't even want to live."
Blindly, she reached for her cup, almost knocking it over.
Stephen reached across, steadying it. He remained silent, listening, and in his silence, she felt there was a huge affinity, because he, too, had lost something – or in his case someone – who had been the centre and sole purpose of his life.
"Even now I cannot bear to hear music playing," she said, her voice shaking. "Because my gift has gone, and I can no longer join in."
"Poor Gabrielle," he said quietly.
She struggled to force a smile.
"Of course, that doesn't mean that other people can't play or enjoy music. Have you a favourite piece?"
She watched him. Then he nodded.
"Something called 'The Lark Ascending'," he said. "Shiri loved it."
"Vaughan Williams," she said. "A beautiful solo violin line. Did you like it, too?"
"It was lovely, but a bit beyond me," he said uncomfortably. "Shiri always accused me of being an engineer, with gear wheels and cogs where I should have had a soul."
He smiled.
"That sounds pretty critical, but when we visited India on holiday, we went up one of the Himalayan mountain railways.
"It was a narrow gauge line, with hundred-year-old steam trains. The drivers and the engineers devoted their lives to keeping these engines running, because they believed with all their hearts that these ancient locomotives were alive, and had a soul. So maybe there's still hope for me."
Gabrielle swallowed.
"You have a soul," she said. "An old, wise soul, which has the habit of opening the door into mine.
"You're the only person in the world that I can open up to and talk about my lost dreams like this, holding nothing back. That's pretty scary for me to handle."
"Truth for a truth," he said quietly. "Since Shiri died, I have never looked at, or talked to, another woman. Until now."
Their eyes were calm, unafraid, dealing directly with the mutual attraction they both felt.
"So where do we go from here?" he asked gently.