The Wooden Heart – Episode 22
---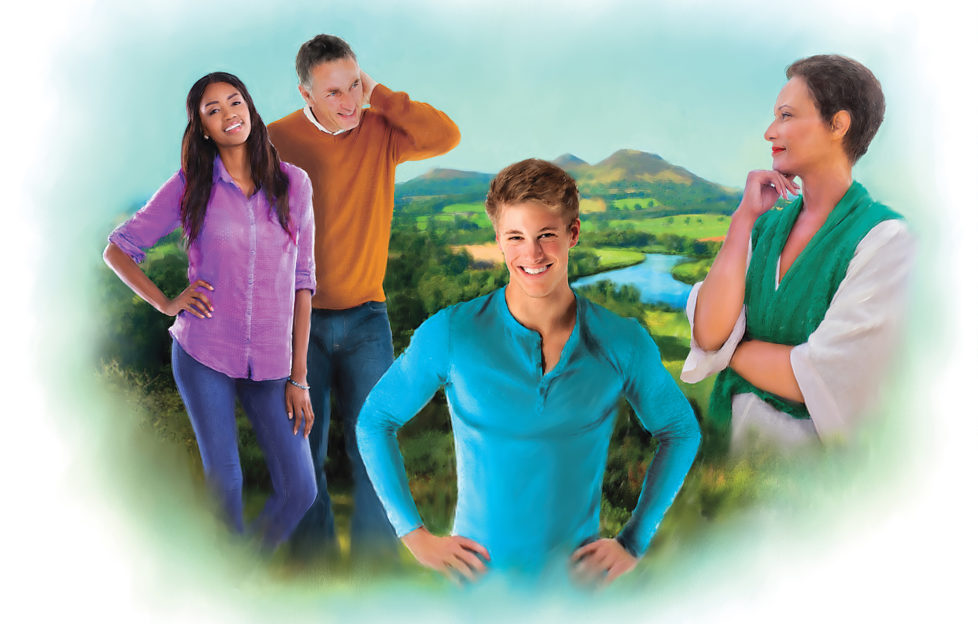 Illustration by Helen Welsh.
There was a brisk wind coming from the north-west, and the coolness it carried was refreshing after the blistering warmth of the last few days.
To be out walking the dog was once again a pleasure and Gabrielle sighed contentedly, tucking the hair back from her face.
In front of her, on the path alongside the Tweed, Franz was darting from scent to scent.
As she watched, smiling, he stopped, staring intently ahead.
"Oh, no." She groaned as he laid his ears back and bolted up the path.
There were no rabbits in sight, only the approaching figure of Stephen. Her heart lifted.
She watched him bend down to make a fuss of the dog leaping around his legs.
"I thought you had left Melrose," she complained when she reached him. "Not returned to give this little hooligan an excuse to misbehave."
Stephen smiled.
"Just passing through," he said. "I was over looking around some of the car dealers in Gala. The house sale has been agreed so I'm nearly solvent. The money I have still to get is burning a hole in my pocket."
"Did you see anything?" she asked.
"A couple of possibilities," he said. "There's no real hurry to make up my mind, although Ash has started to take driving lessons, and already we fight about who will take the car each day."
He smiled.
"She's getting plenty of driving practice in with a friend from the producers' commune where she's working in Hawick."
He paused, colouring.
"I stopped off on impulse. I was heading home when I thought you might be walking Franz at the river. It seems a bit silly now."
Gabrielle fell in beside him on the path.
"I'm glad you followed your impulse," she said. "Would it stretch to letting you have a cup of tea with me? It would be nice to chat to someone."
He looked embarrassed.
"That would be lovely," he replied. "But you gave me back my scarf. This time I have no excuse."
"Who cares?" Gabrielle laughed.
As they walked, they chatted about the work she was doing in the charity shop, and how the ongoing redevelopment of the town centre had temporarily emptied it of life.
"Most of the other shops are gone," she said, "leaving only charity shops behind."
Reaching home, she ushered him into the front room while she made a pot of tea for them both, and put some biscuits on a plate.
Bringing through the tea tray, she set it down on the low table between the chairs. Stephen's back was to her, studying the array of music along the wall.
He turned, frowning.
"I think you said it was once an obsession," he said quietly. "The music, I mean. What did you mean?"
She poured tea into the cups as he came over and sat down.
"Do you never listen to it anymore?" he asked, his voice still quiet.
"No," she replied.