The Wooden Heart – Episode 36
---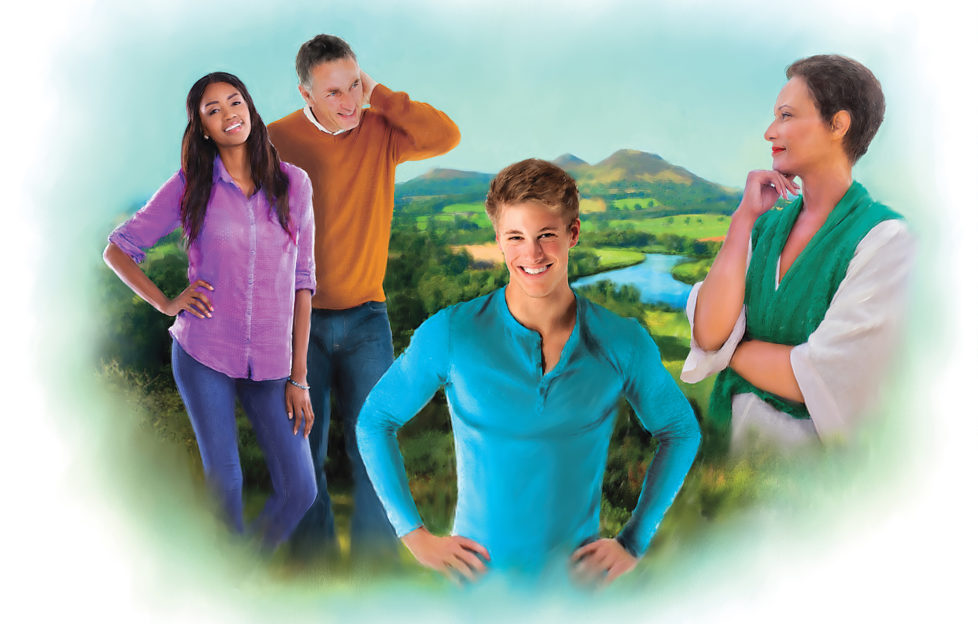 Illustration by Helen Welsh.
Ash could see as soon as she met Calum outside the exhibition that he had news. His eyes sparkled and his whole face shone and radiated happiness.
"What's up?" she asked as he hugged her.
"It sold!" he exclaimed. "The bedside cabinet, I mean. And I have orders for two more, to be made exactly like it.
"When I told the guy about your grandfather's table and chairs, he asked if he could come round to see them, and if he likes them he wants me to make them, too. He's furnishing an old cottage."
"Wow," she said.
"Is that the best you can manage?" he demanded. "One muted wow?"
Ash laughed.
"Sorry. That's great news. I'm so pleased for you."
"You don't mind him coming to see your grandfather's furniture?"
"I don't see why not," Ash replied. "So long as it doesn't grow into two hundred potential orders. Then it would save time if we moved into the dyeworks."
Arm in arm, they walked back to his car.
"You looked preoccupied when you came out today," he commented. "Have you sold something, too?"
"Not really," Ash replied.
"Then what's happened?"
"A professional designer came in. He looked through my designs and showed me how some could be changed with a couple of strokes of the pencil. Then we got talking about how to break into the design market."
"And?"
"He suggested something – an internship," she explained. "From the sound of it, you get moved around different parts of the business, working on different applications of design.
"At the end of it they decide if they want to offer you a job, and you decide if you want to work for them. No commitment. Just a trial period for both of you," she finished.
They reached the car in silence.
"And this is in London?" Calum asked quietly once inside.
Ash shrugged.
"Maybe in other places, too."
"But a city?"
"Probably."
Starting the car's engine, he drew out into the traffic, frowning. His early exuberance was gone.
"And you're interested?" he finally asked.
"I don't know," Ash replied. "It's an entry route I didn't know existed."
As they drove towards Denholm, Ash realised that her own news had badly punctured Calum's bubble of delight. Instantly, she felt guilty.
"It doesn't matter," she said. "What does matter is you selling the cabinet – and the chance of selling even more."
"I can pay your dad back for the wood," he muttered. "And maybe buy some more from him for the other stuff."
He drew abruptly into a layby and turned to Ash.
"If you go down there, I can get a job as a joiner. And the money that I earn could maybe help you . . . us . . ."
Tears pricked Ash's eyes.
"You'll do no such thing," she said, a catch in her voice. "You're a craftsman, and you've only just taken your first steps into that new career. Who knows how our careers will unfold, or where they'll take us?"
She sniffed.
"Anyway, I don't want to go to London," she said quietly. "I can't leave my dad." She swallowed. "And I can't leave you."
She wiped her eyes.
"No London," she said firmly. "It was only an idea that the guy flagged up in passing. A total stranger."
It was a decision that she made instantly with her heart. But it was a stubborn idea, refusing to be discarded. An idea which niggled at the back of her mind when there was nothing else to take up her attention.