Together We Stand – Episode 02
---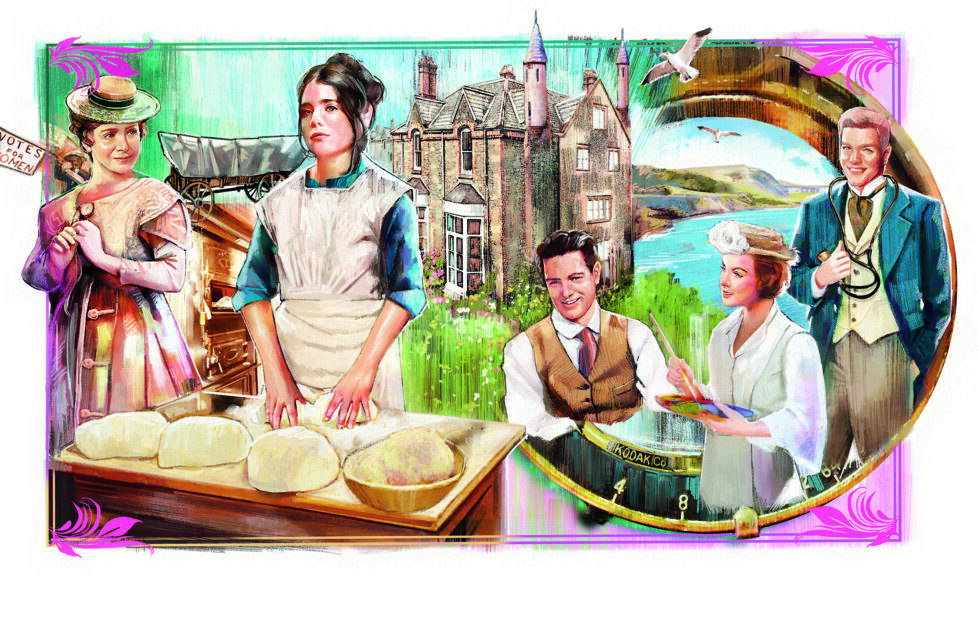 Illustration by Sailesh Thakrar.
Henry Gillingham nodded, taking on a more business-like air.
"Very well. I take it you know why I've asked you to meet me here?"
Tanni shook her head. Her English was good, but the solicitor's letter had left her bewildered, and her mam terrified that they were about to be given notice from their cottage high up on the Orme.
"I understood I was to present myself here."
"Ah." The look of embarrassment deepened "Well, Miss Phillips, it's my pleasure to inform you that you have been left a bequest in my uncle's will."
"Bequest?"
"A gift."
"I know what a bequest is," she retorted.
"I beg your pardon, Miss Phillips, I did not intend to insult your understanding. Perhaps you would like to see your bequest? It isn't money, I'm afraid," he added hastily.
"But why is it for me? I was fond of your uncle, but it was Mam who nursed him all those years. Surely it must be meant for her."
"I doubt it," he replied.
Tanni eyed him. Mr Gillingham was doing his best to appear dignified, but couldn't quite hide his discomfort.
"Very well. I should like to see it," she said.
"Good." He reached behind the desk at one side of the hallway, bringing out a large iron key. "It's in the outbuildings."
He caught the suspicion flare in her eyes.
"If you'd rather return tomorrow with a companion . . ."
"Not at all," Tanni replied firmly.
The outbuildings, as she remembered, had plenty of broken bits of chairs and wood lying around. Mr Gillingham didn't exactly resemble the moustachioed villain of melodrama, but she'd note the escape routes, and the stoutest piece of wood she could find, just in case.
Without a father or elder brothers to stand up for her, she'd learned to stand up for herself.
She followed him outside to the small collection of stone buildings at one side of the main house. Henry came to a halt in front of the largest of them, fronted with double doors.
The key turned slowly, with a screech of metal. The doors swung open, allowing light to creep inside.
"Oh, my goodness!" Tanni gasped as the rush of air sent dust swirling around the huge canvas covering, set above wooden sides and four sturdy wheels. "The picture wagon."
She turned to Mr Gillingham, who was viewing the monstrous creature in front of him in a dubious manner.
"Mr Samuel left me the picture wagon?"
"Is that what it's called? Whatever it is, it's yours." Henry patted the canvas sides next to him. "If you want it, that is."