Together We Stand – Episode 05
---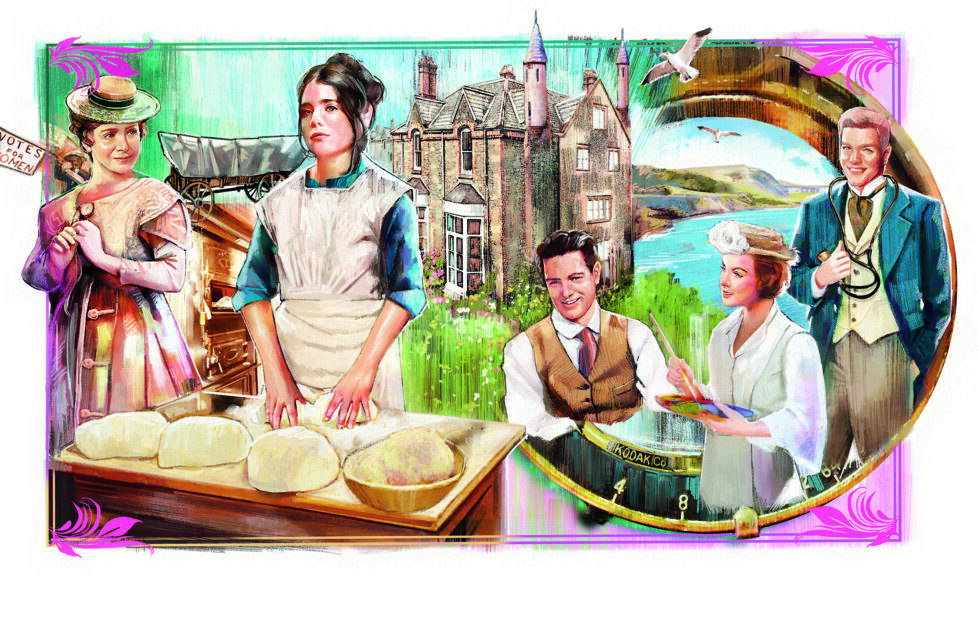 Illustration by Sailesh Thakrar.
"I think it's worth trying. The rent is paid for a year, I believe?" Evan Humphries asked and Madeleine nodded. "That will give enough time for Miss Phillips to see if the studio can be a going financial concern and for Mama to see if it is accepted locally or not."
He turned now to his mother and Alma.
"You could do so much with this place. There are meeting rooms upstairs you could let out, and there is plenty of space down here for a tearoom. Mama, you were always so active when Papa was alive. I can't see you sitting quietly at home."
"You know I won't," Gwendolyn retorted.
She looked around again at the deserted tearoom, with its tables covered in dust sheets and chairs stacked to one side. It had once been a thriving concern, positioned just off the promenade and within a short walking distance of the attractions of Llandudno's pier.
Her businesswoman's eye could see that, if presented in the right way, it could attract visitors in the summer season, bringing in income that would help support the place in the quieter months of winter, and also give them the funds to hire speakers from as far away as London.
A thrill of excitement coursed through her. It might even allow them to fulfil the dream of starting their own newspaper, in which no woman would be addressed as "dear lady", or told to remain within her sphere, never venturing out of her front door unless accompanied by a husband or male relative.
She exchanged glances with her sister, who was looking nervous. Alma had spent much of her married life working in the cause of the temperance movement, attempting to persuade husbands not to drink away the family's income of a Friday night.
As much as Alma was eager for a tearoom to take the place of the local public houses as a meeting place, having an association with the daughter of a man known to have liked a drink was not going to endear her to her fellow temperance workers.
"The least we can do is to give it a trial," Gwendolyn said at last. "It's worth that, Alma, to enable us to accept Mr Samuel's gift."
"Very well," Alma agreed. "But for the sake of all our reputations, it needs to be made clear to Miss Phillips that even the slightest hint of impropriety and the photographic studio is no longer welcome."
"I'm sure there would be no objection to that," Madeleine replied. "And if after a year you find it doesn't suit, or the studio is unable to support itself, both sides will be able to part amicably."
"Agreed," Gwendolyn said. She glanced at Evan, who was showing no signs of leaving. "I hope you will visit us and see our progress, Miss Gillingham. And perhaps join in some of our activities?"
"If Miss Phillips will let me, I shall enjoy helping to set up the photographic studio," Madeleine replied.
"Excellent," Gwendolyn said, doing her best not to smile, as she sensed Evan taking note of this piece of information. "I look forward to seeing you here."