Story Starter: Cloudburst
---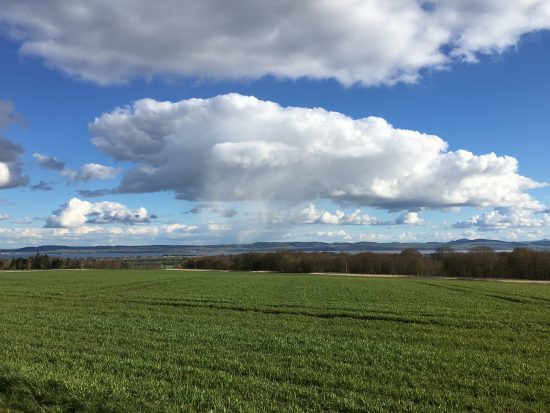 Photo: Shirley Blair
What will I write about today? You may well be thinking that as you sit at your desk. Blank screen, blank mind – intimidating, isn't it? It happens to me, too. I'm sitting at my office desk wondering what to write about as a blogpost…
But it's where I hope the story starter images can help you, at least. I know they do for some writers, because they say so when they submit the resulting story!
Some write about an event that interprets the image fairly literally, while others send a story that they say has nothing obvious to do with the image; it's just what came out.
So, let's look at the image I've chosen today….
I always hesitate to say too much about them, because I don't want to plant impressions/thoughts/distractions in your head; I really prefer to leave your mind a blank canvas.
But maybe some newer writers wonder how to take that image and turn it into a story. How does the creative process work? So, let's look at today's picture which I've captioned Cloudburst.
It could prompt an obvious story about someone being caught in a cloudburst. And you'd want to think about who's caught, where they're going/coming from, how it affects them, how it's an obstacle. Or perhaps it's a benefit. And this is where your mind can go off at a tangent. What if the cloudburst is something a community has been praying for? A life-saver? Are we sliding into a period story now? Or a story set overseas?
Alternatively it could suggest a metaphor for someone's life – stormclouds, rain; you know, into every life a little rain must fall, kind of thing.
Maybe it makes you think about how a seed sprouts and grows in sunshine and rain like this, and again it can be a metaphor for how a person might blossom given the right atmosphere and conditions.
As I said, I don't want to say too much and fill your mind with my thoughts instead of your own. So it's over to you…
Oh, and if you want to check out some previous Story Starter images, try here and here for just two of many more I've posted over the past few months.