Story Starter: Thatcher At Work
---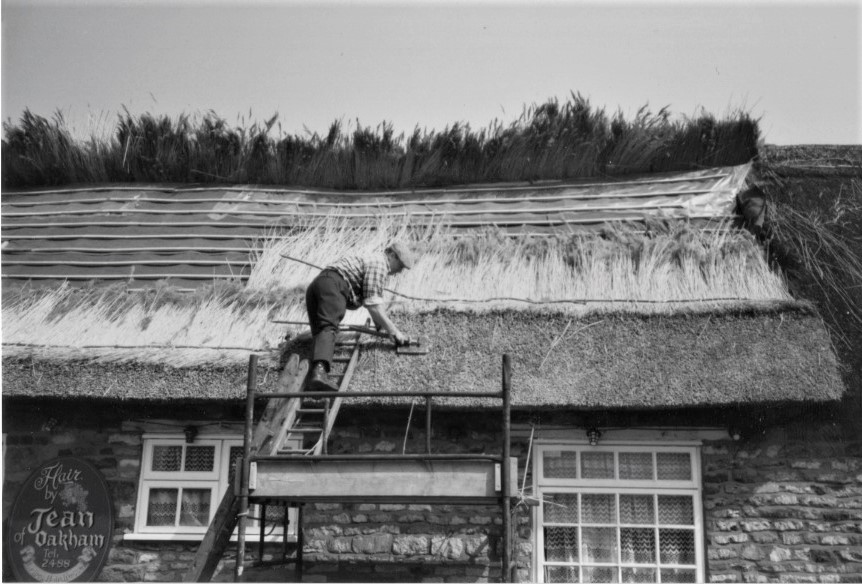 Photo: Shirley Blair
I took this photograph of a thatcher at work about thirty years ago. But let me tell you how it's just come to light.
Last week I mentioned that my new year resolution is to read more. What I didn't confess is that I have another one…
I'm a terrible hoarder. I can't bear to part with things that have particular memories attached to them, or that I might find a use for. And unfortunately my husband is exactly the same. Whole drawers are given over to cables and leads from devices long gone, kept "just in case". We're drowning in "stuff". So if reading more is my work-related resolution, having a good clear-out is definitely this year's domestic challenge.
My plan to make it more manageable/less scarey is to throw out one thing a day. That's 365 things in a year. And if he does the same, that's 730 items of clutter gone.
It's been going well so far, and this week he'd rooted out boxes stuffed with packets of photographs, which he separated into his and mine. So one evening when yet more football was on't telly, I sorted through mine.
I was ruthless. Out went pretty but anonymous scenes. Out went group photos with faces so blurred I couldn't recognise them. Out went duplicates. Out went dodgy haircuts and fashions! I managed to filter a box and a half down into one neat plastic crate with lid.
And amongst them all was this photograph of a thatcher at work in, I think, Oakham in Rutland, judging by the name on the building.
The print itself was in colour, but when I scanned it, it came out in black and white (new scanner – haven't read the instructions – what can I say?). But I kind of like it like this so I've let it be. It has far more atmosphere, a real feel of the recent past.
So that's this week's story starter. 2000 or 3000 words, please.
Fiction Feast
Oh, and at this point I'll pick up on the recent TAB Fiction Feast news to reassure you that we still have a four-strong fiction team here. We still read all submissions sent to us, whether from brand-new writers or those who've been published by us for years. New material, new writers, new approaches and ideas, they're our lifeblood. And we have no plans to change.
So you'll find our guidelines here, and a summary of how the Story Starter works here. We look forward to reading your stories!