Fiction Ed's Book Review: "A New Map of Love"
---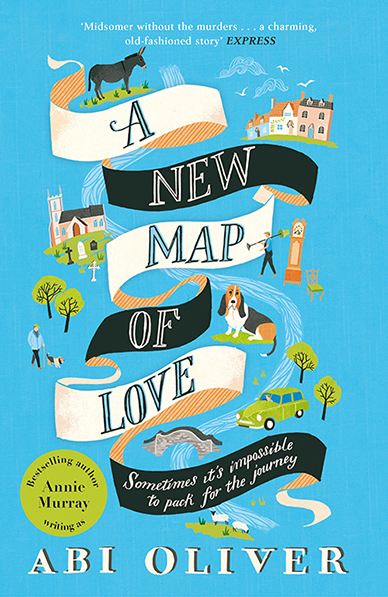 This week's book review is a little different — because it gives you the chance to win a copy of "A New Map Of Love" by Abi Oliver.
It was never George Baxter's intention to run off from the funeral.
With a first line like that, you can see why I was intrigued enough to want to read this book!
So opens "A New Map Of Love" by Abi Oliver, which is an alternative writing name for Annie Murray — already well-known for her series of Birmingham sagas.
This book represents quite a shift away from those, hence the change of name. So, is it a successful change of style?
I'd say yes.
What's it about?
This follows George, newly widowed and desperately trying to adapt to life without Win, his wife of 26 years.
One of the many things I like about this is the period Abi has chosen: 1964 allows all sorts of niceties and naivete that wouldn't work in a more modern setting. How domestic the women are. How they rally round with rhubarb pies – even though George can't stand the stuff. Village life as it used to be.
But just when all seems very cosy and safe, we learn that George had a bit of a secret life involving neighbour Maggie. He's also always been a hit with the ladies – and seems to have them fluttering about him now – though you feel when he meets the vampish Sylvia he's a lamb to the slaughter.
Every so often George thinks back to Argentina, though the truth of that secret's held close for most of the novel.
Great characters
The characters are a great cast. Housekeeper Vera unexpectedly turns out to be a bit of a new woman who rises to the challenge of working in his antiques business, and a jolly good job she makes of it, too. The vampish Sylvia, snarky pompous Lady Byngh – but it's George at its heart who carries the story.
It's a warm read that washes over you, undemanding but enjoyable.
A New Map Of Love is out now in Pan Macmillan paperback. Get your copy now! Or enter our competition below!
I recently spoke to Abi Oliver about writing "A New Map Of Love".
You can read our chat in Special 155, on sale March 28. Abi's short story, "One Night In Italy", written especially for "The People's Friend" also features.