Penguin Parade Was A Real Success
---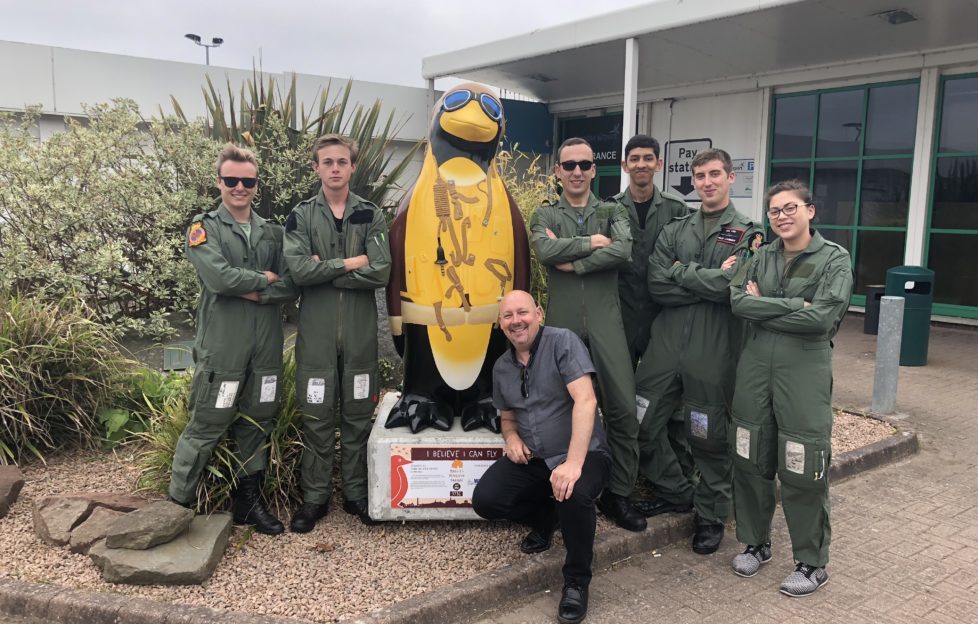 John crouched in front of his design, which was based at Dundee Airport.
£540,000 Raised For Great Cause
We recently featured the great work of artist John Hunter Barrie, who was involved in Maggie's Penguin Parade, a fund-raising art trail involving more than eighty sculptures of penguins dotted around Dundee and beyond.
John was tasked with giving a makeover to one of the sculptures with the funds raised from the project going to Maggie's Centre, which supports people affected by cancer.
Maggie's Penguin Parade captured the imagination of the whole community as young and old alike ticked off as many of the sculptures as they could along the trail. The project, created in association with Wild in Art, culminated in the penguins being sold off at an auction in the newly-opened V&A. The event raised an incredible £540,000.

Incredible Amount
John's statue "I Believe I Can Fly", which was based at Dundee Airport, raised among the highest amounts on the night, fetching £10,000, with Judy Murray paying that sum for another one designed by Angela Nisbet, which drew on Andy Murray's Wimbledon win of 2013.
Altogether, the incredible amount raised is enough to run the fantastic charity's Dundee centre for a full year. Well done to all those involved who gave of their time freely for such a worthwhile cause.