Celebrate With A Subscription!
---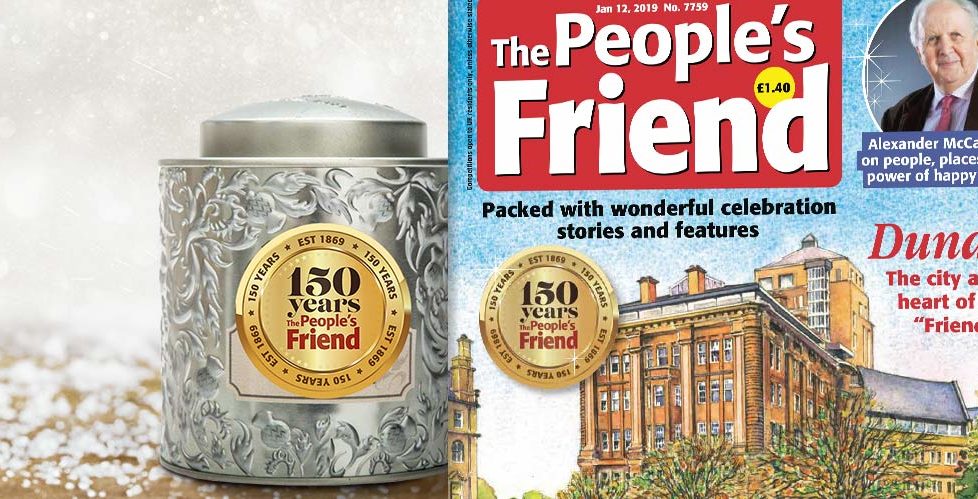 150 years ago this week, the very first issue of "The People's Friend" was published.
To help celebrate this remarkable milestone, we've put together an amazingly good value subscription offer.
You can try "The People's Friend" for 12 issues, for only £12 – which includes free delivery! And if you'd like to subscribe for one year or more (by Direct Debit or prepay), you'll also receive a free, 150th Anniversary Tea Caddy.
What Are The Benefits Of Subscribing?
Your copy will be delivered direct to your door.
It's a big saving on the shop price.
You'll receive your copy before it arrives in the shops.
You'll never miss an issue.
The price will stay the same for the duration of the subscription – guaranteed.
Can I Subscribe If I Live Overseas?
Yes. If you're living overseas – or have a friend or loved one living abroad – a subscription to the "Friend" is a great gift idea. The overseas price is just £20, with no hidden costs.
Are There Any Other Benefits?
As a subscriber, you'll receive exclusive offers, hand-picked by our Subscriptions Team especially for "Friend" readers. You'll be certain to never miss an issue. And your subscription means no more visits to the shops in bad weather – sit back and allow us to deliver it to your door, for no extra cost!
 Can I Order A Digital Subscription?
 Yes, no problem! If you'd prefer to read the "Friend" in a different format, subscribing to a digital subscription allows you to read every issue on your desktop, Apple, or Android device.
How Long Does This Offer Last?
We're offering 12 issues for £12 until the 31st of January, 2019.
How Do I Subscribe?
It's quick and easy – either go to www.dcthomsonshop.co.uk/subscriptions, or if you prefer to talk to a real person, our friendly team are ready to take your call on (UK Freephone) 0800 318 846. If you're calling from abroad, please call 44 (0) 1382 575580.