150 Years Old And Still Going Strong
---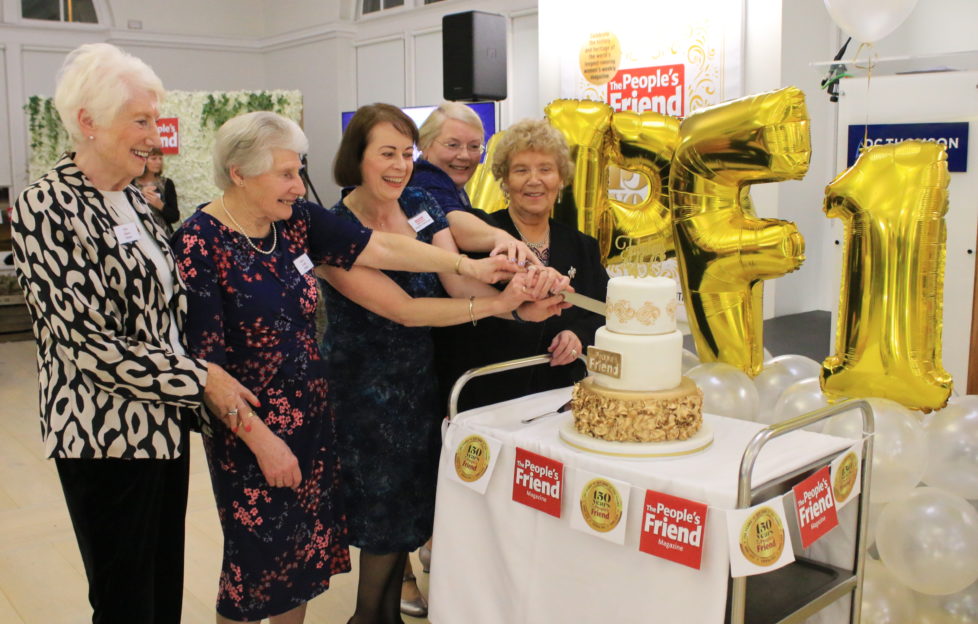 Photograph by DCT Media.
On January 13, 2019, "The People's Friend" turned 150 years old.
And what a year this has been!
There have been parties, media appearances, holidays, talks on the magazine's history, special publications and lots and lots of birthday messages from our lovely readers and contributors.
The last century and a half has seen so much change. But throughout that period the "Friend" has remained a constant in readers' lives.
Today's team has spent many hours in our Archives department, researching all our past issues to put together some of our souvenir publications.
All of us have felt privileged to be a small part of that long history. And we're proud that the "Friend" has retained a strong bond with readers since its first edition.
When the team compared notes about our highlights of the year, everyone mentioned the events where we'd had the chance to meet and talk to the people at the heart of the "Friend" — our readers.
Those 150 years of publication are thanks to the readers who have bought the magazine, read the fiction and features, made the recipes, knitted the garments, written the letters, shared their own stories with us and made the "Friend" part of their lives.
We've been touched by the many stories of generations of readers within the same family who feel connected to each other by their connection with the "Friend".
Officially amazing
Launched on January 13, 1869, and in continuous publication ever since, in January 2019 "The People's Friend" was awarded a Guinness World Record for the "Longest-running Women's Magazine".
We unveiled the certificate at our January birthday celebrations by D.C. Thomson's own Mr Murray Thomson and Ellis Watson — a lovely start to our birthday year.
We always knew the "Friend" was amazing — now we have a certificate to prove it!
Party time
Birthdays mean parties, and we had plenty of those in 2019!
January began in style with spectacular events in our Meadowside home and London office.
Then, in summer, we welcomed our friends at Contact The Elderly to a special birthday tea.
Tea and conversation flowed, and everyone enjoyed lots and lots of cake!
On the radio
Editor Angela was in demand for interviews thoughout the year.
Her highlight were being on the same programmes as human rights campaigner Malala Yusufzai and author Margaret Atwood.
Award winner
Almost everyone on the "Friend" team had a role in producing our "150th Anniversary Special Collector's Edition".
We loved our regular trips to the Archives department, burying ourselves in the old bound volumes to discover more about our history and the way the magazine tracked the changing times.
So we were delighted when it was awarded "Special Edition Of The Year" by the Professional Publishers Association Scotland at a recent award ceremony. An exciting way to end the year!
There are a few of these still available at the D.C. Thomson online. Click here to take a look.
A place in history
In Glasgow's Mitchell Library and Edinburgh's Scottish Storytelling Centre, audiences heard from experts of the "Friend's" place in publishing history and the lives of its readers.
Above is a pic of Angela in conversation during the interval at "The People's Friend" exhibition at the Scottish Storytelling Centre, curated by our Archivist David Powell.
Happy holidays
The team went on the road to join readers at "Friend"-themed holidays at Warner Leisure Hotels' Alvaston Hall and Cricket St Thomas.
As well as quizzes, dancing, craft sessions, a Q&A with Angela, talks from writers Glenda Young, Neil McAllister, Maddie Grigg and Della Galton, there was a "Friend" photo booth for readers (and the team!) to have fun with . . .
Adding to the archives
We love our Archives and our helpful Archives team, so we've enjoyed adding to their shelves this year.
They now have 50 new weekly issues, 17 new Specials, "The People's Friend 150 Years Of Short Stories Special Collector's Edition", the 2020 annuals and a book, "150 Years Of Christmas Cookery", to look after.
That's roughly another three to four million words!
On top of the world
To mark our 150th anniversary we were invited to design one of the statues for summer's Oor Wullie Big Bucket Trail.
Illustrations Editor Sarah produced a lovely design in the style of a J. Campbell Kerr cover for her statue, which was called "Oor Friend".
Here we all are unveiling it at the memorial on top of the Dundee Law, overlooking our home city.
For more of our great 150th anniversary content, click here.