Pets As Therapy: The Cat's Whiskers
---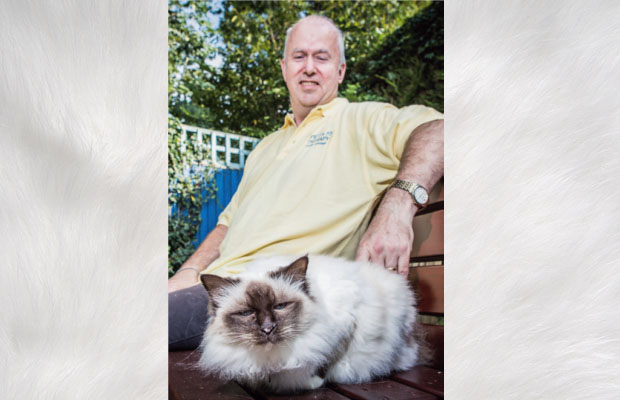 It's not only family dogs who make the grade with Pets As Therapy – cherished cats also have the potential to become part of a PAT team.
Meet Jasmine, an eleven-year-old chocolate point Birman.
Together with owner Adam Nottage, she pays regular visits to nearby St Catherine's Hospice in Crawley.
"She's called Jasmine, but answers to 'The Ploosh', which comes from the French la peluche, meaning furry. She's a cuddly toy."
All In Her Stride
"Ploosh was my first pet to qualify as a PAT cat, and it always amazes me how relaxed she is on our visits to the hospice, being handed over from one person to another like a game of pass the parcel," Adam, who is also a Trustee for the charity, said.
There are currently around 80 registered visiting cats, and PAT is happy to welcome more.
"In the six years I've been visiting St Catherine's, I've received several notes from relatives after the patient has passed saying how grateful they were that their loved ones had an opportunity to cuddle and stroke such a beautiful cat," Adam continued.
"Patients often have to re-home their pets, so they miss the contact and companionship they once had."
"Ploosh is the cat of a lifetime. She's irrepressible, irresistible, irreplaceable and utterly loved."
---
Pets As Therapy  provides a visiting service in hospitals, hospices, nursing and care homes, special needs schools and a variety of other venues all across the UK.
Catch up with the rest of our Pets As Therapy series.