Emma And Hansie Receive An Award
---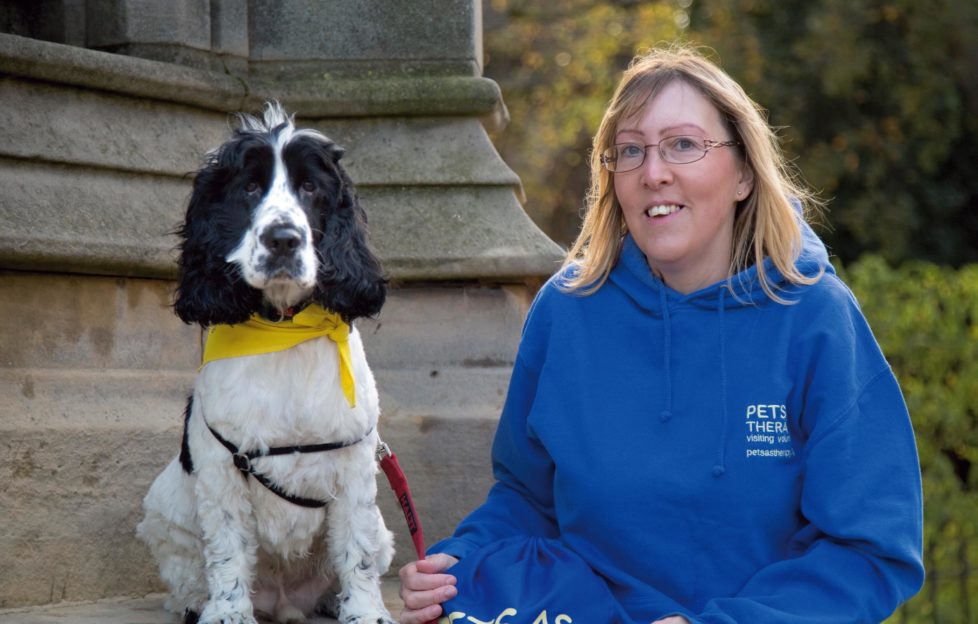 Emma and Hansie looking fetching in their PAT outfits.
Emma And Hansie Celebrate As They Receive A Well-Deserved Accolade For Their Hard Work.
Emma Tyreman first expressed an interest in becoming a visiting volunteer for Pets As Therapy (PAT) in September last year.
Six months on, the mum of three from Oxford now regularly visits a residential home, a women's psychiatric ward and a centre for patients suffering from brain injuries. Joining her is Hansie, the family's cute cocker spaniel, who made the grade as a PAT dog.
Good Citizen Dog Training Scheme
Hansie has also recently been awarded a Gold certificate from the Kennel Club's Good Citizen Dog Training Scheme. Emma believes the training they have both undertaken helps them in their role as a PAT team.
"When I decided to get a dog a few years ago, I was adamant that it would be well behaved and well trained," Emma reveals.
As a result, the pair started attending Four Paws dog training sessions soon after puppy Hansie settled into the Tyreman household. And it was while at these classes that Emma heard about the Good Citizen Scheme.
It's the UK's largest dog training programme, and provides a quality standard of training for dogs and their owners, incorporating many domestic obedience exercises as well. The scheme has four levels – Puppy Foundation, Bronze, Silver and Gold – and is open to dogs of all ages, pedigrees and crossbreeds.
The dogs don't need to be registered with the Kennel Club in order to take part.
"The Four Paws team put me under no pressure to participate, but I wanted to sit the tests," Emma says. "I was keen to be a competent dog owner, who was seen by others as a confident person in control of their pet".
"I also wanted to put anyone who was frightened of dogs at ease. The fact that I was eager for Hansie to become a PAT dog spurred me on."
Hansie passed the Puppy Foundation scheme in July 2017 and was soon training for the higher levels.
Going for Gold
"I have learned so much during all the training, and I love Hansie so much. I never appreciated the relationship and bond that is formed between an owner and their dog.
"I was actually in tears after passing the Gold test, it meant so much to me. I was completely overwhelmed, and incredibly pleased with Hansie. I now have all his awards framed on the wall next to his photo gallery!"
Gold Award training not only teaches advanced obedience skills, it also aims to provide handlers with a greater knowledge and understanding of their canine companion. "The classes and training have made such a difference," Emma continues.
"Hansie is generally very good, and as we travel on buses a lot – sometimes to visit our PAT establishments – I often get compliments from people who tell me that they'd never be able to take their dog on a bus as it would be jumping everywhere. "I think the biggest and most useful lesson I've learned is getting Hansie to stay. He can get a little over-excited at times.
"I would definitely recommend dog training classes and the Good Citizen Scheme. "It's also a great way for owners to meet people, and everyone gives each other encouragement." Emma is certain her involvement in the Kennel Club's Good Citizen Scheme has helped her overcome her fear of dogs – something she has suffered from since being attacked by a friend's pet.
"I'm a stronger person now, and believe the training has also helped me as a PAT volunteer. "I know I have a Gold dog, so I'm confident Hansie will do what I command on our PAT visits."
First visit to Crufts
The Kennel Club also organises Crufts, the world-famous dog show, which this year took place at Birmingham NEC on, March 7-10.
We caught up with Emma before Crufts to see how she was feeling about attending Crufts for the first time.
"Hansie and I will be attending Crufts for the first time, and we're already very excited and looking forward to it," Emma says. "I usually watch parts of it on the TV, but I've never thought it would be somewhere I'd go".
"I can't wait to get photos of Hansie representing Pets As Therapy at Crufts. "I wasn't even a volunteer a year ago, so this is a big deal. It's also going to be so good to meet other PAT dogs and their owners."
And would Emma be keen to appear on TV alongside Crufts presenter Clare Balding? "That would be amazing. I'd be thrilled to tell everyone about PAT, and how the charity helps so many people. "I reckon Hansie would also love to sit on Clare's sofa.
"I'll just need to make sure his paws are clean!"
Catch up with the rest of our Pets As Therapy series.