Fiction Sneak Peek: Feb 23, 2019 issue
---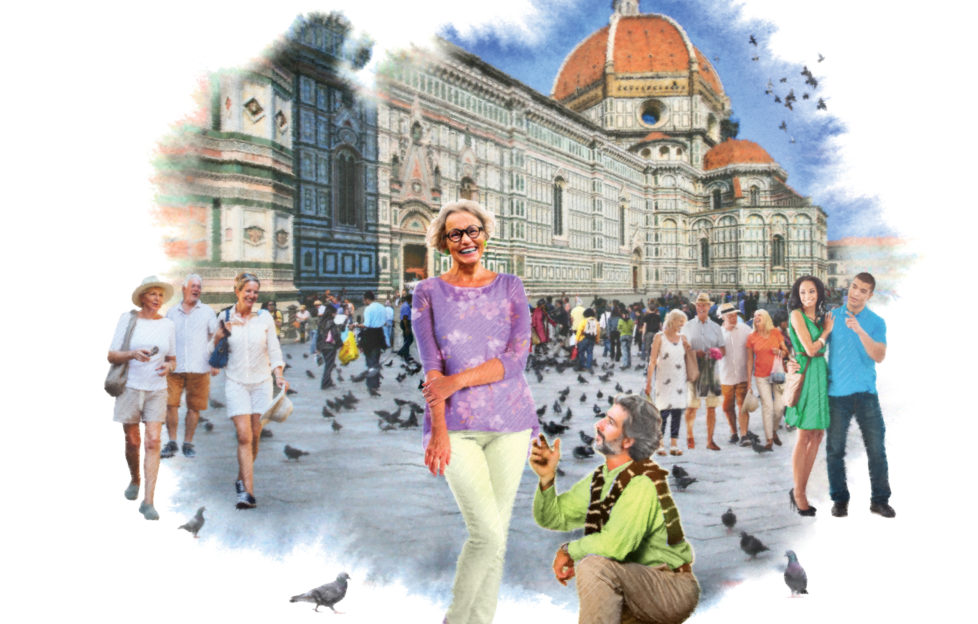 Illustration: Mandy Dixon
Join Shirley for her fiction sneak peek at all the super stories in our latest issue.
We're off to Italy! Well, not literally but as good as, in Rebecca Holmes's short story The Heart Of Florence. We've had a few stories now featuring Marcia, regular customer at Michael's bookshop in Hopewell in the Peak District. Do you remember Marcia's friend Alessandro? Well, she's going to visit him and it all turns a bit romantic. Illustrated by Mandy Dixon.
And as it happens we're staying in Europe for our next story, the High Chapel by Alison Carter, set in Provence in 1946. That date is very significant – just after the war…. So many mothers in the village have lost their sons, brothers, nephews, grandsons… but how do you react when you've lost no one? This is a superbly thoughtful story by Alison, illustrated by Sarah Holliday.
From travels abroad to the local supermarket in Food, Glorious Food by Eirin Thompson, where Josh and Elaine are collecting for the food bank.
And as it happens….more fund-raising in Helping Hands by Lexie Conyngham. It's at the other end of the scale, a small private school, and mum Cheryl's feeling a bit out of things….
Val Bonsall's Victorian ghost hunters are back in another spooky mystery, Woman In Blue, illustrated by Ruth Blair.
How are you at painting and redecorating? Does it ever all go wrong – as it does for Tess in A Fresh Coat Of Paint by Em Barnard? Em's our Writer of the Week, too.
In Behind The Door by Jessma Carter, a wee boy is the key to Julie's emergence from a dark place. Illustration by Philip Crabb.
Series
In Say It With Flowers by Jan Snook, someone's been stealing from the church's collection box. Who would do a thing like that?
What's Mike up to in Riverside? You can't miss the latest in our exclusive weekly soap by Glenda Young.
Serials
It's part 3, the final instalment, of The Watercress Farm by Kay Seeley. And Jess has a proposition for Luke…. Illustrated by Kirk Houston.
And we're nearing the end, too, of City Of Discoveries, our spectacular anniversary serial by Anne Stenhouse. The women might be very different, but a love of reading unites them…. Illustration: Mandy Dixon.